Discussion
Concussion Confidential
The Mag gets a handle on how high school football is handling concussions
Updated:
December 19, 2010, 2:46 PM ET
ESPN The Magazine
In November, ESPN The Magazine fanned out to high school football stadiums across this great land to get a baseline read on what folks with a stake are thinking about concussions. Our confidential survey was answered by 600 people (300 players, 100 coaches, 100 parents, 100 athletic trainers) in 23 states. Turns out, everyone agrees concussion awareness is at an all-time high. But one group was singled out by the other three as the biggest block to diagnosis and prevention. Says one ...

Read full story
ESPN The Magazine: December 27, 2010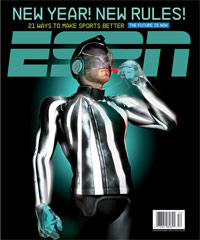 Check out ESPN The Magazine's December 27, 2010 issue -- New Year! New Rules! -- below.
Features