Discussion
Andy Dalton jumps to No. 1
Updated:
January 11, 2011, 1:24 AM ET
ESPN
New year, new Cross-Sport Power Rankings. Last year, our top-10 list was hand-picked by our all-star ESPN panel. This year, we're throwing YOU into the mix. That's right; every Monday, you will have the opportunity to log on to the ESPN Facebook page and select your own Cross-Sport list. We'll then combine your rankings with those of our ESPN panelists, and voila! -- the result will be recorded below.
But back to business: At No. 1 this week, the fans and the panel selected TCU quarterback ...

Read full story
CROSS-SPORT POWER RANKINGS 2010

Cross-Sport Power Rankings compares the best athletes across all professional sports. Check out the rest of our individual sport power rankings.
MORE POWER RANKINGS
FACEBOOK FAN RESULTS

1. Andy Dalton
2. Blake Griffin
3. Tank Carder
4. Dwyane Wade
5. Arian Foster
BOWL GAME COVERAGE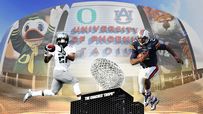 College football Bowl-a-rama! Bowls Home »
BCS TITLE GAME
ROSE BOWL
FIESTA BOWL
ORANGE BOWL
SUGAR BOWL
VIDEO
GAME HOME PAGES