Discussion
Michael Dyer rolls to No. 1
Updated:
January 17, 2011, 11:54 PM ET
ESPN
Who would have thought Michael Dyer -- or anyone, for that matter -- would outshine Cam Newton in the BCS National Championship Game? Anyone? With an impressive 37-yard run that had him rolling over a defender to stay on his feet, Dyer locked up the national title for Auburn and claimed the offensive MVP award. Because of this, he rushes to the top of our panel's rankings this week, past Marshawn Lynch and his earth-shattering run, past James Starks and his game-changing performance, and past ...

Read full story
CROSS-SPORT POWER RANKINGS 2010

Cross-Sport Power Rankings compares the best athletes across all professional sports. Check out the rest of our individual sport power rankings.
FACEBOOK FAN RESULTS

1. Marshawn Lynch
2. Michael Dyer
3. Cam Newton
4. Nick Fairley
5. Aaron Rodgers
Auburn won its second national championship on the game's final drive. BCS Championship »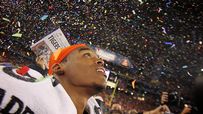 BCS TITLE GAME
VIDEO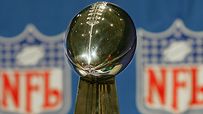 Last year's Super Bowl teams, the Saints and Colts, are done. Who's going to win it all in Super Bowl XLV in Arlington, Texas on Feb. 6?
DIVISIONAL-ROUND COVERAGE
WILD-CARD COVERAGE
Ravens 30, Chiefs 7
Packers 21, Eagles 16
Seahawks 41, Saints 36
Jets 17, Colts 16