Discussion
Slow and steady wins the planet
For millions of years, man's success as a species has hinged on our ability to run
Updated:
February 11, 2011, 9:23 AM ET
By
David Fleming
| ESPN The Magazine
AS THE RUNNER MOVES IN FOR THE KILL, his most effective weapon -- his feet -- splash into the deep white sands of Africa's Kalahalari Desert. The footprints that he leaves behind are like fossils dating back to the origins of human speed. For several hours, under a suffocating sun that has pushed temperatures toward 120 degrees, the runner, a member of the !Xo San tribe named Karoha, has been engaged in a persistence hunt. He's chased an animal, literally, to death.
Dating ...

Read full story
ESPN The Magazine: February 21, 2011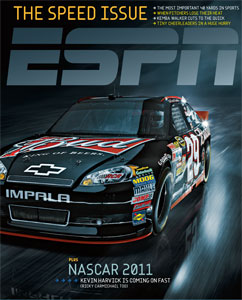 Check out ESPN The Magazine's February 21, 2011 issue below.
Features