Discussion
They grow up so fast
As cheerleading transforms itself into sport, its youngest upstarts are pulling off moves as startling as their looks
Updated:
May 12, 2011, 11:16 AM ET
By
Samantha Shapiro
| ESPN The Magazine
This story appears in the Feb. 21 issue of ESPN The Magazine.
ON A THURSDAY evening in November, 7-year-old Haylie Blakely rides in the backseat of her mother's black SUV on her way to practice at the Cheer Extreme Allstars gym in Raleigh, N.C. Haylie competes on the Glitter Stars, one of the youngest of CEA's 41 teams, in all-star cheerleading, a hyperenergetic mash-up of dance choreography, gymnastics and big air stunts. CEA has six gyms across the state, and a reputation in ...

Read full story
ESPN The Magazine: February 21, 2011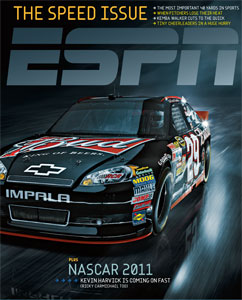 Check out ESPN The Magazine's February 21, 2011 issue below.
Features