Discussion
Bleacher Couch Man
Cole Griffith is either a noble warrior or a middle-aged hoopster who doesn't know when to quit
Updated:
March 7, 2011, 6:08 PM ET
By
Jess Walter
| ESPN The Magazine
This short story appears in the March 7, 2011 Fiction Issue of ESPN The Magazine.
One day, future archaeologists will dig up the bones of these men, in the rubble of what was once Spokane, Wash., and conclude that here fell a fearsome band of noble warriors. To illustrate his theory, Cole Griffith offers his friends his broken self.
"Fractured wrist, separated shoulder, torn ligaments in both knees -- what else could they think I'd been?"
The other ...

Read full story
ESPN The Magazine: March 7, 2011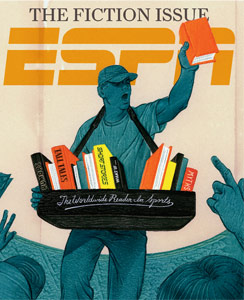 Check out ESPN The Magazine's March 7, 2011 issue below.
Fiction
Features