Discussion
The Favorite
Garner is broke, unemployed, single, good to his mom and afraid of nothing but himself
Updated:
March 4, 2011, 11:04 AM ET
By
John Brandon
| ESPN The Magazine
This short story appeared in the March 7, 2001 Fiction Issue of ESPN The Magazine.
SINCE GARNER HAD BEEN BACK, the only weather had been a reedy sunlight that couldn't manage to heat up a day but did manage to make everybody squint.
Garner had on his darkest sunglasses, and his mother wore a floppy hat. His mother's hair had reached that point where you couldn't tell if it was light or dark or mostly gray, but her eyes were still sharp as ever.
GCU. ...

Read full story
ESPN The Magazine: March 7, 2011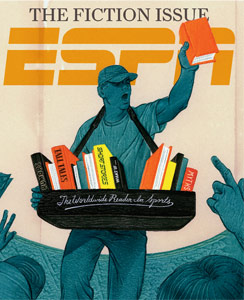 Check out ESPN The Magazine's March 7, 2011 issue below.
Fiction
Features