Discussion
Chop Suey Sandwich
A homemade lunch ruins a high school student's day.
Updated:
March 8, 2011, 7:11 PM ET
By
Stuart Dybek
| ESPN The Magazine
This short story was edited by McSweeney's for ESPN The Magazine's Fiction Issue.
FROM MY SEAT at the kitchen table, I watched my father scoop last night's congealed chop suey onto a slice of Wonder Bread he'd centered on a sheet of waxed paper. He made his lunch every morning before leaving for the factory, and he made mine, too, on days when he wanted to clean out the fridge. I knew it was hopeless to resist. Methodical as a mason, he tamped a gob level with the spoon and aligned ...

Read full story
ESPN The Magazine: March 7, 2011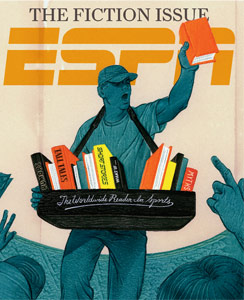 Check out ESPN The Magazine's March 7, 2011 issue below.
Fiction
Features