Discussion
Capology
Raising the lid on the darker side of fan fashion
Updated:
March 10, 2011, 1:25 PM ET
By
Andrew O'Reilly
| ESPN The Magazine
This article appears in the March 21, 2011 "Style Issue" of ESPN The Magazine
IN THE LATE 1980s, the legendary hip-hop group NWA introduced America to two things: LA gang culture and the menacing power of a baseball cap (Los Angeles Raiders, black). More than 20 years later, gang members continue to sport pro and college team hats to rep their crew. "It's a way to let others know whose turf they're on," says Commander Leo Schmitz of the Chicago Police Department's gang enforcement unit. ...

Read full story
ESPN The Magazine: March 21, 2011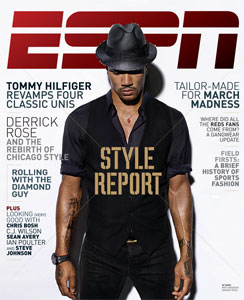 Check out ESPN The Magazine's March 21, 2011 issue below.
Style Report