Discussion
Elements of Style
Ever wonder why baseball players wear stirrups? Or which pro kicked off the endorsement gravy train? (Hint: Pantyhose got it all rolling.)
Updated:
March 11, 2011, 12:44 PM ET
ESPN The Magazine
1888: BASEBALL GETS ITS STRIPES The National Baseball Hall of Fame traces pinstripes to the 19th century, when the Washington Nationals and Detroit Wolverines of the National League and the Brooklyn Bridegrooms of the American Association added the detail. But baseball uniform scholar Marc Okkonen credits the 1907 World Series champion Cubs as the likely first wearer of the thin, vertical lines. (His database goes back only to 1900.) Either way, the most famous member of the pin crowd ...

Read full story
ESPN The Magazine: March 21, 2011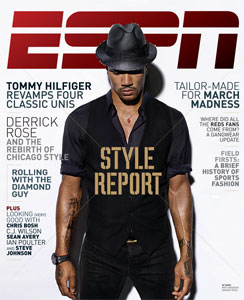 Check out ESPN The Magazine's March 21, 2011 issue below.
Style Report