Discussion
How to scam an athlete
10 steps con men use to take a jock for all he's worth
Updated:
April 22, 2011, 11:23 AM ET
By
Peter Keating
| ESPN The Magazine
This story appears in the May 2, 2011 issue of ESPN The Magazine.
IT WAS THE KIND of sweltering Columbia, S.C., day Corey Jenkins usually spent bringing folks to their feet, legging out a double or snaring a line drive. But on this afternoon, June 1, 1995, the 18-year-old star was earning an ovation at Dreher High's graduation. After the ceremony, as he made his way through the throng in the Carolina Coliseum, Corey saw James Brown, one of his agents. "The Red Sox took you ...

Read full story
ESPN The Magazine: May 2, 2011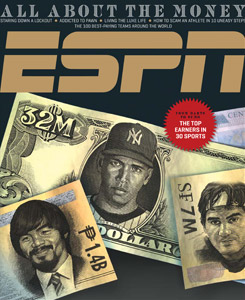 Check out what's in ESPN The Magazine's "All About the Money" issue!
Features
Columns & Go/Play