Discussion
Right and (mostly) wrong: NFL forecasts
Our expert went out on a limb. OK, a lot of limbs. How many of them broke under him?
Anyone can make a list of NFL preseason predictions. But not everyone mocks their knucklehead picks at season's end. I do.
The scoring scale:
35-46 correct answers -- Bill Belichick invites you on his boat to watch game tape.
25-34 -- You get to make a pick for the Green Bay Packers in the upcoming draft.
15-24 -- You wear thigh pads to work and smear on eye black.
5-14 -- Your mom knows more about the Cover 2 than you do.
0-4 -- ...

Read full story
SUPER BOWL XLVI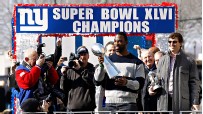 SUPER BOWL XLVI: Giants 21, Patriots 17
SPORTSNATION
PRO FOOTBALL HALL OF FAME
MORE NFL COVERAGE
NFL DRAFT