VITALE'S CORNER
WEEKLY AWARDS
Gregg Marshall is coach of the week after helping Wichita State finish the regular season 31-0. More »
VITALE'S LATEST BOOK
Check out Dick Vitale's Getting a W in the Game of Life, Dick Vitale's highly anticipated, motivational book for all ages!

It's tip-off time and time to get that W, a WIN, in the most important game of all...the game of life!
DICK VITALE'S TOP 25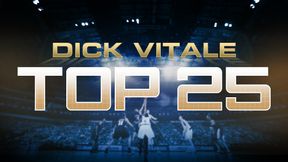 FOLLOW DICKIE V
Follow Dick Vitale every day on Twitter! He'll have the latest college hoops news and predictions.

Dickie V is a Facebook diaper dandy! Help him reach PTPer status by liking his official page.