Commentary
The All-Rolls-Royce Team
Updated:
October 27, 2009, 2:47 PM ET
By
Dick Vitale
| ESPN.com
I can't wait for the college basketball season to begin. I know, I know, it is the summer and there is a long time before we tip it off. That doesn't mean I can't think about next season, baby!
I sat down at the Broken Egg restaurant and picked my All-Rolls-Royce teams for next season, subject to change in October, just before the season begins. You know, injuries could influence a change.
My friends, there is a lot of talent out there, and this was not an easy process. I know there will be some debates, and that is part of the fun.
[+] Enlarge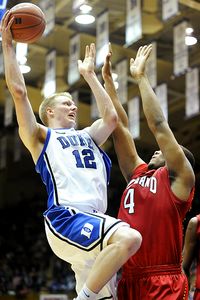 G Fiume/Getty ImagesKyle Singler is the offensive leader of the Blue Devils, and his strong presence down low as well as his smooth stroke from outside make him a threat every night.
So without further ado, I present the best of the best, starting with the All-Rolls-Royce first team:
SUMMERTIME ALL-ROLLS-ROYCE TEAM
FIRST TEAM
C-Cole Aldrich, Kansas -- 14.6 PPG, 10.6 RPG
F-Kyle Singler, Duke -- 16.7 PPG, 7.7 RPG
F-Luke Harangody, Notre Dame -- 23.2 PPG, 12 RPG
G-Sherron Collins, Kansas -- 18.3 PPG, 5 APG
G-Kalin Lucas, Michigan State -- 14.8 PPG, 4.4 APG

SECOND TEAM
C-Greg Monroe, Georgetown -- 12.7 PPG, 6.7 RPG
F-Damion James, Texas -- 15.4 PPG, 9.2 RPG
F-Patrick Patterson, Kentucky -- 18.2 PPG, 9.4 RPG
G-Scottie Reynolds, Villanova -- 15.5 PPG, 3.6 APG
G-Greivis Vasquez, Maryland -- 17.1 PPG, 5.1 APG

THIRD TEAM
C-Jarvis Varnado, Mississippi State -- 13.1 PPG, 9.0 RPG
F-Evan Turner, Ohio State -- 17.1 PPG, 7.0 RPG
F-Tyler Smith, Tennessee -- 17.2 PPG, 5.9 RPG
G-Jerome Randle, California -- 18.4 PPG, 4.9 APG
G-Willie Warren, Oklahoma -- 14.7 PPG, 3.0 APG

FOURTH TEAM
C-JaJuan Johnson, Purdue -- 13.2 PPG, 5.6 RPG
F-Gani Lawal, Georgia Tech -- 15.1 PPG, 9.5 RPG
F-Craig Brackins, Iowa State -- 20.2 PPG, 9.5 RPG
G-Talor Battle, Penn State -- 16.8 PPG, 4.9 APG
G-Devan Downey, South Carolina -- 19.9 PPG, 4.5 APG

FIFTH TEAM
C-Jerome Jordan, Tulsa -- 14 PPG, 8.6 RPG
F-Tasmin Mitchell, LSU -- 16.3 PPG, 7.2 RPG
F-Trevor Booker, Clemson -- 15.3 PPG, 9.7 RPG
G-James Anderson, Okla. State -- 18.6 PPG, 5.8 RPG
G-Nic Wise, Arizona -- 15.1 PPG, 4.6 APG

SIXTH TEAM
C-Ed Davis, North Carolina -- 6.4 PPG, 6.8 RPG
F-Manny Harris, Michigan -- 16.8 PPG, 6.9 RPG
F-Robbie Hummel, Purdue -- 12.7 PPG, 6.9 RPG
G-Denis Clemente, Kansas State -- 15.4 PPG, 3.3 APG
G-Jon Scheyer, Duke -- 15 PPG, 2.8 APG

SEVENTH TEAM
C-Samardo Samuels, Louisville -- 11.9 PPG, 4.7 RPG
F-Devin Ebanks, West Virginia -- 10.4 PPG, 7.7 RPG
F-Luke Babbitt, Nevada -- 16.8 PPG, 7.3 RPG
G-Aubrey Coleman, Houston -- 19.7 PPG, 8.4 RPG
G-LaceDarius Dunn, Baylor -- 15.3 PPG, 4.6 RPG

HONORABLE MENTION
C: DeShawn Sims, Michigan; Solomon Alabi, Florida State; A.J. Ogilvy, Vanderbilt
F: Chris Wright, Dayton; Al-Farouq Aminu, Wake Forest; Raymar Morgan, Michigan State; Da'Sean Butler, West Virginia; Lazar Hayward, Marquette; Quincy Pondexter, Washington; Deon Thompson, North Carolina
G: Isaiah Thomas, Washington; Jeremy Hazell, Seton Hall; Malcolm Delaney, Va. Tech; Deonta Vaughn, Cincinnati; Matt Bouldin, Gonzaga; Jerome Dyson, Connecticut; Kemba Walker, Connecticut; Osiris Eldridge, Illinois State
College Basketball analyst
Dick Vitale, college basketball's top analyst and ambassador, joined ESPN during the 1979-80 season. His thorough knowledge of the game is brought forth in an enthusiastic, passionate style. Vitale also contributes columns to ESPN.com.
MOST SENT STORIES ON ESPN.COM