Commentary
Student-athletes shine in '10 tourneys
Updated:
April 15, 2010, 4:07 PM ET
By
Dick Vitale
| ESPN.com
Reflecting on the men's and women's basketball national championship games, we heard a lot about the importance of the term "student-athlete."
Now look at the four teams participating in the respective title games: Butler, Duke, Connecticut and Stanford. Not only did these four teams play well as cohesive units, they represented schools that are proud of their performance on and off the court.
These schools have a common denominator, and it is more than having the chance to cut down the nets like the Duke men's team and the Connecticut women's team.
[+] Enlarge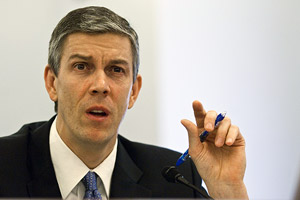 Scott J. Ferrell/Congressional QuarterlyEducation Secretary Arne Duncan wants action to address the graduation rates of college players.
Recently, the Sarasota Herald did an article on these four schools and their performance as students. This past season, these players were more than just basketball players -- they were genuine student-athletes, putting up big numbers in the classroom as well as on the court.
Look at the two Most Outstanding Players -- Kyle Singler and Maya Moore. They are two special young people: hard workers in the classroom and individuals who understand the importance of their education.
The NCAA has to be proud. The Secretary of Education, Arne Duncan, recently suggested that there should be a minimum threshold to participate in the NCAA basketball tournaments. Well, there was no issue for the four schools in this year's title games!
March Madness is so magical, and I have mixed feelings about Mr. Duncan's remarks. Many schools give kids an opportunity to fulfill a dream of being on a college campus and competing. You become a better all-around individual when given the chance to grow up and mature in that environment.
Butler, Duke, Stanford and Connecticut have great graduation rates. They prove that you can combine great academics and athletics and still succeed.
I applaud these schools for their great success with athletes and for taking accountability for the all-around individual.
College Basketball analyst
Dick Vitale, college basketball's top analyst and ambassador, joined ESPN during the 1979-80 season. His thorough knowledge of the game is brought forth in an enthusiastic, passionate style. Vitale also contributes columns to ESPN.com.
MOST SENT STORIES ON ESPN.COM