Commentary
Miami's Big Three could be brilliant
Updated:
July 9, 2010, 11:56 AM ET
By
Dick Vitale
| ESPN.com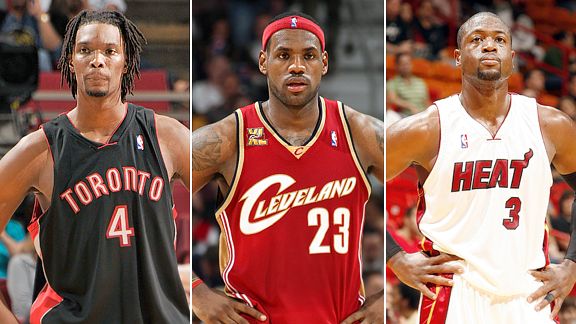 Getty ImagesChris Bosh, LeBron James and Dwyane Wade will all be wearing the same jersey next season in Miami.
The circus is over and the final decision is in. King James said bye-bye to Cleveland and hello to South Beach!
Seven magnificent years with the Cavaliers are over, and now it is time to join a dynamite situation. The trio of LeBron James, Dwyane Wade and Chris Bosh has the potential to be brilliant.
I don't want to hear that these three guys cannot play together. I heard that same thing about the Celtics when Kevin Garnett, Ray Allen and Paul Pierce assembled a superstar trio. I think that trio worked out fairly well when you look at the last three seasons.
The new Big Three can work in similar ways. Think back to the Los Angeles Lakers' threesome of Magic Johnson, Kareem Abdul-Jabbar and James Worthy. Those three were enshrined in Springfield as consummate Hall of Famers.
Great players want to win. They will find a way and unite together. I have no doubt that this can work in Miami under the leadership of a talented young coach in Erik Spoelstra and the brilliant Pat Riley.
[+] Enlarge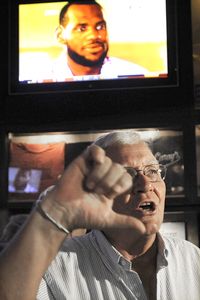 AP Photo/Paul BeatyLeBron James is Public Enemy No. 1 in Cleveland after skipping town for Miami on Thursday night.
My heart breaks for all of those fans in Cleveland. They loved LeBron like one of their own. He became a vital part of that city. I feel a tremendous letdown sentimentally.
I understand why he made his decision. He wanted to put himself in the best position to win a championship.
Get ready for some incredible battles in the state of Florida. My friends, the Orlando Magic will not back down. With Dwight Howard, Jameer Nelson, Vince Carter and everyone else, this team will battle.
Don't forget about the Celtics, either. They added a talented player in Jermaine O'Neal to go with Garnett, Allen, Pierce and Rajon Rondo.
The Eastern Conference has been the big winner in free agency.
Still, when you look at the Miami roster with those three superstars, there is still a question about size. If the Heat can get past Garnett and Howard, they could meet up with Phil Jackson's Lakers -- a franchise looking for a three-peat. What will happen if Miami faces Pau Gasol and Andrew Bynum inside?
You have to wonder about the parts the Heat will put around the big three.
The soap opera will go on and on. Personally, I can't wait to see the match-up on Christmas Day. Will it be Heat-Lakers? How about Bulls-Heat? Maybe Boston or Orlando could be in the equation?
For now, the biggest free agent question has been answered. You have to respect the fact that James sat there and faced the camera. He said he wanted to win and that the best place to get a ring was in Miami. Only time will tell if that works out.
College Basketball analyst
Dick Vitale, college basketball's top analyst and ambassador, joined ESPN during the 1979-80 season. His thorough knowledge of the game is brought forth in an enthusiastic, passionate style. Vitale also contributes columns to ESPN.com.
MOST SENT STORIES ON ESPN.COM