The Music Issue
Speakerheads
Doctor makes Beats. King wears them. Now, the headphones have taken over the sports world and beyond. J. Freedom du Lac » LeBron's photoshoot

THE BODY ISSUE

The 2013 Bodies We Want.

See more from our 2013 Body shoots.
In what kind of world does Nicki Minaj stand taller than Kobe Bryant? A world in which Jay Z, Drake and Timberlake brand teams. In which musicians are years ahead of athletes in rights and revenue streams. A world in which half a second of nipple can loom larger than the Super Bowl itself. In which the games might be over the moment they're played, but some Fall Out Boy song will blast arenas (and crank out residuals) for eternity.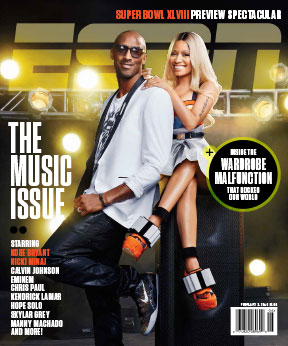 ESPNMag

ESPN The Magazine


The NBA's best soon-to-be-not-so secret? The @ATLHawks and how well they shoot off the pass, says @PKStatsBlog: http://t.co/Wn2Jt7jjC3
about 4 hours ago

ESPNMag

ESPN The Magazine


Okay, y'all really shoulda handled this by now, but if not…@ESPNInsider (with a Mag subscription!) is HALF OFF!! http://t.co/XtxnoqecQK
1 day ago

ESPNMag

ESPN The Magazine


Our stats give @WinTheDay a 17.7% chance to beat FSU by 21+ points. (Oh, and, BTW, they're also our title favorites): http://t.co/YqMlfYytwh
2 days ago

ESPNMag

ESPN The Magazine


Popeyes Bahamas Bowl? C'mon. Join @ryenrussillo in the quest to change its name: The Awesome Tough Guy Bowl, obvs. http://t.co/paNZ8osC3U
2 days ago

ESPNMag

ESPN The Magazine


Why the Hawks are the NBA's best-kept secret, via @PKStatsBlog: http://t.co/Wn2Jt7jjC3
2 days ago

ESPNMag

ESPN The Magazine


Hope you're turning to @ESPNU...our #ChampionshipDrive show starts in 5!!!
2 days ago

ESPNMag

ESPN The Magazine


Check out our @ESPNU #ChampionshipDrive Show TONIGHT at 9 pm ET!
2 days ago

ESPNMag

ESPN The Magazine


Need a last minute gift? @ESPNInsider (which includes a Mag subscription!) is HALF OFF!! http://t.co/XtxnoqecQK
2 days ago

ESPNMag

ESPN The Magazine


After averaging just 2.4 defensive win shares per year, @JHarden13 is on pace for 5.9 this season. So what's changed? http://t.co/5M3LzUaZ0U
2 days ago

ESPNMag

ESPN The Magazine


Out this week…the #ChampionshipDrive issue! How did @CJ12_ and @OhioStAthletics get to the first-ever CFB Playoff? http://t.co/EKtCiKDx4h
3 days ago

ESPNMag

ESPN The Magazine


And ICYMI, our #ChampionshipDrive story about Winston and his relationship with coach Jimbo Fisher http://t.co/eREzaWu8iA
3 days ago

ESPNMag

ESPN The Magazine


Out this week…the #ChampionshipDrive issue! How did @Jaboowins and @FSU_Football get to the first-ever CFB Playoff? http://t.co/DxufGGpauQ
3 days ago

ESPNMag

ESPN The Magazine


Out this week…the #ChampionshipDrive issue! How did Marcus Mariota and @WinTheDay get to the first-ever CFB Playoff? http://t.co/e3mFZYySYO
3 days ago

ESPNMag

ESPN The Magazine


Out this week…the #ChampionshipDrive issue! How did @_bsims6 and @AlabamaFTBL get to the first-ever CFB Playoff? http://t.co/yiaY8VAmox
3 days ago

ESPNMag

ESPN The Magazine


.@hbryant42 reflects on the good, the bad and the newsworthy this year: http://t.co/sDo7YUHPoE
3 days ago

ESPNMag

ESPN The Magazine


Folks, our #ChampionshipDrive playoff preview is GREAT. Title chances, QB stats, play breakdowns. Check it out! http://t.co/YqMlfYytwh
3 days ago