Commentary
Bithorn paved the way for Puerto Rican players
Updated:
September 26, 2008, 1:48 PM ET
By
Richard Lapchick
| Special to ESPN.com
There are likely to be some stars of Puerto Rican descent in the Major League Baseball playoffs. Chances are Carlos Beltran and Carlos Delgado will continue to help lead the Mets, while Javier Vazquez and Geovany Soto have fans in Chicago thinking big with the White Sox and Cubs, respectively.
They have followed generations of baseball legends from Puerto Rico in what has become a rich tradition on the island, which has produced more than 250 MLB players. Like most people who know something about the role Jackie Robinson played in integrating MLB for African-Americans, many think of Roberto Clemente when they think of pioneers from the island. The Roberto Clemente Coliseum stands as a testimonial to Clemente's life as well as his death in 1972 as a hero.
Far less known, but every bit the pioneer, was Hiram Bithorn. The national stadium that sits across the way from the Coliseum in San Juan was named Hiram Bithorn Stadium. Opened in 1962, it honors the island's first citizen to play in Major League Baseball.
[+] Enlarge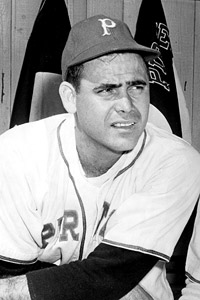 Getty ImagesHiram Bithorn was briefly with the Pittsburgh Pirates during early 1947, but was waived and later picked up by the Chicago White Sox.
And as we celebrate Hispanic Heritage Month, it is a special time to reflect on the past and honor the historic figures who paved the way. For Puerto Rican baseball players, everyone needs to look back to Hiram Bithorn.
Bithorn played for the San Juan Senators. He was a fine pitcher but was not the best player on the island, where winter ball was king. It seemed unlikely he would be chosen to break the barrier in the majors. However, a combination of his personal background and the onset of World War II helped pave the way to Bithorn's ascension with the Chicago Cubs.
On April 15, 1942 -- 13 years before Clemente would play in the majors -- Bithorn made his debut. Bithorn was light-skinned, had a name that did not sound Latino, and joined a field of Major League players who had been seriously depleted by World War II. The United States entered the war after Japan attacked Pearl Harbor in December 1941, and more than 70 MLB players had joined the U.S. Armed Forces before the 1942 season. They were joined by almost 140 more before the 1943 season started. That was more than half of the players in the 16-team leagues.
Bithorn's family was of Dutch and Spanish origin, making him look more European than stars like Perucho Cepeda, whose son, Orlando, would become one of baseball's best once the racial barriers fell. Perucho Cepeda had hit .377 in the 1941-42 winter season. Pancho Coimbre hit .438 with the New York Cubans of the Negro Leagues in 1942. But it was Bithorn who got the call.
[+] Enlarge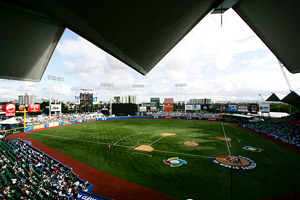 Al Bello/Getty ImagesFans watch a game at Hiram Bithorn Stadium in San Juan, Puerto Rico in 2006. The stadium was built in 1962 and was home to an MLB opening-day game in 2001.
Bithorn went 9-14 in his first season. In 1943, he went 18-12 with 19 complete games and led the league with seven shutouts. No one from Puerto Rico has broken that record. But Bithorn joined the Army and, as others who had done so, lost his career momentum when he returned. He went 6-5 with the Cubs in 1946 and ended his career with the White Sox. A sore arm hastened the end of what was once a promising career.
Bithorn posted a 34-31 career record with a 3.16 ERA. He completed 30 of the 53 games he started, and finished with eight shutouts. He pitched in the Mexican winter leagues but never regained the touch that would have allowed him back into MLB.
Tragedy struck when a Mexican policeman shot and killed Bithorn, then 35, on Dec. 31, 1951. The circumstances were cloudy at first: The officer said Bithorn identified himself as a member of a communist cell and acted violently. In the end, the police officer went to prison for the murder of Bithorn.
He was still such a source of pride for Puerto Rico that the stadium was named after him in 1962. Now it is no surprise to see great Puerto Rican players in MLB. But when you look at the careers of today's stars, remember they are all walking on the road created by Bithorn.
Richard E. Lapchick is the Chair of the DeVos Sport Business Management Graduate Program in the College of Business Administration at the University of Central Florida. The author of 10 books, Lapchick also directs UCF's Institute for Diversity and Ethics in Sport, is the author of the annual Racial and Gender Report Card, and is the Director of the National Consortium for Academics and Sport. He has joined ESPN.com as a regular commentator on issues of diversity in sport.
Contributing Writer, ESPN.com
American leader of the sports boycott of South Africa from 1975 until the end of apartheid
Chair of the DeVos Sport Business Management Graduate Program at the University of Central Florida
Author of 16 books and the annual Racial and Gender Report Card
Directs UCF's Institute for Diversity and Ethics in Sport
Director of the National Consortium for Academics and Sport
SPONSORED HEADLINES
ESPN TOP HEADLINES
MOST SENT STORIES ON ESPN.COM
HISPANIC HERITAGE MONTH
ESPN.com and ESPNdeportes.com celebrate Hispanic Heritage Month with stories that reflect on the contributions to the world of sports by Hispanic athletes and executives. For ESPN.com coverage,
click here
. For ESPNdeportes.com coverage,
click here
.
STORIES
Sept. 15
•
Cowboys among fan favorites in Mexico
•
Merrill: Eagles' line coach Castillo honors his past
•
Tanber: St. Francis AC had vision for future
•
ESPN The Magazine on USC QB Mark Sanchez
•
ESPN The Magazine on Ricky Rubio
•
Dettloff: Panama Al Brown a champion
Sept. 16
•
Carmona gave 'em something to cheer
|
Gallery
•
ESPNRISE.com: Soccer player Erik Hurtado
Sept. 17
•
Charlie Villanueva: 'Why I give back'
Sept. 18
•
Crasnick: The Manny Effect
Sept. 19
•
Latino food: an MVP at Yankee Stadium
•
Yankee Stadium's memorable musical night
Sept. 22
•
Drehs: Garza graces cover of Madden NFL '09
Sept. 23
•
McNeil: Velasquez an inspiration
Sept. 24
•
Drucker: Gonzalez's resolve to win came at price
Sept. 26
•
Lapchick: Bithorn paved way for Puerto Ricans
Oct. 1
•
Drucker: Gigi Fernandez a zealous competitor
•
Jackson: Manny Ramirez being … an MVP?
•
Keri: Pujols an underappreciated superstar
•
Tanber: Aaron Garcia finds his game
Oct. 2
•
Simmons: The real villain in Manny's departure
•
Dettloff: Hernandez brings hope to Salvadorans
•
Viruega: A century of American football in Mexico
Oct. 3
•
Rodriguez: Baseball motivates at Clemente High
Oct. 6
•
Tanber: Catching up with Lisa Fernandez
Oct. 7
•
Tanber: Chi Chi Rodriguez more than a matador
•
ESPNRISE.com: Nader transitions to new home
Oct. 8
•
Audio slide show: La Charreada
Oct. 10
•
Tanber: Zendejas promotes football among youth
Oct. 13
•
Tanber: Ochoa's legacy will reach beyond golf
•
Christensen: Figueroa a new face in men's golf
•
Christensen: Tanco a new face in women's golf
•
Merrill: Danny Villanueva's success story
Oct. 14
•
Hammann: Melendez first Globetrotter from Puerto Rico
Oct. 15
•
Buckheit: Chivas USA holds own in L.A. market
VIDEO
•
OTL: Roberto Clemente Jr. talks about his father
•
OTL: Tim McCarver remembers Clemente
•
OTL: Ozzie Guillen on his shrine to Clemente
•
E:60 video: Turf 2 Surf