Commentary
Next up for Madden Espaņol cover boy Garza: Avoid the jinx
Updated:
September 22, 2008, 5:26 PM ET
By
Wayne Drehs
| ESPN.com
CHICAGO -- Roberto Garza heard the snickers for years. And he understood why. He was the son of Mexican immigrants. His tiny, south Texas town of about 1,600 had never produced a college football player, not to mention a professional.
So he knew why people laughed when he told them he was going to play in the NFL. He knew, too, why they shook their heads when he jogged the streets of Rio Hondo each morning. He didn't care … until that day during his senior year, when a Marines recruiter told Garza what he thought of the boy's dreams.
"He just told me, 'Latinos don't play football. Not in college, not in the NFL. They don't play football,'" Garza said. "And I just decided, forget this guy. I was going to play college football and do everything I could to give myself a shot at the NFL."
Twelve years and a college career at Texas A&M-Kingsville later, not only is Garza one of 19 Latinos in the NFL -- a starting guard for the Chicago Bears who played in Super Bowl XLI -- but he's also the cover boy for the Spanish version of the EA Sports video game "Madden NFL '09."
So much for Latinos not playing football.
[+] Enlarge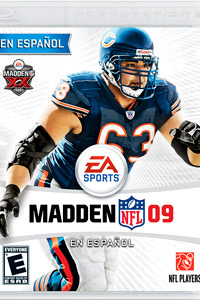 EA SportsIt's a long way from Rio Hondo to the Madden cover, but Roberto Garza never doubted himself.
"I'm not sure what [the recruiter] would have to say for himself now," Garza said. "It's all pretty impressive, I guess."
"Madden NFL '09 en Espaņol" is the second iteration of the Madden en Espaņol series, following up on last year's game that featured San Diego Chargers defensive lineman Luis Castillo on the cover. The game play is the exact same as the English version, but the text and audio are fully translated into Spanish. There are four separate Spanish music tracks, and Alvaro Martin, the first Spanish play-by-play broadcaster for "Monday Night Football," calls the play-by-play.
"Our population is growing in huge numbers, and the support for the NFL is growing just as fast," Garza said. "But the problem I've found is that they don't know a lot about the game. They struggle to understand it. For a kid to pick this up, they can learn about the game. They can explain it to their parents and friends, and they can do it in a Spanish environment they're familiar with. I wish I would have had it growing up."
The Madden series is the only EA game that features a Spanish version, but the company hopes to grow in that area. Future plans may include a Spanish version of EA's FIFA soccer game, one of the top-selling video games in the world.
"Offering the Hispanic fan base an opportunity to further develop their passion for the game by playing 'Madden NFL '09 en Espaņol' is something we hope to build upon down the road," said EA Sports senior product manager Anthony Stevenson.
For Garza, appearing on the cover was unfathomable.
"That's a dream I never had," Garza said. "They don't put offensive linemen on the covers of video games."
Garza's Bears teammates gave him a hard time after Castillo appeared on the cover of last year's game, so Garza and his agent reached out to EA to inquire about this year's candidates. The next thing Garza knew, he was calling to the house where he grew up in Rio Hondo trying to explain [his picture on the cover] to his mom and dad.
"It's hard for them to understand what this means. They didn't exactly grow up playing video games," Garza said. "But they're still pretty pumped."
[+] Enlarge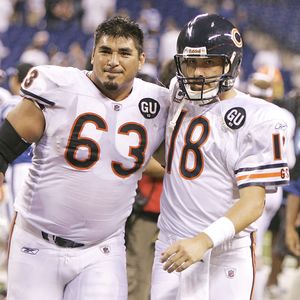 AP Photo/Darron CummingsHow far the Bears go this season will depend in part on how well Garza can help protect his quarterback, Kyle Orton.
Appearing on the cover of a Madden game does come with a catch: the infamous Madden curse. Since 2000, a number of players who have appeared on the cover of the game's English version have missed time thanks to injury the following year. The list includes Daunte Culpepper, Marshall Faulk, Michael Vick, Ray Lewis, Donovan McNabb, Shaun Alexander and Vince Young.
So what happened to Castillo last year?
"He got hurt," Garza admitted.
After suffering an ankle injury that required surgery in November, Castillo missed the Chargers' last six regular-season games. Garza has appeared in 95 straight NFL games dating back to 2002.
"I was sold on the idea that this was Madden Espaņol, that it's a whole different thing, that there's no curse, that I'm not going to get hurt," Garza said. "But now … well … hopefully, I'll be able to break it and start a new trend."
And if not, he'll always have his Madden franchise season to fall back on. Garza, who plays the game with some of the other Bears, mirrors the "real" season by playing one game in his franchise each week. He has yet to play as himself.
"No way," Garza said. "I guess I could make a big block, but let's be honest: In the real world, nobody wants to be an offensive lineman. I'd rather throw the ball and pretend like I'm a quarterback. If only I didn't throw so many interceptions. That's not good."
Wayne Drehs is a senior writer for ESPN.com. He can be reached at wayne.drehs@espn3.com.

Senior writer for ESPN.com
Written for ESPN.com since 2000
Three-time Sports Emmy Award winner
HISPANIC HERITAGE MONTH
ESPN.com and ESPNdeportes.com celebrate Hispanic Heritage Month with stories that reflect on the contributions to the world of sports by Hispanic athletes and executives. For ESPN.com coverage,
click here
. For ESPNdeportes.com coverage,
click here
.
STORIES
Sept. 15
•
Cowboys among fan favorites in Mexico
•
Merrill: Eagles' line coach Castillo honors his past
•
Tanber: St. Francis AC had vision for future
•
ESPN The Magazine on USC QB Mark Sanchez
•
ESPN The Magazine on Ricky Rubio
•
Dettloff: Panama Al Brown a champion
Sept. 16
•
Carmona gave 'em something to cheer
|
Gallery
•
ESPNRISE.com: Soccer player Erik Hurtado
Sept. 17
•
Charlie Villanueva: 'Why I give back'
Sept. 18
•
Crasnick: The Manny Effect
Sept. 19
•
Latino food: an MVP at Yankee Stadium
•
Yankee Stadium's memorable musical night
Sept. 22
•
Drehs: Garza graces cover of Madden NFL '09
Sept. 23
•
McNeil: Velasquez an inspiration
Sept. 24
•
Drucker: Gonzalez's resolve to win came at price
Sept. 26
•
Lapchick: Bithorn paved way for Puerto Ricans
Oct. 1
•
Drucker: Gigi Fernandez a zealous competitor
•
Jackson: Manny Ramirez being … an MVP?
•
Keri: Pujols an underappreciated superstar
•
Tanber: Aaron Garcia finds his game
Oct. 2
•
Simmons: The real villain in Manny's departure
•
Dettloff: Hernandez brings hope to Salvadorans
•
Viruega: A century of American football in Mexico
Oct. 3
•
Rodriguez: Baseball motivates at Clemente High
Oct. 6
•
Tanber: Catching up with Lisa Fernandez
Oct. 7
•
Tanber: Chi Chi Rodriguez more than a matador
•
ESPNRISE.com: Nader transitions to new home
Oct. 8
•
Audio slide show: La Charreada
Oct. 10
•
Tanber: Zendejas promotes football among youth
Oct. 13
•
Tanber: Ochoa's legacy will reach beyond golf
•
Christensen: Figueroa a new face in men's golf
•
Christensen: Tanco a new face in women's golf
•
Merrill: Danny Villanueva's success story
Oct. 14
•
Hammann: Melendez first Globetrotter from Puerto Rico
Oct. 15
•
Buckheit: Chivas USA holds own in L.A. market
VIDEO
•
OTL: Roberto Clemente Jr. talks about his father
•
OTL: Tim McCarver remembers Clemente
•
OTL: Ozzie Guillen on his shrine to Clemente
•
E:60 video: Turf 2 Surf
MOST SENT STORIES ON ESPN.COM