Commentary
Zendejas drives kids toward football -- the NFL kind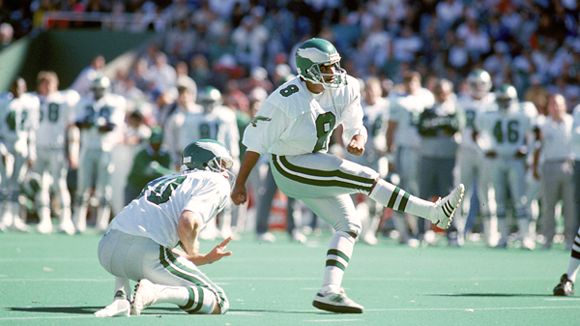 NFL Photos/Getty ImagesFormer Eagles kicker Luis Zendejas, attempting a field goal against San Francisco in 1989, is now a community relations director for the Arizona Cardinals and encourages Hispanic youth to play football.
When the Arizona Cardinals host the Dallas Cowboys on Sunday afternoon, 50 football players -- most of them Hispanic -- from Sunnyside High School in South Tucson will make the 120-mile journey to University of Phoenix Stadium in suburban Phoenix to watch the game.
The players can thank Luis Zendejas for the tickets.
And one day, perhaps, for something more.
Zendejas, a former NFL kicker and community relations director for the Cardinals, is on a mission to sell football to Latino youths in Arizona, where about one-third of the population is Hispanic.
"I just want to open up their eyes so they know there's more than what they see. That's my main thing," said Zendejas, 46.
He faces a hefty challenge. Soccer and baseball are the sports of choice among the majority of Latino youths in Arizona, with football lagging. Zendejas, though, remains undeterred. For one, he has the perfect example to demonstrate his point -- himself.
Zendejas, one of nine children, was born in Mexico City. His parents moved the family to Chino, Calif., when Luis was 8. Soccer was the main sport for the Zendejas kids. By the time he reached Don Antonio Lugo High School, Luis became a star midfielder. One day the school's football coach, Jack Copas, noticed Luis' dangerous leg and told him he needed a kicker.
His first thought: "Hey, I'm not going to leave soccer for football."
The connection
The NFL has a strong fan base in Mexico, with the Dallas Cowboys and the Pittsburgh Steelers among the most popular teams, writes Rafael Zamorano of ESPNdeportes.com. Story

• The Chicago Bears' Roberto Garza graces the cover of the Spanish version of "Madden NFL '09," and as ESPN.com's Wayne Drehs writes, Garza plans to avoid "the jinx." Story
• Philadelphia Eagles offensive line coach Juan Castillo has a message for others seeking their NFL dreams, writes ESPN.com's Elizabeth Merrill. Story
• Despite disappointments and injuries, for Aaron Garcia, it's all about playing the game as long as you can, writes George J. Tanber. Story
The coaches worked it out, and Zendejas soon was scoring goals for the soccer team and booting field goals and extra points for the football team in the same season. In his senior year, in 1979, he kicked the winning field goal to lead Lugo to its first California Interscholastic Federation title. Still, Zendejas warmed slowly to the gridiron, where he was the only Hispanic on the team.
"Football was boring for me in the beginning," he said. "You go out there, kick a couple of field goals and a couple of kickoffs, and that's it. In soccer, I was used to playing center field and always having the ball."
His attitude toward the sport changed when Arizona State University offered him a football scholarship, an inconceivable thought only a few years earlier for any member of the Zendejas family. "That's what opened the door for me," he said. "I wouldn't have gotten anything for soccer."
Zendejas starred at ASU, where he broke all of the school's kicking records and eventually made ASU's Hall of Fame. That led to a brief NFL career with the Cowboys and the Philadelphia Eagles in the late-1980s. He then joined the Arizona Rattlers of the Arena Football League, where he won a title in 1994 before retiring after the following season.
His early success led other Zendejases into the game -- all as kickers. His brother, Max, played at the University of Arizona, and an older brother, Joaquin, was with the New England Patriots for two games in 1983. And a cousin, Tony Zendejas, retired in 1995 after 10 seasons kicking in the NFL.
After leaving football, Luis Zendejas worked 10 years in private-sector community service before joining the Cardinals in 2001. In his position, he oversees numerous charitable and other activities, particularly player appearances, intended to boost the team's image and ticket sales around the state. Now that the Cardinals are competitive after years of futility, his job has become easier.
[+] Enlarge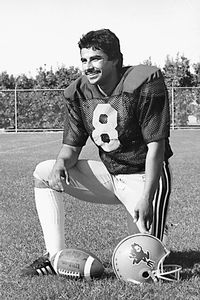 Courtesy The Arizona CardinalsZendejas' attitude about football changed when he was offered a scholarship to kick at Arizona State.
There's nothing easy about changing a culture, but in some ways it's happening. The flag football program sponsored by the NFL, which involves youths 5 to 17 years old, has been crucial. In Phoenix, 10,000 kids are playing, including a 38-team Hispanic league. The Cardinals, with Zendejas in charge, help oversee the program. After six years, he's noticing progress in two areas.
"When we started, most of the Hispanic youths were Cowboy and Raider fans," he said. "Now there are more Cardinal fans."
Also, some of the more talented Hispanic flag football graduates and Pop Warner league players who are now in high school have chosen football over soccer, a number of them encouraged to do so by a persuasive Zendejas. Again, his personal experience helps lend credibility to his argument, and his personal involvement helps overcome some sensitive issues.
"Many of these Hispanic kids come from big families. They can't afford to pay for the tickets to see their kids play," he said. "So I tell the kids, 'Don't worry about it. You play high school football and I'll get your parents in.' I then call up the high school and tell them I need eight tickets to the game."
Also helpful is the Cardinals' roster, which has included two Mexicans in recent years, a rarity in the NFL. Rolando Cantu, who played at Monterrey Tech in Monterrey, Mexico, was an offensive lineman for several years before joining the team's front office as director of international affairs. Eduardo Castaņeda, a linebacker, also from Monterrey Tech, is a practice squad player. Cantu and Castaņeda have been making appearances at community events in Hispanic neighborhoods. Meanwhile, Arizona State's football roster has two Hispanics, while the University of Arizona has seven, including Luis Zendejas' nephew, Alex Zendejas, a redshirt freshman kicker.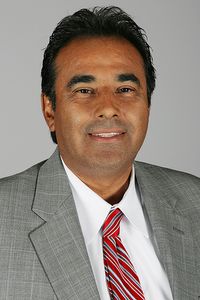 Arizona CardinalsZendejas joined the Cardinals in 2001. He oversees various charitable and other activities, particularly player appearances, intended to boost the team's image and ticket sales.
Richard Sanchez, coach of the Sunnyside team that will be guests of the Cardinals on Sunday, says the influence these players have on Hispanic youths is significant.
"Anytime you hear a Hispanic name being called out on Saturday or Sunday, that's got to give a bit of added fuel for our kids," he said. "It says, 'Hey, you know what? I can do it.'"
Sanchez says that Zendejas and the Cardinals have helped his program and others in the Tucson area for the past six years -- providing used equipment, game tickets and other assistance. He is impressed with the effort.
"He's done what he can to expose our kids to the game of football," he said. "And he's spreading the wealth to make sure to include underprivileged and Hispanic kids."
Zendejas calls Sanchez an outstanding coach, the sort of man who can turn a soccer kid into a football player, much like his high school coach did. Zendejas wants to work with other coaches like Sanchez so he can continue to spread his message: Look what football did for me.
Says Zendejas: "I tell them, 'It might not be your No. 1 sport, but life can still be good. More important is your education and what you do after that. You're still going to play soccer on a recreational basis.'"
Zendejas is true to his word on that last point, as well. Ask him which sport he'd choose to play with the guys on a Saturday afternoon, and he says he'd still pick soccer. Every time.
George J. Tanber is a contributor to ESPN.com. He can be reached at george.tanber@iscg.net.
George J. Tanber is a frequent contributor to ESPN.com's golf coverage.
HISPANIC HERITAGE MONTH
ESPN.com and ESPNdeportes.com celebrate Hispanic Heritage Month with stories that reflect on the contributions to the world of sports by Hispanic athletes and executives. For ESPN.com coverage,
click here
. For ESPNdeportes.com coverage,
click here
.
STORIES
Sept. 15
•
Cowboys among fan favorites in Mexico
•
Merrill: Eagles' line coach Castillo honors his past
•
Tanber: St. Francis AC had vision for future
•
ESPN The Magazine on USC QB Mark Sanchez
•
ESPN The Magazine on Ricky Rubio
•
Dettloff: Panama Al Brown a champion
Sept. 16
•
Carmona gave 'em something to cheer
|
Gallery
•
ESPNRISE.com: Soccer player Erik Hurtado
Sept. 17
•
Charlie Villanueva: 'Why I give back'
Sept. 18
•
Crasnick: The Manny Effect
Sept. 19
•
Latino food: an MVP at Yankee Stadium
•
Yankee Stadium's memorable musical night
Sept. 22
•
Drehs: Garza graces cover of Madden NFL '09
Sept. 23
•
McNeil: Velasquez an inspiration
Sept. 24
•
Drucker: Gonzalez's resolve to win came at price
Sept. 26
•
Lapchick: Bithorn paved way for Puerto Ricans
Oct. 1
•
Drucker: Gigi Fernandez a zealous competitor
•
Jackson: Manny Ramirez being … an MVP?
•
Keri: Pujols an underappreciated superstar
•
Tanber: Aaron Garcia finds his game
Oct. 2
•
Simmons: The real villain in Manny's departure
•
Dettloff: Hernandez brings hope to Salvadorans
•
Viruega: A century of American football in Mexico
Oct. 3
•
Rodriguez: Baseball motivates at Clemente High
Oct. 6
•
Tanber: Catching up with Lisa Fernandez
Oct. 7
•
Tanber: Chi Chi Rodriguez more than a matador
•
ESPNRISE.com: Nader transitions to new home
Oct. 8
•
Audio slide show: La Charreada
Oct. 10
•
Tanber: Zendejas promotes football among youth
Oct. 13
•
Tanber: Ochoa's legacy will reach beyond golf
•
Christensen: Figueroa a new face in men's golf
•
Christensen: Tanco a new face in women's golf
•
Merrill: Danny Villanueva's success story
Oct. 14
•
Hammann: Melendez first Globetrotter from Puerto Rico
Oct. 15
•
Buckheit: Chivas USA holds own in L.A. market
VIDEO
•
OTL: Roberto Clemente Jr. talks about his father
•
OTL: Tim McCarver remembers Clemente
•
OTL: Ozzie Guillen on his shrine to Clemente
•
E:60 video: Turf 2 Surf