Commentary
Tanco isn't your average teenage golfer
Updated:
October 13, 2008, 2:49 PM ET
By
Sebastian M. Christensen
| Special to ESPNdeportes.com
For an average teenager, playing in a major LPGA tournament would have been the highlight of a career.
But that wasn't the case for Victoria Tanco, a 14-year-old golf prodigy. She had just finished participating in the U.S. Women's Open at Edina, Minn., this past June.
"I was angry," Tanco said. "I didn't play my best golf out there, but if I get the chance to play that event -- U.S. Open -- again next year, I hope I can play to my potential.
"In retrospect, it was a very important tournament for me, actually the most important one. But I always play to win."
Tanco's discovery of golf, the game that she loves, is a thing of the past. But the passion is still there. So the teen from Moreno, Argentina, plans to make a career out of golf. Her victories at the junior level are the path to the main objective.
[+] Enlarge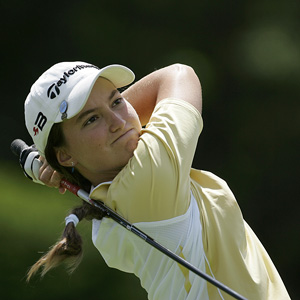 AP Photo/Kiichiro SatoVictoria Tanco has an ambitious vision for her future, and she's determined to master the women's tour before setting her sights on the men's.
Tanco was introduced to Lorena Ochoa on the putting green and played a practice round with Paula Creamer, whom she surpassed off the tee almost on a regular basis.
But it wasn't enough to mingle with essentially the best players in the world. Nor was the fact that she had just played her first major. She'd wanted to win; she'd wanted to make the cut.
Although in her eyes it was a premature exit, she certainly did enough to catch the attention of the fans and the media as one of the new faces of golf.
There is no better example than her second shot on the ninth hole of the first round of her first major. She was 154 yards from the hole, and the green had a big false front. Tanco hit a 5-iron, and her shot bounced past the flag. But suddenly, she heard a big roar.
"From where I was, I couldn't see the hole, but I realized the ball had gone in because of the shouting," the young Argentinean explained. "It was something beautiful, and I will never forget it."
Victoria's father, Marcelo, says people in the United States love golf, enjoy watching the game and don't care where you've come from.
"They will let you know if you are doing something good," he said. "While I was walking the course, they constantly congratulated me for my daughter, and they were impressed with Vicky's length from the tee."
A little more than a month later, Tanco was ready for her next objective: to advance to the U.S. Women's Aamateur Championship.
She had to qualify for that event in Eugene, Ore., and she did so by finishing sixth. She didn't have a good start on the first day, but an eagle on the 17th hole put her back on track. Tanco finished with rounds of 74 and 69.
In the main event, match play, Tanco lost in the first round to Pearl Jin, but her father wasn't too concerned.
"One of Victoria's biggest virtues is that she is very consistent," he said. "In match play, you can have a bad round, but some good holes and win. It is not the format that best suits her game."
But because Victoria qualified in sixth place for that event, she climbed up the charts in the two most important amateur rankings in the United States. As of Tuesday, she was ranked first in the Golfweek rankings and third in the American Junior Golf Association rankings.
As success keeps piling up in Tanco's career, new challenges arise.
"Vicky" is a natural-born competitor. Being one of golf's biggest prospects just isn't enough for her.
"I now want to finish first in both rankings and be named player of the year," Tanco said.
The Tanco family is aware of what has happened to golfers such as American Michelle Wie, who has never won on the LPGA Tour but has played various tournaments against men in the PGA Tour. Tanco's parents don't want her to follow the same path.
"I want to play in the LPGA Tour, that's my dream, to be the best player in the world someday," Tanco said. "There's a lot of talent out there, and to me it doesn't make sense to play against men unless you are the No. 1 player in the world and have no competition among women."
HISPANIC HERITAGE MONTH
ESPN.com and ESPNdeportes.com celebrate Hispanic Heritage Month with stories that reflect on the contributions to the world of sports by Hispanic athletes and executives. For ESPN.com coverage,
click here
. For ESPNdeportes.com coverage,
click here
.
STORIES
Sept. 15
•
Cowboys among fan favorites in Mexico
•
Merrill: Eagles' line coach Castillo honors his past
•
Tanber: St. Francis AC had vision for future
•
ESPN The Magazine on USC QB Mark Sanchez
•
ESPN The Magazine on Ricky Rubio
•
Dettloff: Panama Al Brown a champion
Sept. 16
•
Carmona gave 'em something to cheer
|
Gallery
•
ESPNRISE.com: Soccer player Erik Hurtado
Sept. 17
•
Charlie Villanueva: 'Why I give back'
Sept. 18
•
Crasnick: The Manny Effect
Sept. 19
•
Latino food: an MVP at Yankee Stadium
•
Yankee Stadium's memorable musical night
Sept. 22
•
Drehs: Garza graces cover of Madden NFL '09
Sept. 23
•
McNeil: Velasquez an inspiration
Sept. 24
•
Drucker: Gonzalez's resolve to win came at price
Sept. 26
•
Lapchick: Bithorn paved way for Puerto Ricans
Oct. 1
•
Drucker: Gigi Fernandez a zealous competitor
•
Jackson: Manny Ramirez being … an MVP?
•
Keri: Pujols an underappreciated superstar
•
Tanber: Aaron Garcia finds his game
Oct. 2
•
Simmons: The real villain in Manny's departure
•
Dettloff: Hernandez brings hope to Salvadorans
•
Viruega: A century of American football in Mexico
Oct. 3
•
Rodriguez: Baseball motivates at Clemente High
Oct. 6
•
Tanber: Catching up with Lisa Fernandez
Oct. 7
•
Tanber: Chi Chi Rodriguez more than a matador
•
ESPNRISE.com: Nader transitions to new home
Oct. 8
•
Audio slide show: La Charreada
Oct. 10
•
Tanber: Zendejas promotes football among youth
Oct. 13
•
Tanber: Ochoa's legacy will reach beyond golf
•
Christensen: Figueroa a new face in men's golf
•
Christensen: Tanco a new face in women's golf
•
Merrill: Danny Villanueva's success story
Oct. 14
•
Hammann: Melendez first Globetrotter from Puerto Rico
Oct. 15
•
Buckheit: Chivas USA holds own in L.A. market
VIDEO
•
OTL: Roberto Clemente Jr. talks about his father
•
OTL: Tim McCarver remembers Clemente
•
OTL: Ozzie Guillen on his shrine to Clemente
•
E:60 video: Turf 2 Surf
MOST SENT STORIES ON ESPN.COM