Commentary
Latino influence shapes action sports
Skateboarding pioneers Tony Alva and Stacy Peralta opened the doors to a culture
Originally Published:
September 29, 2009
By
Richard Lapchick
| Special to ESPN.com
In the course of researching a book on Hispanic athletes, I expected to find a strong Latino presence in baseball, soccer and boxing, and I did. The area that surprised me most, though, was the Latino presence, success and influence in the X Games, one of the most popular events among Generation X and Generation Y demographics. Previously, I had wondered why Los Angeles has been the X Games host city for the past seven years, and will be again in 2010.
[+] Enlarge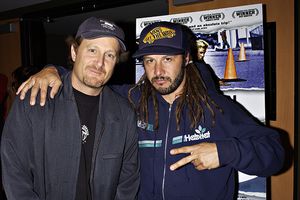 Theo Wargo/WireImageTheir competition days are behind them, but Stacy Peralta, left, and Tony Alva, right, are still making it big.
I discovered that skating has its roots in Los Angeles and in the Latino community which, according to the U.S. Census Bureau, makes up 47.7 percent of the L.A. County population and 36.6 percent of the population of California. Tony Alva and Stacy Peralta, both Mexican-American, were two of the original members of the Z-Boys, a group of skateboarders from Venice, Calif., who are credited with popularizing and introducing aerial tricks to the sport. The Z-Boys first got together as surfers and then expanded into skateboarding in 1975. Alva and Peralta were original founders, along with Chris Cahill, Nathan Pratt, Jay Adams and Allen Sarlo.
The Z-Boys changed skateboarding by introducing a punk-rock aspect that is now tied to the skateboarding culture. Empty swimming pools in Southern California became the sites where new, high-risk aerials were practiced. The Z-Boys became famous for those aerial moves and became what is arguably the most influential skateboarding team ever.
Peralta wrote the script for the movie "Lords of Dogtown" about the Z-Boys. The 2005 film starred Heath Ledger.
Alva is often credited with being the first to perform aerials on a skateboard, and in 1977, he became the first Professional Skateboarding World Champion. In addition to his athleticism, he has an entrepreneurial side. Instead of signing with a major skateboarding label, the 19-year-old Alva started his own skateboard company in 1977. Alva Skates was the first skateboard company owned and run by a skateboarder.
Athletic Quotient Test

I have been doing diversity management training for almost 40 years. Most of that work has been with professional sports leagues, pro teams and college athletic departments. In the mid-1990s I developed an AQ (Athletic Quotient) test. As part of it, participants were asked to write down the names of 20 male athletes, 20 female athletes, 20 African-American athletes and 20 Latino athletes. In the five years I used the AQ, almost everyone was able to come up with 20 male names. Many of the women who took it were able to list 20 women athletes, while the men averaged between 10 and 12 names in that part of the test.
Women were able to name only a handful of African-American or Latino athletes. African-Americans had little trouble listing 20 African-American athletes but averaged fewer than 10 women and five Latinos. Most Latinos came up with 20 Latino athletes, but only 10 African-Americans and five women.
The exercise encouraged me to write about athletes by race and gender so that people of different racial and ethnic groups, as well as men and women, would have access to information on athletes who do not look like them. We published a book on 100 African-American athletes in 2008, and another on 100 women athletes earlier this year. Next year, we will publish "100 Campeones: Latino Groundbreakers Who Paved the Way in Sport."
-- Richard Lapchick
By the time Peralta was 19, he had created several new tricks and was at the top of the ranks of professional skateboarders. Peralta and manufacturer George Powell formed the Powell-Peralta skate gear company, which helped him create the Bones Brigade skate team. That group, composed of some of the best skateboarders in the sport -- including Tony Hawk, Mike McGill, Steve Caballero, Lance Mountain and Tommy Guerrero -- further revolutionized skateboarding.
Peralta helped spread the culture worldwide by directing and producing skating videos in addition to "Lords of Dogtown." He has had a successful career in film and TV as a director, producer and writer.
For Generations X and Y, the X Games provide a new and exciting form of sporting entertainment. They lend an edginess and sense of danger not often found in more traditional sports such as basketball, baseball and football. Action sport athletes continually push their physical and creative abilities to what seems like unearthly limits. More than 111,000 fans turned out for X Games 15, a four-day event in Los Angeles in August. Between the ESPN and ABC broadcasts, the X Games reached a million households daily.
Sponsors are paying attention to the Los Angeles Latino community. According to an X Games on-site report conducted by ESPN Research, 47 percent of all attendees at the 2008 X Games were Latino. Last year, the X Games partnered with La Raza Radio to air more than 120 spots promoting the Games, which were also promoted on Latino Web sites and LA TV, a Latino network in Los Angeles that ran more than 50 20-second spots promoting the events.
One of the most popular skateboarders is Latino Paul Rodriguez Jr., who is featured in my colleague Mary Buckheit's story here. Rodriguez became the first action sports athlete -- and the first Mexican-American -- to sign a signature shoe deal with Nike and was featured in a Nike commercial with rap star Ice Cube and Kobe Bryant. Rodriguez won gold in the 2004 and 2005 X Games.
Venezuelan-born Daniel Dhers became a serious athlete and rider when he moved to Argentina at the age of 16. Dhers won gold medals in the X Games as a BMX rider in both 2007 and 2008, and also won the gold in the LG Action Sports World Championships in 2006 and 2008. In Venezuela, where BMX is not as developed as it is in the United States, Dhers is viewed as a pioneer and is becoming an ambassador for the sport.
In 2003, the X Games featured skateboarding competitions for women for the first time, and Latina Vanessa Torres won the first gold medal by capturing the street course. She took the silver medal in 2004.
[+] Enlarge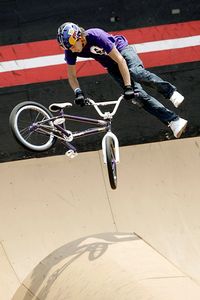 AP Photo/Reed SaxonDaniel Dhers, here winning the BMX Freestyle Park finals at the X Games in 2007, is an ambassador for the sport in Venezuela.
The innovative Kyle Loza has become extremely popular in the world of action sports. For three straight years, he won the Moto X Best Trick at the X Games with stunts he calls "The Volt" and the "Electric Doom." In the latter, Loza hops over his handlebars and does a back flip in midair before landing back safely on his bike.
Mike Escamilla, the subject of a feature on ESPN.com last week, was voted one of the most influential BMX riders of the 1990s by Ride Magazine. In 2005, Escamilla broke and set two world records at X Games 11 for the longest backflip and the longest 360 on a BMX bike. He has his own action figure and signature model shoes, and is in several action sports video games.
Sandro Dias is a noted Brazilian skater who won the vert skateboarder world title from 2003 to 2007. He is best known for his mastery of the 540 and being in an exclusive club of competitors who can successfully pull off the 900. Dias took the gold medal for Skateboard Vert at X Games 12.
As the demographics of the United States continue to change, it is no surprise that the sporting scene has changed with it. Because of its roots in the Latino community and its continued support by Latino spectators, action sports should continue to develop Latino athletes and draw a diverse crowd.
Richard E. Lapchick is the Chair of the DeVos Sport Business Management Graduate Program in the College of Business Administration at the University of Central Florida. Lapchick also directs UCF's Institute for Diversity and Ethics in Sport, is the author of 14 books and the annual Racial and Gender Report Card, and is the director of the National Consortium for Academics and Sport. His 15th book, "100 Campeones: Latino Groundbreakers Who Paved the Way in Sport," will come out in the winter. Lapchick has joined ESPN.com as a regular commentator on issues of diversity in sport.

Contributing Writer, ESPN.com
American leader of the sports boycott of South Africa from 1975 until the end of apartheid
Chair of the DeVos Sport Business Management Graduate Program at the University of Central Florida
Author of 16 books and the annual Racial and Gender Report Card
Directs UCF's Institute for Diversity and Ethics in Sport
Director of the National Consortium for Academics and Sport
SPONSORED HEADLINES
ESPN TOP HEADLINES
MOST SENT STORIES ON ESPN.COM