AIDS community misses old Magic act
Originally Published:
November 7, 2001
By
Tom Farrey
| ESPN.com
LOS ANGELES -- The forest-green awning can't be seen from the street, yet can't be missed by anyone who steps inside the wrought-iron gates of the Carl Bean House. Painted on the bottom, in white letters made distinct by the sun, the words "Magic Johnson Clinic" herald a state-of-the-art facility connected to the AIDS hospice.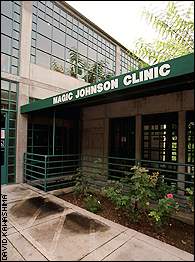 The Magic Johnson Clinic is attached to the Carl Bean House at 2146 W. Adams Blvd. in South Central Los Angeles.
Inside, though, the door to the clinic is locked. The computers are silent, the lights are turned off, and no doctors are on site. That's because it's a Monday, and the clinic to which Magic has lent his name so far has only generated enough patients -- 48 -- in this largely poor, minority section of South-Central L.A. to be open two days a week, Tuesday and Friday.
It's not that the epidemic has gone away in neighborhoods like these. Once a disease that mostly affected gay, white men in the U.S., African-Americans now constitute half of all AIDS cases. The mortality rate among blacks is more than 10 times that of whites, due to what experts say is a lack of testing for HIV until it's too late.
The great hope is that the clinic, named after the most famous black male with the virus, will save lives in this part of town. But first people must know it exists. That takes publicity, and so far administrators haven't been able to get Johnson to make the 10-minute drive down the hill from his Wilshire Boulevard office for the official grand opening.
Scheduling problems, they're told. So they wait, patiently, for their big ribbon-cutting, as the most potent spokesman for their cause buys Fatburger restaurants, appears on the "Hollywood Squares" and raises money for World Trade Center relief. The clinic has been open since May, and he's never seen it.
"Having him come here brings awareness, just like 10 years ago when he announced his HIV status," said Darlene Brown, a manager on site.
The clinic's goal is to identify and serve 200 patients.
"And they'll get it if (Johnson) gets involved," said Claude Bowen, an official at the Minority AIDS Project of Los Angeles, a separate organization serving the community. "But that's not going to happen. It's sad."
This is the complicated, flip side of living longer and better than anyone suspected. A decade after announcing that he had acquired the virus that causes AIDS, Johnson has emerged as a thriving businessman, with investments in inner-city theatres, restaurants and coffeehouses. He's raising his three children and squiring his wife. He's getting on with his life, one that many expected to have faded by now.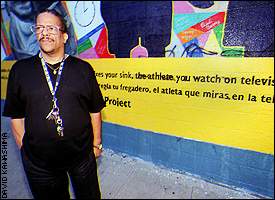 Claude Bowen, an AIDS patient and manager of the Minority AIDS Project, stands in front a mural on the outside of the building that reminds the public that victims include athletes.
But to some in the HIV community, it feels like Johnson has retired from a second job -- this time from the disease that prompted his first departure, from pro basketball. They say the man who pledged to be a spokesman for HIV prevention and awareness, who once quit the National Commission on AIDS in protest over the first Bush Administration's commitment to the issue, has become increasingly less visible as an activist for the cause.
More often now, it's rappers like Queen Latifah and Ice Cube who are reaching out to inner-city youth, pushing the message of getting tested for HIV, Bowen said. On the Web site for the Magic Johnson Foundation, originally set up for the sole purpose of raising funds for community-based organizations with HIV/AIDS programs, it takes some searching to find any mention of HIV or AIDS anymore.
Johnson's associates say that if it seems he has retreated as a flag-bearer for the cause, it's only because in recent years he has broadened his focus to include other charitable interests, such as breast cancer and the digital divide. It's a matter of addition, not subtraction, they say.
"He has not in any way abandoned this issue," said Kawanna Brown, the president of Johnson's foundation.
"He can only do so many things," said Lon Rosen, Johnson's former agent who until last year also sat on his foundation board. "He gets 10,000 requests for help and has to turn down 99.8 percent of them. Even though his nickname is Magic, this is just one human being."
People want to spend Magic Johnson's time like they want to spend Bill Gates' money. They know how much good it can do. His 1991 announcement was the ultimate AIDS cocktail -- a beloved athlete stepping forward to change the face of a disease that had been scoffed at as anything more than a condition affecting gays.
| | | |
| --- | --- | --- |
| | | A decade after Johnson's announcement, more than 6,000 people on average die from AIDS each day in Africa -- the equivalent of a daily World Trade Center disaster |
In the coming days and months, Johnson would appear on "The Arsenio Hall Show" to encourage viewers to wear condoms, talk to the media about his brazen sex life with women who weren't his wife, and write a book that immortalized his experience.
Johnson's impact in those first years was palpable, said Ron Valdiserri, a deputy director at the Centers for Disease Control. One study from Denver noted a 200 percent increase in HIV testing from a year earlier. A Maryland clinic in 1993 said clients were reporting fewer one-night stands, and fewer multiple partners.
"What I try to do is help educate all people about what this is about," Johnson said. "That you can hug and kiss someone, high-five them, treat them the way you treated them before, don't discriminate against people who have HIV and AIDS.
"Now, we talk openly about it."
Johnson just isn't talking as much. Or at least kids aren't hearing him as much.
Down the street and around the corner from what was once called the Fabulous Forum, the one-time home of the Los Angeles Lakers where Johnson held his press conference 10 years ago, a group of six Morningside High School basketball players linger on an outdoor court after PE class. They say they know Johnson primarily as a local entrepreneur. Most haven't heard him discuss AIDS in recent years.
Not that they aren't aware of his HIV status. All of them were first- or second-graders in '91, and like many Americans, they can still remember where they were when they heard the news.
"I was with my dad watching TV," Antonio Crawford, 17. "I was like 'Dad, what is AIDS?' He didn't discuss it with me. He said, 'Just know that he's not playing basketball anymore.' "
Like Crawford, all of them later would learn HIV is a deadly virus that can be acquired through various means. Most of them would come to know at least a couple people from the neighborhood who have contracted either HIV or had AIDS, including one girl they said recently dropped out of school after being infected through unprotected sex.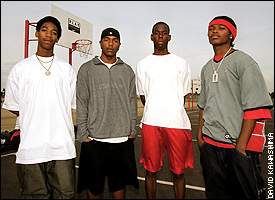 Morningside High basketball players (L-R): Senior Antonio Crawford, Senior Stephen Horton, Senior Khalid Jones and Sophmore James Pearman were in grade school when Magic Johnson announced that he was HIV positive.
Still, the notion that they could acquire the virus seems far-fetched, a scare tactic.
"Is that true -- straight guys can get it?" Crawford said. "I think Magic Johnson had to be gay."
It's a suspicion that Johnson has had to fight since the first days after his announcement, when a close friend, reportedly Isiah Thomas, spread rumors that Johnson was bisexual. Bowen, of the Minority AIDS Project, said he suspects that Johnson -- who says he got the virus through heterosexual relations -- has increasingly aligned himself with more mainstream causes like breast cancer to put some distance between himself and the gay community.
Michael Cooper, Magic's teammate during the Lakers' Showtime era and now head coach of the WNBA's Los Angeles Sparks, has a different theory about the evolution of his former teammate, who as recently as 1996 described himself as God's "messenger" for AIDS awareness.
"He got it rolling," Cooper said. "But he can't stay there and beat it to death. He's got to go on and live. He also has a family to think about. It's not important for him now to stay on AIDS, AIDS, AIDS, AIDS for 365 days a year."
Upon learning of Johnson's virus, Cooper said he had a familiar, if more personal reaction than that of others: "My best friend is going to die." Well, Johnson didn't die. A new generation of drugs -- protease inhibitors -- that came along in the mid-1990s and slowed the death rate among those with the virus also benefited its biggest celebrity, to the point where it became a manageable condition for Johnson and most people who used them.
Just as medicine had enhanced his prospects for a long life, Johnson broadened the mission of his foundation. In 1997, it morphed from a single-purpose organization into one that addresses all "health, educational and social needs of those residing in inner-city communities."
Organizations with HIV components still get considerable funding, Brown said. Those programs received $800,000 last year, slightly more than half of the money distributed by the foundation. The grants are given in parcels of $5,000 to $25,000. Beyond those gestures, Johnson also serves as event chair for an annual fashion show that raises money for HIV programs.
"I don't know anyone who's done more on this issue than him," Kawanna Brown said.
But this is the unique burden of Magic, who may have been asked to do more than any the nation's great hero-athletes when he accepted the mantle as AIDS spokesman. Jackie Robinson had to do little more than bite his tongue and play well in order to integrate baseball. For Ted Williams, who twice risked his life in war, it was a matter of bravery. For Roberto Clemente, who died while delivering humanitarian aid to an impoverished country, it was a cause he chose.
Johnson's cause was thrust upon him, one that came to him in the most undignified way, yet one of enormous human consequence. That continues to be the case. Magic is one of an estimated 900,000 Americans living with HIV, one-third of whom have never been tested. Around the world, about 36 million people have the virus -- 25 million of them in Africa, where most people cannot afford the drug treatments that have prolonged the lives of Americans with HIV.
More than 6,000 people on average die each day from AIDS in Africa -- the equivalent of a daily World Trade Center disaster.
Johnson is connected to some of the companies that produce AIDS-related drugs. Three of the 14 contributors to his foundation last year were Pfizer ($156,000), Argouron Pharmaceuticals ($60,000) and DuPont Pharmaceuticals ($20,000), according to tax filings provided by his foundation. Each of those companies own patents on expensive drugs used by AIDS patients, said John S. James, publisher of AIDS Treatment News.
Johnson has stayed out of the roiling debate over whether drug companies should sell their life-saving products at lower prices in Africa. James concedes that lobbying for cheaper drugs could get awkward for Johnson, in light of his foundation's funding.
But, James said, "He certainly can get involved in Africa without pushing on that issue. He could get involved in the Global AIDS (and Health) Fund," a United Nations-led effort that started this year and has had difficulty raising money for AIDS prevention and treatment in poor countries.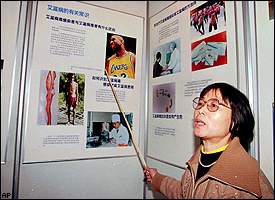 Chinese woman points to photo of Magic Johnson during AIDS exhibition in Beijing.
Johnson was keynote speaker for the United Nations World AIDS Day Conference in 1999. His foundation has also helped send toys to African children. But Brown said the foundation wants to do more, and is exploring ways to heighten its involvement on that continent.
"As you can see, this problem is too big for one organization or individual to solve alone," Johnson said.
Still, "he can save some lives," said Ruben Boumtje-Boumtje, a Portland Trail Blazers rookie from Cameroon who was a pre-med major at Georgetown. "With his name, the person he is, people will listen to him."
Boumtje-Boumtje is then asked if he has made a contribution to the AIDS relief effort in Africa himself.
"No, I haven't," he said, sheepishly. "Hopefully in a couple years, when I'm settled."
There is only so much that one person can do, and Cooper thinks Johnson has done his fair share.
"We're always thinking about how Magic can make other people happy," Cooper said. "What about him? I won't see him for two weeks sometimes, and I'll wonder how he's doing. He never talks about it, but I'm sure there are times when he's not feeling that great. Eventually, you know, this disease catches up with you.
"I think we just need to enjoy Magic for who he is right now. We should be trying to make him happy instead of trying to spend his money."
Still, it's hard for the people at the Minority AIDS Project of Los Angeles to know that the most famous minority with AIDS in Los Angeles provides no support to their organization. Liz Taylor, Elton John, Dionne Warwick, even a couple members of the Los Angeles Sparks have offered either money or time. But nothing from the Lakers or Johnson, whose foundation, they say, denied its grant request a couple years ago.
Bowen winces at the news that Johnson hosted a bowl-a-thon this week in New York to raise money for the relief effort. He doesn't want to sound cold, or un-American. It's just that his organization would love to create a foster home for the orphaned children of parents who died from AIDS, or have more resources to encourage teenagers to get tested.
"I should not be doing funerals for 18- and 19-year-olds," said Bowen, a church elder who has preached at these affairs.
Across town at the Magic Johnson Clinic, administrators are more forgiving. The clinic isn't his baby. It's owned and run by the AIDS Healthcare Foundation, the largest provider of HIV care in the country. The California-based non-profit organization approached Johnson and asked if it could use his name on some inner-city clinics; Johnson said OK to four, the first of which opened last summer in Oakland.
Like in L.A., Johnson missed the ribbon-cutting of the Oakland clinic. But he eventually did make an appearance, and lit up the place with his 1,000-watt smile and matchless charisma. Those who attended the event recall the look of deep appreciation on the faces of the patients, who cannot find any better example of thriving with HIV than the muscular former basketball player who looks as vibrant as ever.
"I know he'll get here," Darlene Brown said of the L.A. clinic, "and I know he'll be a great help."
Providing the assist. Yeah, Magic can do that.
Tom Farrey is a senior writer with ESPN.com. He can be reached at tom.farrey@espn.com
Writer, Reporter
Honors include 2014 Alfred I. DuPont-Columbia University Award, 2013 Edward R. Murrow Award and two Outstanding Sports Journalism Emmys
Director: Aspen Institute Sports & Society Program