Admissions before BALCO grand jury detailed
Originally Published:
December 2, 2004
ESPN.com news services
Jason Giambi admitted to a federal grand jury in 2003 that he took steroids and human growth hormone, according to transcripts of testimony obtained by the San Francisco Chronicle and published in the newspaper's Thursday editions.
The New York Yankees slugger's admission in December 2003 contradicts denials he has made since then that he ever took performance-enhancing drugs.
In the testimony obtained by the Chronicle, the former American League MVP told the grand jury investigating the Bay Area Laboratory Co-Operative steroids case that he used steroids obtained from Greg Anderson, the personal trainer for San Francisco Giants star Barry Bonds.
Anna Ling, one of the attorneys representing Anderson, declined to comment on the specifics of the reported grand jury testimony but told ESPN.com's Tom Farrey on Thursday: "In [Anderson's] mind he has done nothing illegal. If he thought he was doing something illegal, he wouldn't have done it."
"I can't believe that this [testimony] was released," she said. "It really makes me angry. If the government released it, this case should be dismissed right now."
Giambi did not implicate Bonds in his testimony; he pointed out that Anderson was secretive about who he was working for and what he was doing to help other professional athletes.
Tom Candiotti's Take
When I played with Jason Giambi in Oakland in 1998 and for part of '99, I didn't hear anything about him using steroids and I didn't suspect him.

Published reports indicate that Giambi used steroids before his MVP season in 2000 and also after, but I didn't see anything unusual when I played with him.

If I knew for sure a teammate was using steroids, that would be a tough spot to be in. It would be hard to report a teammate, because then you'd be ratting him out, and no one wants a rat on his team. But I believe I would've had the responsibility of talking to that teammate and trying to convince him to stop.

Giambi was always a big guy, but he wasn't a sculpted figure like a Gary Sheffield. It looked to me like his challenge had more to do with his diet and keeping off the pounds than bulking up with steroids.

In fact, Giambi would eat a Big Mac before just about every game. He'd send the clubhouse guy to McDonald's — it would drive his personal trainer crazy!

Giambi was a great teammate. He was outgoing and fun-loving, and he always had a positive attitude. He was hilarious. He really enjoyed playing the game. Even after a tough loss, he could say something that would ease the tension. He was a joy to be around.

I don't know if he's the same in the Yankee clubhouse. It's tough compare playing for a small-market team like Oakland that at the time had very low expectations to playing in New York where the mindset is win the World Series or else.

That, together with the rough season he just went through, might take the fun out of it.

For more analysis from ESPN's Tom Candiotti, sign up for ESPN Insider.
In the transcripts obtained by the Chronicle, assistant U.S. attorney Jeffrey Nedrow asked Giambi, "Did [Anderson] ever say, 'Don't be talking about getting stuff from me?'"
"That's what I mean by saying that he made it so, you know, private, that you know, 'Hey, don't say anything, don't talk about anything,'" Giambi told the grand jury. "You know, I assumed because he's Barry's trainer -- you know, Barry -- but he never said one time, 'This is what Barry's taking, this is what Barry's doing.' He never gave up another name that he was dealing with or doing anything with."
Bonds, a seven-time National League MVP, has publicly denied using steroids and other performance-enhancing drugs.
Giambi's younger brother Jeremy, a former Oakland outfielder, also told the grand jury he injected banned drugs received from Anderson, the Chronicle reported.
Both Giambis said they had used steroids even earlier in their baseball careers. They were granted immunity from prosecution if they told the truth to the grand jury but faced perjury charges if they did not.
Baseball probably cannot punish Jason Giambi. Penalties for steroid use in baseball started in 2003, but testing with samples identified by players didn't start until 2004, making it unclear if Giambi could be retroactively disciplined for any admission. Human growth hormone, or hGH, is not specifically banned by the major leagues.
"I've been saying for many months -- I instituted a very, very tough program in the minor leagues on steroids in 2001. We need to have that program at the major-league level," baseball commissioner Bud Selig said at an appearance in Washington, D.C. "This is just another manifestation of why we need that right away. My only reaction is we're going to leave no stone unturned until we have that policy in place by spring training 2005."
According to ESPN The Magazine's Buster Olney, a baseball executive said baseball is considering a range of options in dealing with this issue -- among their options is disciplinary action against Giambi perhaps in the form of suspension.
There is some sentiment that a distinction could be drawn between the 2003 testing, which didn't carry a penalty phase for positive test, and a player publicly outing himself with this testimony and admitting he broke the rules. With that admission, baseball could decide to discipline Giambi.
Before any action would be taken, Selig would meet with Giambi.
When the league performed survey testing over the 2003 season, players who tested positive were not identified by name. So in effect, Giambi indicted himself in the eyes of the league.
Giambi described to the grand jury how -- using syringes -- he injected human growth hormone into his stomach and testosterone into his buttocks.
Giambi called the products he obtained from Anderson "undetectable" steroids known as "the clear" and "the cream."
"The clear" is a liquid drug administered under the tongue a few drops at a time. "The cream" was described as a testosterone-based balm rubbed onto the body, the Chronicle reported.
Giambi said he obtained all the drugs -- and syringes -- except human growth hormone from Anderson. Giambi said he got the human growth hormone at a Gold's Gym in Las Vegas.
Anderson's attorney, Tony Serra, declined comment to the Chronicle, citing a court order. Giambi's agent, Arn Tellem, didn't return a telephone seeking comment.
"We have met with the commissioner's office today and will continue to work with them to obtain all of the facts in this matter," Yankees president Randy Levine said. "We have made no decisions and will keep all of our options open."
Giambi testified Anderson sent him several different drugs, including testosterone, "the cream" and "the clear." Giambi added Anderson gave him advice on the use of human growth hormone.
"Did Mr. Anderson provide you with actual injectable testosterone?" Nedrow asked Giambi.
"Yes," replied Giambi.
Then, in reference to an alleged steroid calendar from January 2003, Nedrow asked, "OK. And this injectable T, or testosterone, is basically a steroid, correct?"
"Yes," Giambi replied
"And did he talk to you about the fact it was a steroid at the time?" Nedrow asked.
"Yeah, I mean, I -- I don't know if we got into a conversation about it, but we both knew about it, yes," Giambi told the grand jury.
Giambi said Anderson described "the cream" and "the clear" as "an alternative to steroids, but it doesn't show on a steroid test."
"And he started talking about that it would raise your testosterone levels, you know, which would basically make it a steroid ... or maybe he said it's an alternative of taking an injectable steroid. That might be a better way to put it," he said.
Bonds brought Anderson on a barnstorming players' tour of Japan after the big-league season in 2002. Giambi said it was on that November trip he met the trainer.
In his testimony, Giambi said he asked Anderson about the things Bonds was doing to stay at an elite level.
"So I started to ask him, 'Hey, what are the things you're doing with Barry? He's an incredible player. I want to still be able to work out at that age and keep playing,'" Giambi testified. "And that's how the conversation first started."
According to the transcripts obtained by the Chronicle, Giambi testified he called Anderson after their return from overseas and then flew to the San Francisco area in either late November or early December to meet at a gym down the street from BALCO in Burlingame, Calif.
Giambi said the two went to a hospital for Giambi to provide blood and urine samples, which were then taken to BALCO.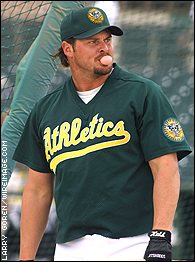 Jason Giambi was the AL MVP in 2000 with the Athletics.
According to the transcripts obtained by the Chronicle, Giambi said he and Anderson then began discussing various performance-enhancing drugs Anderson could supply.
Also, when Anderson received the results of Giambi's blood and urine tests, Anderson told him he had tested positive for Deca-Durobolin -- a steroid Giambi said he had obtained from the Las Vegas gym -- and that he should discontinue its use because it could stay in his system a long time.
Giambi said Anderson assured him the drugs he provided in baseball's offseason would be out of his system before Giambi was called for a steroid test.
Giambi, a four-time All-Star who played his first seven seasons in Oakland, has been unable to duplicate his 2000 MVP success in three seasons with the Yankees. Giambi signed a seven-year, $120 million contract with the Yankees after the 2001 season.
He played with a knee injury in 2003 and missed more than half the 2004 season with an intestinal parasite and a benign tumor that was reportedly on his pituitary gland. The unusual ailments led many to question about whether they were steroid-related, but Giambi continued to deny ever taking steroids.
Giambi's most high-profile endorsement was with Arm & Hammer. In national television commercials for the brand's Ultramax deodorant, the ads ended with the tagline, "All the muscle a man needs." The ads last ran in February. "We decided when his two-year contract expired in May of this year to move in a different direction," Brad Casper, president of personal care at Church & Dwight, which owns the Arm & Hammer brand, told ESPN.com's Darren Rovell. "If the alleged use of steroids is true, we certainly did not know or suspect anything at all at the time. We wanted our consumers to focus on the deodorant, not on Jason's bulging muscles."
The Chronicle also reported Giambi testified he helped his younger brother obtain drugs from Anderson.
Jeremy Giambi told the grand jury Anderson described "the clear" and "the cream" as undetectable "alternatives to steroids."
"For all I knew, it could have been baby lotion," Jeremy Giambi told the grand jury.
Anderson, BALCO founder Victor Conte, vice president James Valente and track coach Remi Korchemny all have pleaded not guilty to the charges, which include steroid distribution.
Information from The Associated Press was used in this report.
MOST SENT STORIES ON ESPN.COM