Details emerge on pharmacy raided for steroids
Updated:
March 1, 2007, 5:18 PM ET
Associated Press
ORLANDO, Fla. -- Signature Pharmacy advertised itself as a cutting-edge drug provider in women's health. Out of a slick-looking downtown office, the company promised customized medical solutions enabling patients to live longer and correct vitamin and hormone deficiencies.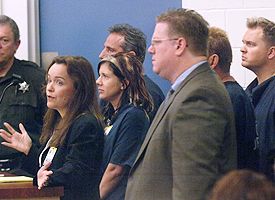 AP Photo/Joe Burbank, PoolFlanked by defense attorneys Amy Tingley, second from left, and Glen Reid, foreground, Naomi Loomis appears at an extradition hearing Thursday in Orlando, Fla.
But authorities say Signature was also operating a steroid production and distribution center that dumped more than $10 million worth of illegal drugs into the state of New York alone. The case is part of a vast Albany County (N.Y.) district attorney's probe that has identified athletes as steroid customers and promises to produce up to two dozen arrests.
Authorities raided two Signature locations in Orlando this week, hauling away documents and drugs and taking four into custody. Authorities also searched a third pharmacy in South Florida.
Signature is owned by Robert Stanley Loomis and his wife Naomi, both registered pharmacists in Florida. Public records show the husband, along with a brother who is also a pharmacist indicted in the case, have been involved with medical businesses under numerous names over more than two decades.
Both the husband and wife had clear pharmaceutical licenses, but state records show Kenneth Michael Loomis was put on probation, fined $1,000 and ordered to pay $1,780.88 in administrative costs after a 1998 arrest for possession of crack cocaine.
All three Loomises, along with an associate described as Signature's marketing director, were indicted on multiple counts of enterprise corruption, criminal sale of a controlled substance, criminal diversion of prescription medications and insurance fraud.
On Thursday all four waived extradition to New York, but asked a judge to let them post bail and be fitted with tracking devices so they could turn themselves in.
Orange County Judge Mike Murphy denied the request, but said he would reconsider if New York authorities did not retrieve them by March 8. Defense attorneys said their clients learned of the investigation a month ago and repeatedly offered to surrender, but Albany County District Attorney P. David Soares' office declined.
"These are not fugitives," the Loomises' attorney Amy Tingley told the judge. "We can be in Albany by the close of business today, if you permit us, and turn ourselves in."
Tingley declined to comment specifically on the charges, saying she has not seen prosecution documents because the indictment is sealed.
"I'm hopeful we're going to be in Albany soon and see what's going on," she said.
The Signature case is still evolving, and authorities say they're not entirely sure how much of the business was legitimate and how much involved the illegal sale of steroids and human growth hormone. Since the raid, authorities said, it has become clear that Signature did at least $40 million in business in the past year. Originally, authorities had estimated Signature had done about $36 million in business.
It is also not clear how many of the alleged recipients of Signature drugs were celebrities or athletes. An investigator knowledgeable about the case confirmed to The Associated Press that a doctor for the Pittsburgh Steelers, Richard A. Rydze, was questioned about Signature purchases. The investigator requested anonymity because the indictments are sealed.
Former Arizona Diamondbacks pitcher Jason Grimsley was also linked to the pharmacy by the Times Union of Albany, which first disclosed the multistate New York investigation. The paper also reported, using unnamed sources, that client lists for other involved pharmacies include Los Angeles Angels outfielder Gary Matthews Jr., former heavyweight champion Evander Holyfield and former baseball star Jose Canseco.
Soares has repeatedly said he was interested only in shutting down distributors, not prosecuting drug users. He has refused to publicly name any.
The investigator who requested anonymity said it was difficult to tell exactly who was buying the drugs, because the identifying consumer information could've been fake. From the records, though, the investigator said many orders were apparently sold to "middle-aged men with money."
The source said Signature seldom dealt directly with its customers. Instead, the company allegedly sent drugs to consumers who obtained bogus prescriptions through crooked online or in-person clinics.
On its Web site, Signature promises customized treatments evolved "in the timeless search for a true fountain of youth." The company claims it can concoct prescriptions for everything from premenstrual syndrome to "male menopause" and vitamin deficiencies.
The site also features instructions for self-administering drug injections like testosterone.
Signature's downtown pharmacy lies in the shadow of an Orlando hospital. A blocky two-story structure built in 2005, it features executive headquarters, a prescription counter and storefront selling vitamin and weightlifting supplements. The operation is a "compounding pharmacy," which means it is able to provide drugs mixed onsite tailored for a specific patient.
Signature tells customers on its Web site they must submit paperwork that includes a copy of the prescribing physician's license and a Drug Enforcement Agency permit. The New York indictments accuse the company of repeatedly filling prescriptions for patients the company knew never met with a doctor.
Whoever they were selling to, Robert Loomis and his wife appeared to be living comfortably. Their address, reported on arrest documents, is a four-bedroom, two-story home in a posh Orlando suburb valued at more than $1 million. They also own another property bought in February 2006 for $1.6 million, according to Orange County records.
Investigations against Signature are ongoing. Following a DEA tip, Orlando's Metropolitan Bureau of Investigation had been looking into the pharmacy with federal authorities for about a year, narcotics commander Carl Metzger said.
"We're still months away from being in a position perhaps where New York is now," Metzger said.

Copyright 2007 by The Associated Press
SPONSORED HEADLINES
ESPN TOP HEADLINES
MOST SENT STORIES ON ESPN.COM
PERFORMANCE-ENHANCING DRUGS
The sports world finds itself under siege by a series of investigations into the illegal distribution of performance-enhancing drugs. Steroids. Human growth hormone. West Coast. East Coast. Baseball. Football. Boxing. It's an epidemic.
News
December 2007
•
Players' union files grievance on Guillen's behalf
•
Mitchell Report due next week
•
Guillen, Gibbons suspended 15 days
•
Chart: Players who have violated MLB policy
•
Sources: HGH suspension in works for Guillen
November 2007
• Angels owner: Mitchell report will include names
• HBO to turn Bonds steroids book into movie
• BALCO figures fear leaks
• Personal trainer pleads guilty to distribution
• Union: 11 free agents sought in Mitchell talks
• China promises to bust doping industry
• Radomski's sentencing delayed until December
• Matthews Jr. discusses HGH allegations with MLB
• Report: Guillen, Williams bought steroids

October 2007
•
Top lawyer defends MLB testing procedures
•
Report: Teams get advance notice of drug tests
•
Indians' Byrd admits to using HGH
•
NY raid nets $7.2 million in growth hormone
•
Union: Mitchell didn't offer to share evidence
•
Report: Mitchell gets papers from ex-Mets aide
•
Sources: Mitchell's report to reveal many names
•
MLB may suspend players who got banned drugs
September 2007
•
Source: Schoeneweis received steroids shipments
•
DEA pulls off series of steroid raids
•
ESPN The Magazine: China's open drug supply
•
Ankiel meets with MLB officials on HGH report
•
Report: MLB eyes use of HGH blood test in '08
•
Gibbons meets with MLB officials
•
Albany sits down with Mitchell Commission reps
•
MLB considers adding fertility drugs to banned list
•
MLB wants D.A.'s cooperation in pharmacy probe
•
MLB requests meeting with Gibbons
•
Report: Orioles' Gibbons received steroids, HGH
•
Report: Pharmacy shipped steroids to Glaus
•
Report: Ankiel linked to HGH
|
Gammons

•
Olney blog: 1998 all over again?
•
Harrison cooperated with prosecutors
•
Harrison suspended for four games by NFL
August 2007
•
Report: Ex-MLB clubhouse man names names
July 2007
•
Fla. man pleads guilty to steroid sales conspiracy
•
Judge denies request to release names in Grimsley case
•
Report: Feds provided players names to Mitchell
•
Feds: Mitchell got incomplete affidavit
June 2007
•
Ex-BALCO prosecutor says probe could end soon
May 2007
•
Sports leaders, feds discuss fight against steroids
•
O's quiet as steroids speculation spins
•
Mitchell seeks medical records
•
Former doc guilty in prescription scam
From The Archives
•
The Dope On Steroids
•
Mets did little to discourage steroid use
•
E-Ticket: Who knew?
Analysis
•
Howard Bryant: Steroids, HGH and the pennant races
•
Buster Olney: Blood test request on horizon

•
Jayson Stark: Applying double standards
•
Buster Olney: 1998 all over again?
•
Rob Neyer: No big deal

•
Ankiel timeline
•
Peter Gammons: Stuff of legend