Commentary
Change is coming to sports, too, under Obama
Originally Published:
November 5, 2008
By
Lester Munson
| ESPN.com
It will take some time, maybe 1,000 days, to measure the full impact that President-elect Barack Obama will have on the world of sports, but we can already circle a couple of upcoming dates and make some educated guesses about his role in the games we play and watch.
On the afternoon of the 76th day of his presidency (Monday, April 6), Obama will be back on Chicago's South Side to join fellow White Sox fans at U.S. Cellular Field for Opening Day against the Kansas City Royals.
And on the 255th day of his presidency (Friday, Oct. 2), he will be in Copenhagen, Denmark, telling the members of the International Olympic Committee why the 2016 Summer Olympics must be in Chicago.
[+] Enlarge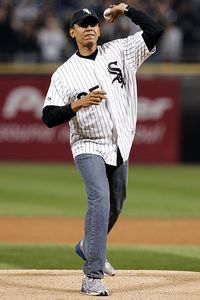 AP Photo/Ann HeisenfeltObama already knows his way around the U.S. Cellular Field mound. He threw out the first pitch at a White Sox ALCS game against the Angels in 2005.
Obama's allegiance to the Sox (he does not hesitate to express his scorn for fans of the Chicago Cubs) and his support for an Olympics in Chicago are absolute. In an interview with ESPN's Stuart Scott that aired on "SportsCenter" in August, Obama was asked who he would root for in a Cubs-White Sox World Series. This was his answer: "Oh, that's easy. White Sox. I'm not one of these fair-weather fans. You go to Wrigley Field, you have a beer; beautiful people up there. People aren't watching the game. It's not serious. White Sox, that's baseball. South Side."
On other issues facing the sports industry, Obama views are a bit less certain. However, a review of his campaign statements and position papers as well as ESPN.com interviews with his friends and former colleagues at the University of Chicago indicate that an Obama administration is likely to:
• produce major tax increases for team owners and players;
• slow sales of professional teams;
• increase the powers of player unions;
• more vigorously enforce the requirements of Title IX;
• and begin to resolve the serious clashes between sports cable networks such as the NFL Network and the Big Ten Network and cable providers such as Comcast.
Obama's views on other critical sports issues, including performance-enhancing drugs and stricter controls on the powers and the finances of the NCAA, are unknown.
Experts agree that Obama's support for Chicago's 2016 Olympics bid will be critical and that his presence in Copenhagen could easily win the Olympics for Chicago. Former British prime minister Tony Blair's charismatic presentations were said to have led the IOC to pass over Paris, which seemed to have the leading bid after New York City's attempt to get the Games collapsed, and give the 2012 Olympics to London.
Chicago's competition for the 2016 Games includes Madrid, Spain; Rio de Janeiro, Brazil; and Tokyo. Obama, who appeared at a downtown Chicago rally in support of the bid in June shortly after he won the Democratic nomination, could have an even greater impact on the IOC than Blair did, according to Olympics experts.
"He will be the rock star of the Copenhagen meeting," observes Allen Sanderson, a professor of sports economics at the University of Chicago. "We saw the crowd he drew in Berlin, and he will remain in the glow of an historic election triumph when he asks for IOC votes."
[+] Enlarge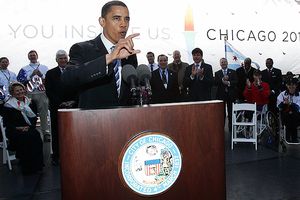 Jeff Haynes/AFP/Getty ImagesObama is already involved with Chicago's Olympic effort, speaking at a rally in support of the city's bid in April 2007.
In late July, some 200,000 people attended an Obama speech in front of Berlin's Victory Column, designed in part to demonstrate his desire to improve America's image in Europe and the rest of the world.
Japanese Olympic officials already have expressed their concern that Obama could turn the tide in favor of Chicago when the IOC votes in October.
"Mr. Obama is popular and good at speeches, so things could get tough for Japan," said Tomiaki Fukuda, a senior Japanese Olympic Committee board member.
If Sen. John McCain had won the election, the U.S. bid to play host to the 2016 Olympics might have been negatively affected. Many IOC members remember McCain's scathing investigation of the bribery scandal involving IOC members who helped award the 2002 Winter Olympics to Salt Lake City. Two members of the Salt Lake City bid committee were indicted, and McCain's investigation led to major changes in the IOC and the U.S. Olympic Committee. Many IOC members remain bitter over McCain's aggressive efforts for reform.
An Olympics in his home city of Chicago in the late summer of 2016 would be a grand finale for an Obama presidency that would be about to wind down if he were re-elected to a second term.
Of more importance than the 2016 Olympics, of course, is the state of the economy, and Obama's attempts to restore it to health could have far-reaching effects on sports.
In his words
Lots of coaches prefer to steer clear of letting their political opinions be known for fear of alienating their fan bases. USC's Pete Carroll, though, wasn't shy about talking about how he voted. According to USCfootball.com, after Carroll heard that Democratic presidential nominee Barack Obama would add a playoff to college football if he could change one thing in sports, he said: "I knew I was voting for the right guy."
-- Bruce Feldman
"The sports industry needs and wants the economy back," says Marc Ganis, a consultant in sports finance who has worked for numerous professional teams and leagues and most recently quarterbacked the deal that produced the new Yankee Stadium. "Fans must be able to buy tickets and cable television packages. Businesses must be able to buy sponsorships and skyboxes. The industry may be recession-resistant, but it is not recession-proof. We need a return to health."
Part of the Obama prescription for the economy could hurt both owners and players. Throughout his campaign, Obama promised that he would increase taxes on individuals who earn more than $250,000 per year. That would take money out of the pockets of wealthy team owners and well-paid players. The Major League Baseball minimum salary, for example, will be $400,000 next year.
"It will be an increase that they will notice," Sanderson observes.
Already, a number of baseball agents are saying they might attempt to have their free agents signed, sealed and delivered to new teams by Jan. 1. Among Obama's economic proposals is an increase of the top federal income tax rate from 35 percent to 39.6 percent, but signing bonuses paid before the start of the new year likely wouldn't be subject to the new rate.
Too, Obama's campaign promises about capital gains and inheritance taxes, if and when implemented, will complicate the sale and transfer of team ownerships. Wayne Huizenga, the owner of the Miami Dolphins, told the South Florida Sun-Sentinel recently that he will attempt to complete the sale of his team to Steve Ross, a New York real estate mogul, before the end of 2008 to avoid Obama's promised increase in the capital gains tax. Obama's economic plan calls for an increase in that tax from 15 percent of the investment gain to 20 percent, a hike of one-third.
An Obama-promised increase in estate taxes could also provide problems for team owners. If the tax is increased, the death of a principal owner could lead to serious problems for a family trying to keep control of the team. The NFL's St. Louis Rams, according to some reports, are for sale as the result of the impact of inheritance taxes at current rates.
[+] Enlarge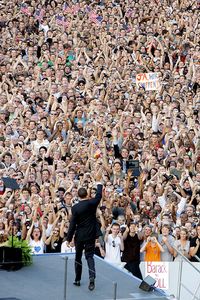 AP Photo/Jae C. HongHe drew a crowd in Berlin in July. The IOC should expect to be impressed when he addresses Chicago's Olympics bid in Copenhagen next October.
In addition to his changes in the tax structure, Obama may seek changes in the laws that govern unions. After enjoying strong support from organized labor during his campaign, Obama can be expected to increase the leverage of player unions through appointments to the National Labor Relations Board, the forum that regulates collective bargaining between players and owners. He may also introduce legislation that would ban replacement workers, a reform that has long been a goal of the labor movement.
Under Presidents Bill Clinton and George W. Bush, the NLRB was slow to consider and even slower to decide cases that involved allegations of unfair bargaining practices on the part of team owners. Union representatives, who requested anonymity because of the sensitive nature of the issues, told ESPN.com that they look forward to a more aggressive NLRB that will be quick to decide player complaints against team owners.
As early as last summer, the late Gene Upshaw, the leader of the NFL Players Association who died in August, said he was looking forward to a President Obama introducing legislation that would ban replacement workers. Known to labor activists as "scabs," replacement workers are hired to replace striking workers, a device that destroyed an Upshaw-led strike in 1989.
Upshaw was anticipating a radically different situation when the NFL's current collective bargaining agreement expires in 2011.
In addition to the changes he will enact on the professional level, Obama's approach to governing can be expected to have some indirect impacts in college sports. Coaches, athletes and administrators in a number of so-called minor sports, such as wrestling, have long been wary that their sports will be eliminated to meet the equality of gender requirements of Title IX, and they cannot be happy about Obama's election. With President Bush in the White House and Dennis Hastert, a former wrestling coach, serving as Speaker of the U.S. House of Representatives, participants in those sports had some hope that Title IX requirements might be diluted.
Bush and his staff looked hard at Title IX and the possibility of enacting changes in the regulations of the U.S. Department of Health and Human Services that govern Title IX, but they backed away as opposition to any changes grew.
[+] Enlarge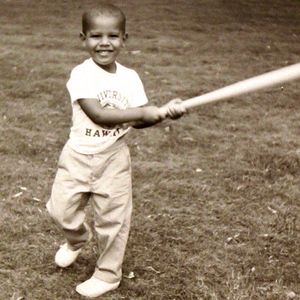 AP Photo/Obama Presidential CampaignThe President-elect didn't come late to his passion for baseball. This photo, provided by his campaign, was taken in Hawaii in the 1960s.
Obama, the father of two daughters, might not be sympathetic to those hoping to lessen the impact of Title IX.
In an issue that affects both college and professional sports, both sides of an acrimonious dispute between sports cable networks and cable providers will be watching closely as Obama appoints a new chair of the Federal Communications Commission.
Professor James Speta, a telecommunications expert at the Northwestern University Law School, explains that Obama has already committed himself to the idea of "network neutrality" for Internet providers, an idea that guarantees consumers can decide what Internet sites they want and prevents providers from blocking consumers from certain sites.
"If you take his position on the Internet one step further, you can see that Obama will support the idea that a cable TV customer should be able to choose any network he wishes to watch," Speta says. If Speta's assertion proves to be correct, it will be good news for the NFL Network, the Big 10 Network and other content providers who want cable companies to offer their networks to customers.
On other issues, even after a campaign that went on for 22 months, little is known of Obama's positions. Although both the Bush administration and Sen. McCain were aggressive in their approaches to the elimination of performance-enhancing drugs, Obama has not spoken on the issue. Will he agree with Bush and McCain, that steroids and other drugs must be eliminated? Or will he be sympathetic to the position of Donald Fehr and the Major League Players Association, that regulation and testing should be a private matter between players and owners?
If federal authorities do not conclude their perjury investigation of Roger Clemens before Bush leaves office, Obama and his attorney general will face a decision on Clemens that will be a signal of their approach on these drugs.
Obama's position on the NCAA and its tax exemptions also is unknown. With the NCAA earning billions from football and basketball while competing with the NFL and the NBA for entertainment dollars, many in Congress want an investigation of its tax-exempt status. Obama has not spoken on the issue.
In 76 days, Obama will take the oath of office as the 44th president of the United States. In the 1,000 days that follow, he will help support the White Sox, and he will help his city try to win an Olympics bid and perhaps stage the Games. Decision by decision, day by day, his impact on the world of sports will emerge.
His promises of hope and change may lead to solutions to problems that have vexed commissioners, owners, coaches and athletes for years.
It will be an interesting ride.
Lester Munson, a Chicago lawyer and journalist who reports on investigative and legal issues in the sports industry, is a senior writer for ESPN.com. The Associated Press also contributed to this report.

Legal Analyst
Senior Writer and Legal Analyst, ESPN.com
13 years as investigative reporter at Sports Illustrated
Adjunct Instructor, Northwestern's Medill School of Journalism
COVERING THE 2008 ELECTION
The 2008 presidential election yielded the nation's first black president in Barack Obama (who relaxed by playing pickup basketball on the day of his election). But a number of sports-related stories were sprinkled throughout the country.

•
Munson:
What change is coming under Obama?
•
Kreidler:
Kevin Johnson a confident new mayor
•
Katz on playing basketball with Obama

•
McNabb, other NFL players savor Obama's win
•
LeBron: Obama's election 'uplifting'
•
Oregon State's Robinson sees brother-in-law become president
•
Sports winners: Kevin Johnson, Shuler, Wyche
•
Obama could boost Chicago's 2016 bid
•
ABCNews.com:
Complete coverage
---
Obama, McCain with Berman
Presidential candidates John McCain and Barack Obama spoke with ESPN's Chris Berman during halftime of Monday Night Football the night before the election.
•
Watch:
Obama
|
McCain
|
Story
|
Transcript
---
Previous coverage
•
"OTL:"
Obama's bench strength
|
Watch
•
"OTL:"
Watch: Palin talks high school hoops
•
"OTL:"
Pro sports donors
•
"OTL:"
Candidates Q&A
•
"OTL:"
Sports figures shy on politics
•
"SportsCenter":
Obama talks with Stuart Scott
•
McCain and Bob Ley
•
"E:60":
Cindy McCain takes the wheel
•
"E:60":
Love starting for Obama
•
Reilly:
Can Obama pick a fantasy team?
•
Watch: Ditka for president
MOST SENT STORIES ON ESPN.COM