The Mt. Rushmore of Sports engaged many ESPN.com users as it garnered more than 300,000 searches and 10,000 comments throughout February. It also engaged many of our staff as it spawned plenty of spinoffs, such as Page 2's Zany Mt. Rushmores and John Buccigross' Mt. Rushmores for all NHL teams. Although many of the faces that were voted to grace the fictional sculpture had several state ties (Barry Sanders was voted in for three states), it was Illinois that took the crown as the ultimate Mt. Rushmore of Sports.
Quick Hits
Surprise Search of the Month: Bryce Brown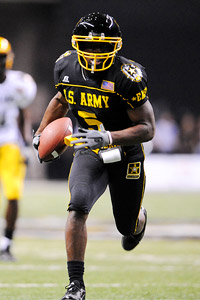 The top prospect and second highest ranked running back on the 2009 ESPNU 150 seems to be as controversial as he is talented, which is largely due to the suspect actions of his advisor Brian Butler (who is now being investigated by the NCAA). Searches for Brown remained high throughout February as, even though he had verbally committed to the University of Miami, he never signed with any school on national signing day and was still considering several schools at the time of this writing. After barely any searches in January, Brown received more than 4,000 searches throughout February to earn "Surprise Search of the Month" honors.
The Complete Top 25
Check out the new ESPN Search Index for all the latest sports buzz in search, including the top daily searches, surprises and movers.
Maalek Marshall is ESPN.com's search editor.
Note: The results listed are the summation of actual search results that were manually typed in by site users of ESPN.com in said month of 2009. All prelinked searches (including columnist archive links) were excluded from this summation.