Top Search of the Month: NIT
In March, there are few things as ubiquitous as the NCAA tournament. Many companies worry about lost production from workers as they follow every NCAA score, but there's a good chance their workers could be feverishly following more than one hoops tournament. Judging by the amount of searches it received, the National Invitation Tournament (NIT) is also quite popular, despite being "the other Big Dance." The NIT might receive less coverage than the NCAA tournament, but it still boasts many exciting matchups and several of the nation's top scorers (including Stephen Curry and Jodie Meeks), which all added up to more than 375,000 searches in March.
Quick Hits
No. 3 WBC (World Baseball Classic): The international baseball tournament only comes around every three years, but it seems to be growing in popularity with users as it received more than 200,000 searches in March, already a hefty increase from the total amount of searches it received in 2006 (131,000).

No. 6 College hockey: College hockey searches were plentiful as the Frozen Four got under way, which, unlike the hoops tourney, featured a true Cinderella with No. 4 Bemidji State upsetting No. 1 Notre Dame.

No. 8 Obama bracket: President Obama filled out his bracket several days after Selection Sunday … but of course it was still the "first bracket." The president's Tournament Challenge bracket was constantly searched as many users checked up on his progress and compared their own picks to his throughout each round of the tournament.
Surprise Search of the Month: Biba Golic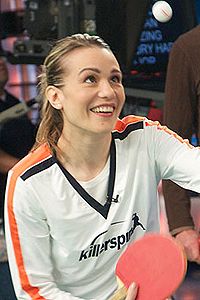 Even though she was a two-time Yugoslavian champion in singles and mixed doubles table tennis, and was also Page 2's third-ranked "Hottest Female Athlete" in 2005, Biljana "Biba" Golic is relatively unknown. However, after a brief appearance in ESPN.com's inaugural "Follow Your Sports" commercial and a recent table-tennis match against Mike Greenberg and Mike Golic (no relation), her popularity is soaring, and she received more than 4,000 searches in March to become ESPN.com's "Surprise Search of the Month."
The Complete Top 25
Check out the new ESPN Search Index for the latest buzz in search, including the top daily searches, surprises and movers.
Maalek Marshall is ESPN.com's search editor.
Note: The results listed are the summation of actual search results that were manually typed in by site users of ESPN.com in said month of 2009. All prelinked searches (including columnist archive links) were excluded from this summation.