It seems the only thing users enjoy as much as watching NFL games each week is predicting which teams will win. The weekly NFL expert picks provides users an opportunity to test their prediction skills against some of the best NFL analysts, former players and Accuscore (collectively, the "brain trust of Bristol University"). At the time this story was written, the newest member to the "brain trust," Adam Schefter (35-13), trailed only the incomparable Chris Mortensen (36-12) in correct picks. Whether users were taking part in the predictions through Pigskin Pick 'Em, or just merely checking to see if their personal picks matched up with the experts', the weekly NFL expert picks continued to dominate throughout September, amassing more than 220,000 searches.
Quick Hits
Surprise Search of the Month: Melanie Oudin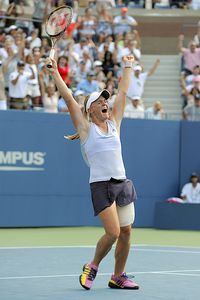 The 2009 U.S. Open was chock full of surprises -- from Clijsters' amazing championship run after a two-year absence to Serena and Venus Williams' early exits -- but it was 17-year-old Melanie Oudin who managed to be the biggest surprise as she won over fans and knocked out the competition with her gritty, come-from-behind play. Oudin, the then-70th ranked player, defeated No. 4 Elena Dementieva, No. 29 Maria Sharapova and No. 13 Nadia Petrova before falling to No. 9 Caroline Wozniacki in the U.S. Open quarterfinals. After generating only 87 searches in August, Oudin was September's surprise search garnering 4,823 queries (an increase of 5,444 percent).
The Complete Top 25
Check out the ESPN Search Index for the latest buzz in search, including the top daily searches, surprises and movers.
Maalek Marshall is ESPN.com's search editor.
Note: The results listed are the summation of actual search results that were manually typed in by site users of ESPN.com in said month of 2009. All prelinked searches (including columnist archive links) were excluded from this summation.