Mackey's finish 2nd fastest in history
Updated:
March 17, 2010, 12:54 AM ET
Associated Press
NOME, Alaska -- Lance Mackey won the 1,100-mile Iditarod Trail Sled Dog Race on Tuesday to become the first musher in the event's 38-year history to win four consecutive races.
Fans bundled up against subzero temperatures cheered the 39-year-old throat cancer survivor as his team coasted up the main street of this old Gold Rush town. For winning, Mackey gets a new Dodge truck and $50,400. He finished the race in eight days, 23 hours and 59 minutes -- the second-fastest finish in race history.
[+] Enlarge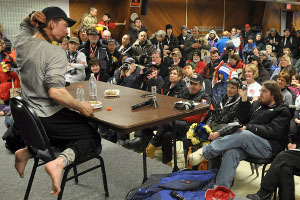 AP Photo/Anchorage Daily News/Bob HallinenLance Mackey talks with the media and fans after winning his fourth consecutive Iditarod Trail Sled Dog Race.
"These are my heroes right here," Mackey said seconds after crossing the finish line as he was giving his 11 dogs a pat on their heads and a kiss. He then planted a kiss on his new red truck and later posed with two of his lead dogs, Maple and Rev, who wore garlands made of yellow roses.
"Good job Lance!" a fan shouted, to more cheers.
Mackey said his relationship with his team is more rewarding than winning another truck.
"They might not be the fastest team in this race but I think they have the biggest hearts," he said.
The Iditarod kicked off March 6 with a ceremonial start in Anchorage. That was followed by the competitive start the following day in Willow when 71 teams took to the Iditarod trail and headed to Nome.
This year's purse was significantly less than last year when Mackey took home a truck and $69,000. The total purse is $590,000 -- down from a high of $925,000 in 2008. Iditarod officials said the struggling economy caused some sponsors to pull their support for the race.
Much of the race again this year was a duel between Mackey -- whose father Dick and brother Rick are past winners -- and another mushing royal, four-time champion Jeff King of Denali Park. King has said this will be his last Iditarod.
King had been leading much of the race but was overtaken by Mackey on Saturday in the village of Kaltag, about 350 miles from the finish. King chose to rest his team and Mackey, renown for his ability to run his dogs long distances with little rest, opted to keep going.
King cut his rest in Unalakleet to pursue Mackey, who widened the lead after that.
"It's been no secret, for years, I've been willing to gamble. Not at the expense of my team, I hope," Mackey said, when asked about this year's winning strategy.
Mackey said the decisive move was a "monster run" that actually began before Kaltag and extended to Unalakleet on Alaska's west coast. After a 42-mile run from Nulato, King stopped in Kaltag but Mackey pushed on another 90 miles to the next checkpoint, giving him a lead that he never relinquished.
"It worked. I capitalized on that hour, hour-and-a-half lead," he said.
Ten-year-old Abby Ardoin of Friendswood, Texas, was among hundreds of local and faraway fans at the finish line. She's been obsessed with the Iditarod half her life and finally talked her dad, Richard Ardoin, into flying to Nome to catch the winner coming in. Seconds after Mackey stopped to greet her, the girl said she was more than excited.
"It's more better than I'd ever dreamed," she said.
In the final stretch of the race, Hans Gatt of Whitehorse, Yukon Territory, chased Mackey hard, pushing ahead of King in Elim on Monday. The 51-year-old musher is a four-time winner of the 1,000-mile Yukon Quest International Sled Dog Race, earning a record finish in February.
On Tuesday, Gatt arrived with 11 dogs a little more than an hour after Mackey to place second, finishing in nine days, one hour and four minutes. That's the Iditarod's fourth-fastest finish ever.
King, 54, was third, completing the race in nine days, two hours and 22 minutes. His last Iditarod win was in 2006, before he relinquished the crown to Mackey.
Mackey greeted both of his rivals at the finish line.
This year's Iditarod was marked by bitter cold that plunged to 30 below, further chilled by powerful winds in sections of the trail. Mackey, whose cancer treatments left him with circulation problems, complained the cold was affecting his hands and feet.
Still, the trail was a fast run for front-runners including Ken Anderson of Fairbanks, expected to be fourth into Nome, John Baker of Kotzebue and Hugh Neff of Tok.
As of Tuesday evening, 15 mushers had scratched from the race.

Copyright 2010 by The Associated Press
MOST SENT STORIES ON ESPN.COM