Commentary
Greatest Laker of them all?
Updated:
June 4, 2010, 12:40 PM ET
By
Rick Reilly
| ESPN.com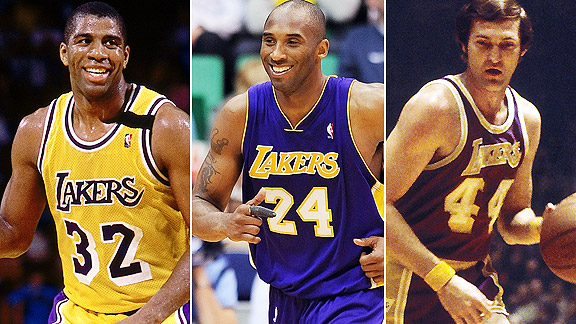 NBAE/Getty ImagesRick Reilly asks Kobe Bryant who he thinks is the best Laker of all time.
So now Kobe Bryant comes to the Third Act, the nut scene, John McClane vs. Hans Gruber, loser dies hard.
It's not enough that Bryant has left baskets smoldering in these playoffs. It's not enough that he's made shots from elevator shafts, burning buildings and tilting helicopters. It's not enough that his fourth quarter in Game 6 of the Western Conference finals was his career Thriller, the most retina-popping streak of clutch moves I've ever seen, Michael Jordan and Michael Jackson included.
No, now he comes to do-or-die, the stand-back-kids moment, his chance to hang in the Louvre, sing at Carnegie, mine the Hope diamond. It's a Celtics-Lakers finals and he's been here before, one time, two years ago, and wound up flatter than forgotten beer. His Lakers had their pants yanked down in front of the whole school. So there's not just a title on the line but his legacy, too. This is Kobe's big moment, his final answer, his Rubicon.
Yes, he has won four rings, two scoring titles, a regular-season MVP, an NBA Finals MVP, and has more power and money than all the Bushes combined. He has left entire arenas gasping, gone on streaks that even Jordan couldn't imagine, played at such a preposterously high level that at times he looked like a man doing handstands on an airborne 747. But he has never taken a ring from the hated Celtics and until he does, it's all very Catskills. Compared to the Celtics, Orlando is just K.C. and the Sunshine Band. Until he slays the Celtics, Kobe Bryant can never be what he has the chance to be: The Greatest Laker.
Until he slays the Celtics, Kobe Bryant can never be what he has the chance to be: The Greatest Laker.
The Greatest Laker is a religious object in basketball. For many, The Greatest Laker Right Now has often equaled The Greatest Player Right Now: Mikan in the '50s. West in the '60s. Kareem in the '70s. Magic in the '80s. Shaq in the '90s. Kobe in the '00s. But to be the Greatest Laker Ever? That's the Richest Hilton, the Brightest Roosevelt, the Bravest Wallenda.
Nobody knows this more than Bryant himself. He studies Lakers history the way a fat man studies a menu. He knows Elgin Baylor's strut, Jerry West's jumper, George Mikan's glasses. He knows the Lakers the way he knows the pebbles of a basketball. He's been a Lakers fan ever since he can remember, ever since he was a kid growing up in Italy, jumping out of bed in the morning to watch the tape his mom had made of the Celtics-Lakers Finals game from the night before.
"I rooted for the Lakers always," he mused by e-mail this week. "I loved their game BUT I also LOVED [Larry] Bird."
Why would the son of a Sixer be a Lakers fan?
"Not sure why. I think Magic was the first one I saw when the NBA started to become global."
So who would he pick as the greatest Laker? There's only one right answer, but I was curious.
Kareem? The most under-appreciated great athlete in American history? The NBA's all-time leading scorer, winner of six rings, six MVPs, 19 All-Star berths and, oh yeah, the greatest college player ever? The man whose own silky effortlessness belied how hard it was and doomed his popularity? The giant whose artful passing and exquisite skyhook have been forgotten in an era when the league's best big man, Dwight Howard, doesn't have a single, discernible offensive go-to move?
Jerry West? The dervish? The nervous Mozart-in-tight-shorts with the logo jumper? The tortilla-thin guard who hung in the air like the boy doing the Indian rope trick? Who usually had six points before he got off the bus? Whose career playoff numbers even Kobe hasn't matched, or will never match?
No chance he'd pick Shaq. For one, they got along like the NRA and NPR. For two, no true Lakers fan picks a man who didn't play most of their career in the purple and gold. Nor would he pick Baylor, who grabbed more rebounds than the guy at the backboard test facility. Nor Mikan, even with his five rings, all with the Lakers, yes, but the Minneapolis ones.
[+] Enlarge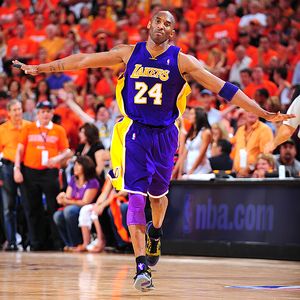 P.A. Molumby/NBAE via Getty ImagesKobe Bryant could soar above all other Lakers greats with an NBA Finals win over the Celtics.
Or might he pick himself and his four rings and his jaw-dropping skills which, at 31, seem only to be getting better? Might he pick the man who has been on a tear like no Laker before, scoring 30 or more points in 10 of his last 11 playoff games, draining J's with two and three men draped on him like meat overcoats, buckets that the vanquished
Steve Nash
called "best-player-in-the-game type shots"? Might he pick himself for the way he's played through injuries that would leave other men whimpering in a ball, for taking Shaq-less Lakers teams to finals when so many said he couldn't, for the sheer foot-thick steel of his will?
No.
"I'd say Jerry," Kobe wrote. "[For] his playing career, obviously, BUT [as the Lakers' general manager for 14 seasons was] responsible for bringing Magic here and pairing him with Kareem as well as trading for a 17-year-old punk kid. So to me HE is the Golden Man."
Wrong answer, of course. The right answer is Magic Johnson. It's Magic not because he won five NBA rings in the 1980s, when winning an NBA ring meant beating people named Bird and Isiah and Dr. J, not people named Kevin Duckworth. Not because, from the day he appeared in a Lakers jersey, he galvanized men nearly twice his age, pulled the very best out of them, passed the ball through keyholes, rebounded like a clairvoyant, and led with every ounce of that ungainly, unstoppable body.
No, the answer is Magic because before Magic, the Lakers had never beaten the Celtics. Not in eight straight tries. Before Magic, the Celtics were Sluggo and the Lakers Mr. Bill. It's easy to forget now that when Magic showed up with all those teeth and that flat-palmed dribble and those David Copperfield fakes, the L.A. Lakers had one NBA title. And they needed to import Wilt Chamberlain to do that. Magic changed the culture of the Lakers and the town, catapulted them past the Dodgers, hung window flags on beat-up Chevys and shined-up Lexuses alike. Magic did all that because he beat the Celtics and Kobe never has.
Would the fifth ring, tying him with Magic, and hanging a Celtic scalp on his belt, mean more to him than the other four?
"Nah," Kobe wrote. "I just want to get as many as I can while I can. I appreciate these days more. The end is much closer than the beginning."
It's the right thing to say and I don't believe it for a second.
Kobe knows this is his close-up. If he can beat the Celtics, redeem the '08 punking, it all changes. He becomes Magic's equal in many ways, his better in others. Beat the Celtics and peace and satisfaction will settle upon Southern California. Win this one and the son of a Sixer will be the Greatest Laker of all, and the end can come whenever it wants.
---
Love the column, hate the column, got a better idea? Go here.
Want more Life of Reilly? Then check out the archive.
Be sure to check out Rick's latest project, "Go Fish."
Columnist, ESPN.com
11-time National Sportswriter of the Year
Author of "Tiger Meet My Sister ... And Other Things I Probably Shouldn't Have Said."
2014 Inductee: National Sportswriters and Sportscasters Hall of Fame
SPONSORED HEADLINES
ESPN TOP HEADLINES
MOST SENT STORIES ON ESPN.COM
LIFE OF REILLY
RICK REILLY, 52, has been voted National Sportswriter of the Year 11 times. His new book -- out May 4, 2010 -- is called "Sports From Hell: My Two-year Search for the World's Dumbest Competition." It's the account of his search for the dumbest sport in the world.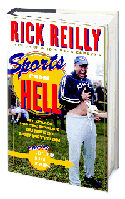 Not to give anything away, but a good bet would be either Ferret Legging or the World Sauna Championships. It also includes embarrassing attempts by Reilly to try Nude Bicycle Racing, Zorbing, Chess Boxing, Extreme Ironing, the World Rock Paper Scissors Championships and an unfortunate week on a women's pro football team.
To order: Amazon | B&N | Indie | Borders
More Reilly: Life of Reilly | Go Fish | Homecoming