Commentary
Waterlogged in Wales
Updated:
October 1, 2010, 1:00 PM ET
By
Rick Reilly
| ESPN.com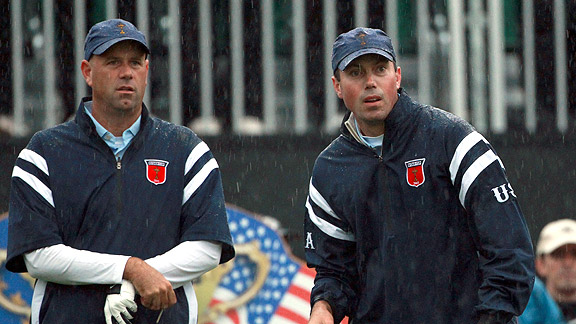 Andrew Redington/Getty ImagesThe rain suits of the American Ryder Cup team were soaked through and through on the first day of the 38th Ryder Cup. That certainly was the case for Stewart Cink and Matt Kuchar.
NEWPORT, Wales -- The Sun Mountain rain suits the USA team played in Friday at the Ryder Cup were three exits past awful. But they weren't as bad as the Belding bags.
Meant to look like the old leather bags of the 1970s, they repelled water like bags of the 1870s. Exhibit A: Steve Williams, Tiger Woods' caddie, was handed a new towel on the third tee box. He quickly zipped it into the side pouch. By the end of the third hole, it was sopping wet. That's how wet it got in one hole.
Same with the rain suits. I know. I held one of the jackets. It was literally dripping.
Hey, it doesn't say "Rain Mountain."
An hour into the rain delay, all the caddies and players had brand-new rain suits by ProQuip, purchased by the PGA of America from the merchandise tent, at a cost of £350 each (about $550). So now the PGA of America knows how we feel paying those prices.
Better yet, the new ProQuip ones don't have those bush-league names on the back.
"Haven't had my name on my back since peewee football," one player was heard to grumble while walking into the clubhouse during the rain delay.
Wonder what one of those babies would go for on eBay?
This whole team-uniform thing is confining, nonsensical and ruinous. If I were captain, as soon as I had my team, I'd have a list of everything the player wears week to week. I'd call those companies and have them send me a blank version of it -- the shirt, the pants, the rain suit, everything. Then you'd simply have your Ryder Cup staff fill in the USA logos.
By the way, that's what Tiger Woods thinks, too, and apparently has been saying since this Waterworld disaster began.
Why, you ask, hold the Ryder Cup in Wales in October, when the Farmers' Almanac tells you it's going to rain every other day, at least? Because when it was originally awarded to Wales, they were hoping to schedule it for early September. But then the four-week end-of-the-year FedEx Cup playoffs was invented, which pushed it back to October, which meant everybody was stuck.
"This thing might not end until Tuesday," I heard a fan say.
Not possible. It's in the captain's agreements that no hole may be started after sunset Monday. Any match not completed Monday will be considered a halved match and whichever team is leading at that point will be declared the winner.
Unless, of course, both captains agree to call it a draw.
That, of course, won't happen, even if the math works out to a tie. If it's tied, the USA keeps the Cup.
The PGA of America may have picked the world's dumbest rain suits and bags, but they're not that dumb. Are they?
---
Love the column, hate the column, got a better idea? Go here.
Want more Life of Reilly? Then check out the archive.
Be sure to check out Rick's latest project, "Go Fish."
Columnist, ESPN.com
11-time National Sportswriter of the Year
Author of "Tiger Meet My Sister ... And Other Things I Probably Shouldn't Have Said."
2014 Inductee: National Sportswriters and Sportscasters Hall of Fame
SPONSORED HEADLINES
ESPN TOP HEADLINES
MOST SENT STORIES ON ESPN.COM
LIFE OF REILLY
RICK REILLY, 52, has been voted National Sportswriter of the Year 11 times. His latest book is called "Sports From Hell: My Two-year Search for the World's Dumbest Competition." A finalist for the 2011 Thurber Prize for Humor, it's the account of his search for the dumbest sport in the world.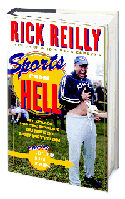 Not to give anything away, but a good bet would be either Ferret Legging or Chess Boxing. It also includes embarrassing attempts by Reilly to try Nude Bicycle Racing, Zorbing, Extreme Ironing, the World Rock Paper Scissors Championships and an unfortunate week on a women's pro football team.
To order: Amazon | B&N | Indie | Borders
More Reilly: Life of Reilly | Go Fish | Homecoming | @ReillyRick