Commentary
Ryder Cup full of playful banter
Updated:
October 4, 2010, 10:02 AM ET
By
Rick Reilly
| ESPN.com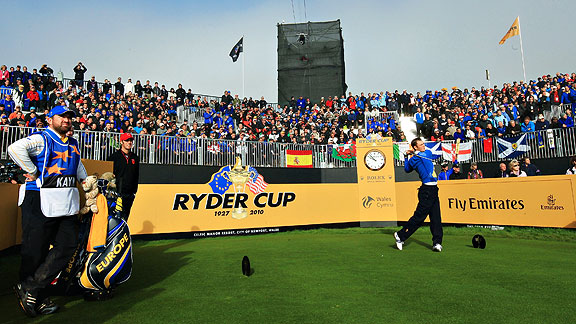 David Cannon/Getty ImagesThe amphitheater at the first hole of the Ryder Cup creates a scene unlike any other in golf. The European fans serenaded both team's golfers all Monday morning long.
NEWPORT, Wales -- The first tee at this Ryder Cup has made the 16th hole at the Phoenix Open sound like the Scottsdale library.
The 2,000 fans there, 95 percent of them European, are thunderous, clever and in perfect unison. When did they rehearse?
For instance:
• In full throat, they'd sing back and forth like a seesaw as each player took his warm up swings: "Whooooooo [on the backswing]," they'd croon, and then, "Waaaaaaaaay!" [on the downswing.] American player Jim Furyk, who was loving it, held his backswing at the top, just to see if they'd hold their chant. They did.
(Tiger Woods, not one for golf shenanigans, didn't show up to the first tee until about a minute beforehand and never took a practice swing. Buzz kill. Finally, one guy hollered, "What's up, pussycat?")
• In a lull, they chanted to Stewart Cink, "We've got more hair than you!" To which Cink doffed his cap to prove it.
• To 21-year-old Rickie Fowler, the tiny U.S. player who looks more like a skateboarder than a golfer, somebody hollered out: "Hurry up, Rickie! You've got double math [class] today!"
[+] Enlarge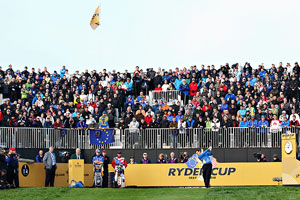 Ross Kinnaird/Getty ImagesNo matter how loud the fans got Monday at the first tee at Celtic Manor, they always knew when to be quiet and not interrupt play.
Even Fowler laughed at that.
• To Dustin Johnson, who was playing the German Martin Kaymer, who defeated him at the PGA this year when Johnson was penalized two shots for grounding his club in a bunker. "Hey, Dustin, he's got yer major!"
• No matter which European was up, they'd sing the player's name to the Mexican tune of "Guantanamera": "One Ian Poulter! There's only one Ian Poulter!" Along came Francesco Molinari , whose brother, Edoardo, is also on the team. "Two Molinaris! There's only two Molinaris!"
• To Zach Johnson, who was playing in the second-to-last grouping against Padraig Harrington, with Europe holding a commanding three-point lead: "Not to worry, Zach! It'll be over before you guys are done!"
Occasionally, just to rub in the lack of even a peep from the American fans, they'd chant, "U-S-A, sing us a song!"
In reply, a pocket of Jeff Overton fans from Indiana managed: "We still have the cup!"
To which some guy called out: "Hope you polished it!"
---
Love the column, hate the column, got a better idea? Go here.
Want more Life of Reilly? Then check out the archive.
Be sure to check out Rick's latest project, "Go Fish."
Columnist, ESPN.com
11-time National Sportswriter of the Year
Author of "Tiger Meet My Sister ... And Other Things I Probably Shouldn't Have Said."
2014 Inductee: National Sportswriters and Sportscasters Hall of Fame
SPONSORED HEADLINES
ESPN TOP HEADLINES
MOST SENT STORIES ON ESPN.COM
LIFE OF REILLY
RICK REILLY, 52, has been voted National Sportswriter of the Year 11 times. His latest book is called "Sports From Hell: My Two-year Search for the World's Dumbest Competition." A finalist for the 2011 Thurber Prize for Humor, it's the account of his search for the dumbest sport in the world.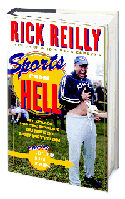 Not to give anything away, but a good bet would be either Ferret Legging or Chess Boxing. It also includes embarrassing attempts by Reilly to try Nude Bicycle Racing, Zorbing, Extreme Ironing, the World Rock Paper Scissors Championships and an unfortunate week on a women's pro football team.
To order: Amazon | B&N | Indie | Borders
More Reilly: Life of Reilly | Go Fish | Homecoming | @ReillyRick