Commentary
Call me!
Horses don't care what you call them, but the name is a big part of the game
Updated:
November 18, 2010, 5:31 PM ET
By
Steve Wulf
| ESPN The Magazine
[Editor's note: Be on the lookout in this piece for a cavalcade of horses that have won a Triple Crown race or the Breeders' Cup Classic. One caveat: Not all the names we display have been capitalized. By one count, 39 mounts are mentioned. The answers can be at the bottom of the article.]
The Bard asked, "What's in a name?" Well, in horse racing, the answer is "everything": history, personality, pop culture, arts and letters, a kind of street sense and a mad play on words. A name is decidedly commendable if it appeals to both the whimsical and the pensive, and the upcoming Breeders' Cup Classic on Nov. 5 and 6 at Churchill Downs will feature an alphabet soup of such handles, from Atta Boy Roy to Debussy to Eclair de Lune to Zenyatta.
There is almost always a story behind a thoroughbred's title. Among the entries in this year's Classic, which may determine the Horse of the Year, is the 2010 Preakness winner Lookin At Lucky, co-owned by Paul Weitman, Mike Pegram and Karl Watson. According to Weitman, "Karl told Mike, 'You've had a lot of success in racing, but right now, you're lookin' at lucky.' Karl was referring to himself. They said, 'Wow, that'd be a great name for a horse.'" Summing up, Weitman does admit, "A cocktail or two might have been involved."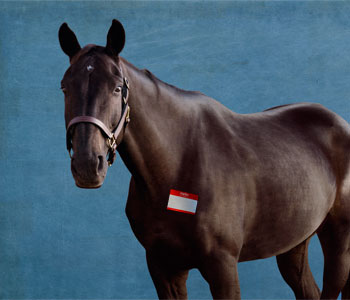 Amy Guip for ESPN The MagazineThere are many varied and interesting ways to name a race horse.
Zenyatta, the faultless mare that is taking a genuine risk against an all-male assault in the Classic, was named after Zenyatta Mondatta, the 1980 Police album; owner Jerry Moss, the legendary patron of A&M Records, is good friends with Sting. (Moss named his '05 Kentucky Derby rags-to-riches winner, Giacomo, after one of Sting's sons.)
Another Classic favorite, Blame, is co-owned by Adele Dilschneider and Claiborne Farm. Dell Hancock, daughter of the late, charismatic Claiborne boss Bull Hancock, explains: "My father tried to choose names with just five letters. He just liked short names -- they're easier to remember. But we always try to make it tie in to the parent's name." In this case, the colt's mother was Liable, so it was a fairly short leap to Blame.
The naming of horses is the concern of the Jockey Club's registry in Lexington, Ky., which keeps vigil over some 57,000 proposals a year. The registry has 15 naming limits, but the most significant are: no more than 18 spaces; no references to living persons without their written permission; no references to dead people without a satisfactory explanation; nothing overtly commercial; nothing suggestive, offensive or disparaging; no repeat or similar names of active or famous horses. Despite those restrictions, the registry has affirmed about 70 percent of first-time tries. Every once in a while, though, there is some regret over a bold submission that got the green light like Peony's Envy, or Glue.
Current events, favorite athletes, drinking jokes -- they all offer inspiration. When its popularity was bubbling over, Seinfeld sired Hello Newman, Puffy Shirt, Low Talker, Yada Yada Yada, Manhands, Summer of George and the successful gelding Nosupeforyou.
Spouses also get their share of shout-outs, as demonstrated on Aug. 22, in the seventh race at Monmouth Park in New Jersey. A citation should go to Michael Dempsey, the track racing secretary and a sly fox for putting Mywifenosevrything and Thewifedoesntknow in the same field. Video of their resulting duel with the accompanying call went viral and earned a plaudit or two for agile-tongued announcer Larry Collmus. He called the finish this way: "Mywifenosevrything, Thewifedoesntknow, they're one-two -- of course, they are -- Mywifenosevrything in front, to the outside Thewifedoesntknow. Mywifenosevrything, more than Thewifedoesntknow."
It was an unbridled and foolish pleasure.
---
KEY: Editor's Note (1996 Belmont Stakes), Lookout (1893 Kentucky Derby), Cavalcade (1934 Derby), Caveat (1983 Belmont), Display (1926 Preakness Stakes), One Count (1952 Belmont), The Bard (1886 Preakness), Personality (1970 Preakness), Arts and Letters (1969 Belmont), Street Sense (2007 Derby), Mad Play (1924 Belmont), Decidedly (1962 Derby), Commendable (2000 Belmont), Whimsical (1906 Preakness), Pensive (1944 Derby), Alphabet Soup (1996 Breeders' Cup Classic), Zenyatta (2009 Classic), Determine (1954 Derby), Lookin At Lucky (2010 Preakness), Summing (1981 Belmont), Faultless (1947 Preakness), Genuine Risk (1980 Derby), Assault (1946 Derby), Patron (1892 Belmont), Rags to Riches (2007 Belmont), Giacomo (2005 Derby), Charismatic (1999 Derby), Concern (1994 Classic), Vigil (1923 Preakness), Affirmed (1978 Triple Crown), Regret (1915 Derby), Bold (1951 Preakness), Bubbling Over (1926 Derby), Citation (1948 Triple Crown), Sly Fox (1898 Preakness), Plaudit (1898 Derby), Agile (1905 Derby), Unbridled (1990 Derby), Foolish Pleasure (1975 Derby)
ESPN The Magazine senior writer
Around long enough to have written about athletes from Hank Aaron to Ben Zobrist and Super Bowls from VII to XLVI.
Joined ESPN The Magazine as a founding editor in 1998.
Also wrote for Time, Sports Illustrated, the Fort Lauderdale News and The Evening Sun in Norwich, NY.
ESPN The Magazine: November 01, 2010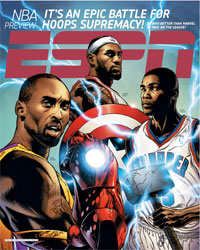 Check out the content from ESPN The Magazine's November 1, 2010 issue -- the NBA Preview.
Features
Video