Commentary
George Karl slowing down, not stopping
Updated:
December 1, 2010, 10:35 AM ET
By
Rick Reilly
| ESPN.com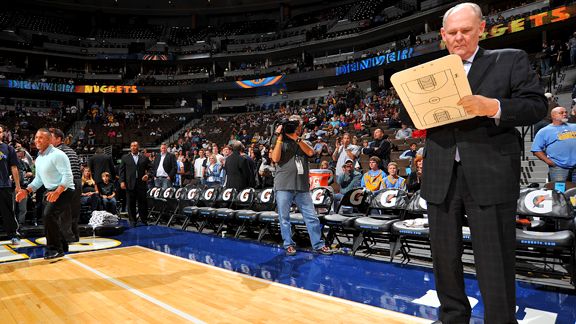 Garrett W. Ellwood/NBAE/Getty ImagesDenver Nuggets coach George Karl, 59, is battling cancer, organizational changes and the possibility of losing All-Star forward Carmelo Anthony -- but his resolve is unshaken.
When you've survived cancer jamming itself into your throat, survived 48 radiation zappings, survived holes in your stomach where the food goes, survived day after day of nothing but morphine patches and suction pumps, anything an NBA team can pelt you with feels like marshmallows.
"I'm not gonna kill myself 'cause of basketball anymore," says Denver Nuggets coach George Karl, who missed most of the second half of last season because of neck and throat cancer. "We've blown some fourth-quarter leads this season that probably would've destroyed me before this -- waking up in the middle of the night, tossing and turning, going nuts over it. I'm not going do that anymore. I'm way more mellow."
Fifty pounds lighter than he was at this point last season, Karl can't yell like he used to at the Nuggets (10-6 through Monday), who still lead the league in divas. "There are halftimes when my voice cracks and loses its effectiveness," he says. "But then again, this is our sixth year together. They've heard everything before."
Actually, in a weird way, Karl -- on the doorstep of becoming the seventh coach in NBA history to win 1,000 games -- thinks cancer has made him a better coach.
[+] Enlarge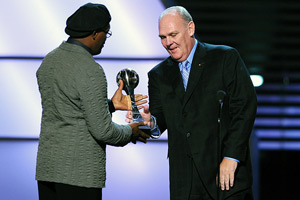 Kevin Winter/Getty ImagesKarl accepted the Jimmy V Award at the 2010 ESPYS.
"Slowing down has made me better. Now I can relax and see that, damn, we're close to being pretty good."
Karl says the refs don't bother him as much now. Same goes for NBA millionaires. He lets his assistants do all the "ego management" now. Same goes for whatever new insanity his schizophrenic shooter, J.R. Smith, dreams up.
"J.R. is like a teenage kid you might have. We set boundaries with him, and he knows what they are," Karl says. "You find out your kid drove the car after drinking, he doesn't get the car anymore."
Unfortunately, Karl wasn't there to set boundaries in the last third of that season. The Nuggets had dominated with him (42-21), then sagged without him (13-12).
When the first-round playoff series with a limping Utah team arrived, the Nuggets acted like a third-grade class with a sub, Smith especially. He pouted, put up insane shots and refused to even enter the timeout huddles. That, accompanied with Carmelo Anthony deciding to go one-on-three in crunch time, led to the Nuggets' losing the series in six games.
Not that Karl was watching. A blood clot had returned to his leg just before that last game, causing him to be rushed to the hospital.
"This isn't an easy team to coach and never has been," Karl admits. "Still, everybody thinks Utah dominated us, but if we could've handled the last five minutes of Game 2 [which Utah won 114-111], we would've won that game and probably the series without me around."
"Any cancer is a five- or six-year project. The first year is more dangerous, the second a little less dangerous, the third a little less dangerous, and so on. I'm just trying to enjoy the adventure I'm on."
Karl, 59, is around this year and plans to be for a long time. "If anything, I love coaching more than ever," he says. "I realized how much basketball is part of my life."
His battered mouth is "still healing," he says, but he's on no medications, just an organic diet with 50 percent less meat and a boatload more yogurt smoothies.
"Any cancer is a five- or six-year project. The first year is more dangerous, the second a little less dangerous, the third a little less dangerous, and so on. I'm just trying to enjoy the adventure I'm on."
And with the nuthouse Nuggets, it's a beauty.
---
Love the column, hate the column, got a better idea? Go here.
Want more Life of Reilly? Then check out the archive.
Be sure to check out Rick's latest project, "Go Fish."
Columnist, ESPN.com
11-time National Sportswriter of the Year
Author of "Tiger Meet My Sister ... And Other Things I Probably Shouldn't Have Said."
2014 Inductee: National Sportswriters and Sportscasters Hall of Fame
LIFE OF REILLY
RICK REILLY, 52, has been voted National Sportswriter of the Year 11 times. His latest book is called "Sports From Hell: My Two-year Search for the World's Dumbest Competition." A finalist for the 2011 Thurber Prize for Humor, it's the account of his search for the dumbest sport in the world.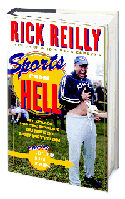 Not to give anything away, but a good bet would be either Ferret Legging or Chess Boxing. It also includes embarrassing attempts by Reilly to try Nude Bicycle Racing, Zorbing, Extreme Ironing, the World Rock Paper Scissors Championships and an unfortunate week on a women's pro football team.
To order: Amazon | B&N | Indie | Borders
More Reilly: Life of Reilly | Go Fish | Homecoming | @ReillyRick
MOST SENT STORIES ON ESPN.COM