New year, new rules: Rule No. 3
Updated:
December 15, 2010, 11:08 AM ET
ESPN The Magazine
Rule No. 3: A day game every day
There are few human endeavors more satisfying than playing hooky to catch a ball game. Even those too responsible to know that bliss have to have fought back the monotony of the workday by stealing a moment to check the stats of their fantasy team. So in the hopes of raising workplace morale everywhere, we propose MLB schedules include at least one day game every weekday between Memorial Day and Labor Day. In 2010, only 28 days in that prescribed span were without day baseball. Essentially, we're asking for about two additional afternoon matchups per team a year. Full disclosure: The players we unofficially polled didn't love this idea. Screw 'em. This one is for us.
SPONSORED HEADLINES
ESPN TOP HEADLINES
MOST SENT STORIES ON ESPN.COM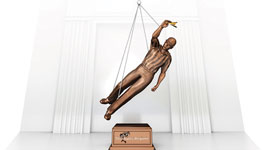 INDEX PAGE
FOOTBALL
BASEBALL
BASKETBALL
HOCKEY
SOCCER
GOLF
OTHER