New year, new rules: Rule No. 5
Updated:
December 15, 2010, 1:53 PM ET
ESPN The Magazine
Rule No. 5: Don't rely on the eye to judge field goals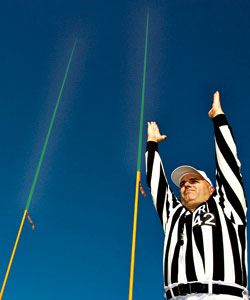 Robert Michael/CorbisSeems like it would easier to judge FGs with this technology.
"The Bronco Nation Loves Kyle Brotzman" is a Facebook group created to support the Boise State kicker who missed two huge kicks -- one at the gun, one in OT -- against Nevada on Nov. 26 and cost the Broncos any shot at a national title. The group has more than 40,000 members, but maybe it shouldn't even exist. Fact is, Brotzman's 26-yarder at the end of regulation may actually have been good. He could be a hero in Idaho, instead of the focus of an Internet pity party.
Yes, it's true that a kick that sails directly above one leg of a goalpost is a miss. But when a kick is as high as Brotzman's was, it's hard for the ref standing directly below the post to tell for sure.
So we hereby lobby for motion detectors or laser beams or some other newfangled 21st-century technology, something that shoots straight up from each post. When a ball crosses its stream, a sound would ring out through the stadium, or a light would flash on the scoreboard, indicating a miss with surety. Bonus: Night games double as trippy light shows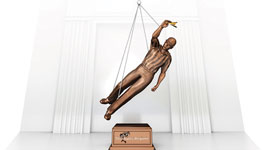 INDEX PAGE
FOOTBALL
BASEBALL
BASKETBALL
HOCKEY
SOCCER
GOLF
OTHER
MOST SENT STORIES ON ESPN.COM