New year, new rules: Rule No. 14
Updated:
December 15, 2010, 10:46 AM ET
ESPN The Magazine
Rule No. 14: Redefine offsides
In basketball, there's nothing prettier than a backdoor cut that ends in a layup. But when the same thing happens in soccer -- like Clint Dempsey's controversial disallowed goal against Algeria in the World Cup -- it's offsides. So here's the switch: Once a team gains possession inside the 18-yard box, there is no offsides. Playmakers like Lionel Messi would become that much more dangerous, and defenders would be forced to, you know, defend, rather than hold their line and pray that an assistant ref's flag saves them.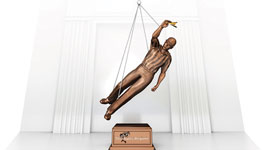 INDEX PAGE
FOOTBALL
BASEBALL
BASKETBALL
HOCKEY
SOCCER
GOLF
OTHER