Commentary
Gang Green or gangrene?
Updated:
January 20, 2011, 3:06 PM ET
By
Rick Reilly
| ESPN.com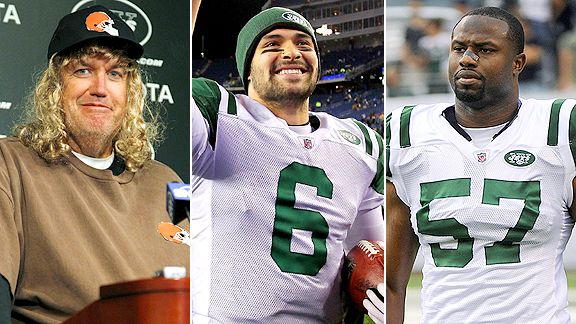 Icon SMI, Getty Images, AP PhotoRex Ryan, the clown. Mark Sanchez, the pretty boy. Bart Scott, the emotional villain. You either love this cast of characters or hate them. Right?
I hate the New York Jets.
I hate how they eat hot dogs on the sideline and act like them on the field. Hate their player-tripping coaches and their ego-tripping players. Hate the gasbag who leads them, Rex Ryan, a man who had lap-band surgery last offseason but should've had lip-band surgery instead.
I love the New York Jets.
I love the way they knock King Kongs off their Empire State Buildings and laugh as they fall. I love their wig-wearing, fun-loving, foot-nuzzling head coach, Rex Ryan. I love the way he takes the pressure off of his players and piles it on himself. It's personal between him and me -- he fills my notebook with hilarity. I love the way he barrels into the end zone after a touchdown looking for somebody to hug. Can you imagine what Ryan would do on Super Bowl media day? Can you say, "Meat dress?"
"

I hate the Jets because they have the same respect for people as tornados have for furniture. ... I love the Jets because if they beat Pittsburgh at Heinz Field, it will be the greatest road campaign since Genghis Khan.

"
I hate the New York Jets.
I hate the way they set up straw men and dance when they knock them down. "Nobody believed in us," they whine. Really? Who didn't believe in you? Bigfoot? You were in the AFC Championship Game last year! Sell it somewhere else.
I love the New York Jets.
I love them because this is a team with more good stories than Barnes & Noble. It's a career rehab center. LaDainian Tomlinson, released by the San Diego Chargers one season ago, is on the doorstep of a Super Bowl now. Jason Taylor has a chance to finally go to a big dance, where you don't need votes to win. Braylon Edwards, given up for useless in Cleveland, is a monster for Gang Green. Who will they sign next? Refrigerator Perry?
I hate the Jets because Ryan begs us to. "I want to be that team you hate," he says. Check! It's easy with guys like Edwards, who was busted for DWI, and Santonio Holmes, suspended this year for violating the league substance abuse policy, and Antonio Cromartie, who has nine kids (all 5 years old and younger) by eight different women in six states. Cromartie is the guy who called Tom Brady an "ass----." Curious word coming from somebody who has left kids all over America with no dad.
I love the Jets because they're led by an Abercrombie & Fitch quarterback who is getting better by the snap. Son of a fireman and polite as an Eagle Scout, he's already won four road playoff games, a feat only accomplished by three other QBs, including Roger Staubach. He is the Latino Joe Namath -- only maybe better. His playoff QB rating is almost 40 points higher than Broadway Joe's. And Manhattan Mark stayed out until 3:30 a.m. the other night, so he's learning.
I hate the New York Jets because they have the same respect for people as tornadoes have for furniture. From harassing female TV reporters (Ines Sainz) to kneeing opponents' punt gunners (coach Sal Alosi) to rubbing victories in with postgame backflips (Edwards), the Jets could make you root for the dogcatcher.
AFC Championship


Get all the news and commentary on the Jets-Steelers matchup on ESPN.com's matchup page.
• Clayton: AFC championship questions
• Blog: Jets-Steelers quick takes
• Playoffs schedule | New OT rules
• Blog network:
AFC North | AFC East | Jets blog
I love the New York Jets because it's their turn. Since the Jets went to their first and last Super Bowl -- 42 years ago -- the Pittsburgh Steelers have been to seven. Haven't we seen that movie before? Do you realize the last time the Jets went to the big bowl? We hadn't even put a man on the moon yet.
I hate the New York Jets because they don't practice in New York and they don't play in New York. Fireman Ed? Grew up as a Dolphins fan. And J-E-T-S? Really? You're thrilled with yourselves for spelling a four-letter word? Try cheering for Our Lady of the Immaculate Conception.
I love the Jets because if they beat Pittsburgh at Heinz Field, it will be the greatest road campaign since Genghis Khan. To beat Peyton Manning, Brady and Ben Roethlisberger, all from hotels? That's re-sick-ulous. Only two wild-card teams have won a Super Bowl while never playing a playoff game at home. Those teams were the 2005 Steelers and 2007 Giants, and their roads to the title were I-80 compared to the jungle the Jets are hacking through.
I hate the Jets because they're terrible losers -- the Dolphins beat them with their "gimmick offenses," the Packers "didn't win, we lost," the Patriots' 42-point win was a "fluke" -- and even worse winners. After beating the Patriots last week, insufferable, loudmouth linebacker Bart Scott said the Patriots defense couldn't "stop a nosebleed!" Edwards taunted the Pats' bench with "wings out." Jets flipped off Pats fans. If it weren't so predictable, it'd be disgusting.
I love the Jets because Jets fans never lose hope. If Job were alive, he'd be a Jets fan. Do you realize Jets fans went the entire 1970s and most of the '90s without a winning season? Forget Debbie, I want to see them do Dallas.
Right. Are these the same wonderful fans who used to gather around the Gate D rotunda during halftime and yell at female fans to expose their breasts? Remind me: What charm school did they attend?
You just don't get it. If the Jets pull this thing off, they will go down with Jim McMahon's 1985 Bears, Michael Irvin's 1992 Cowboys and Dennis Rodman's 1989 Pistons at the top of the list of "You Can Love 'Em, You Can Hate 'Em, but You Can't Ignore 'Em" champs of all time. There's no middle on the Jets. You either wear their jersey or burn it.
Hand over the lighter fluid.
---
Love the column, hate the column, got a better idea? Go here.
Want more Life of Reilly? Then check out the archive.
Be sure to check out Rick's latest project, "Go Fish."
Columnist, ESPN.com
11-time National Sportswriter of the Year
Author of "Sports from Hell: My Two-Year Search for the World's Dumbest Competition"
Finalist 2011 Thurber Prize for Humor
SPONSORED HEADLINES
ESPN TOP HEADLINES
MOST SENT STORIES ON ESPN.COM
LIFE OF REILLY
RICK REILLY, 52, has been voted National Sportswriter of the Year 11 times. His latest book is called "Sports From Hell: My Two-year Search for the World's Dumbest Competition." A finalist for the 2011 Thurber Prize for Humor, it's the account of his search for the dumbest sport in the world.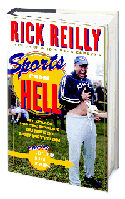 Not to give anything away, but a good bet would be either Ferret Legging or Chess Boxing. It also includes embarrassing attempts by Reilly to try Nude Bicycle Racing, Zorbing, Extreme Ironing, the World Rock Paper Scissors Championships and an unfortunate week on a women's pro football team.
To order: Amazon | B&N | Indie | Borders
More Reilly: Life of Reilly | Go Fish | Homecoming | @ReillyRick