Commentary
A history of sports in 38 objects
A treasure trove of artifacts that embody the power and glory of sports
Updated:
June 6, 2011, 12:25 PM ET
By
Steve Wulf
| ESPN The Magazine
This story appears in the June 13, 2011 issue of ESPN The Magazine.
This is the stuff of legend. Photographer Svend Lindbaek traveled to places as resonant as Cooperstown and the Smithsonian, as diverse as New Brunswick, Canada, and Beverly Hills, Calif., to document the following artifacts. There are balls and uniforms and clubs, of course, but also a trombone, a movie projector and a chicken. Some belong to museums, some to collectors, some to the athletes who used them. But each tells a story worth retelling, and taken together, these stories offer a panoramic view of sports. As Lindbaek says, "Ali's gloves, Secretariat's saddle ... what a privilege. I felt like I was in a time machine." Click here for a photo gallery.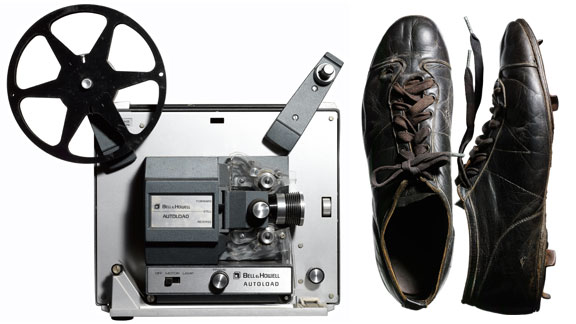 PREPARATION
Two of the most famous games in NFL history were won by the same man: Weeb Ewbank. A disciple of Paul Brown, Ewbank not only coached the Baltimore Colts to a 23-17 overtime victory over the Giants in the 1958 title game but also masterminded the Jets' shocking 16-7 upset of the Colts -- yes, they had fired him -- in Super Bowl III. Ewbank, a pioneer in film study who graded athletes on each play, used the projector above throughout the 1960s. He deserves a movie of his own.
LOCATION: PRO FOOTBALL HALL OF FAME, CANTON, OHIO
SHAME
Shoeless Joe Jackson will never get into the Hall of Fame, so ironically, this pair of shoes will have to represent him. Jackson, who earned his nickname when blisters from some new spikes forced him to play a minor league game barefoot, was one of the greatest left-handed hitters ever. But as the flashpoint for the 1919 Black Sox scandal, he was banned from baseball for life. He eventually opened a liquor store in Greenville, S.C., where Ty Cobb once visited. When Jackson didn't seem to remember him, Cobb asked, "Don't you know who I am?" Jackson replied, "Yes, I know you. I just didn't think anyone I used to know ... wanted to recognize me."
LOCATION: NATIONAL BASEBALL HALL OF FAME AND MUSEUM, COOPERSTOWN, N.Y.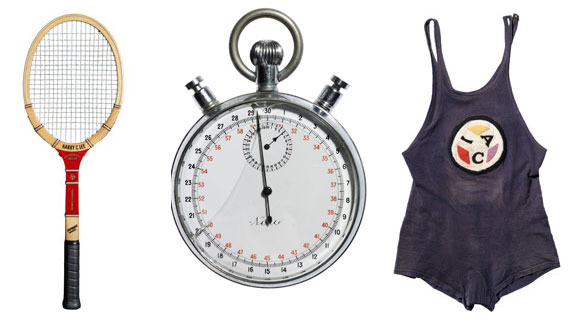 MOBILITY
Who knew you could break down the walls of poverty and prejudice with a tennis racket? In the 1940s, Althea Gibson hung out in the streets of Harlem to escape her family's cramped apartment. One day, bandleader Buddy Walker noticed her talent for paddle tennis and suggested she take her skills to the court. Before long she was winning tournaments and challenging all-white policies. In 1957, she became the first black woman to win Wimbledon, which she played with this Harry C. Lee "Dreadnought Driver."
LOCATION: SMITHSONIAN'S NATIONAL MUSEUM OF AMERICAN HISTORY, WASHINGTON, D.C.
BARRIER
There was a time when a four-minute mile was considered dangerous, if not impossible, because of the perceived limitations of the human body. But a gangly 25-year-old British medical student named Roger Bannister trained hard to prove the doubters wrong. On May 6, 1954, he arranged for a race against the clock on the Oxford University track at Iffley Road. Paced by two other runners, he passed the halfway mark in 1:58.2 and hit three-quarters of a mile in 3:00.5. As fellow students cheered him on, he quickened his long stride, galloped to the finish line and collapsed. "I felt like an exploded flashlight with no will to live," he wrote later. This is the stopwatch that recorded his time, forever frozen at 3:59.4.
LOCATION: OXFORD UNIVERSITY ATHLETIC CLUB, OXFORD, ENGLAND
EVOLUTION
One look at the less-than-sleek swimsuit Johnny Weissmuller wore at the 1928 Amsterdam Olympics (representing the Illinois Athletic Club) makes you appreciate the irony of his role as Tarzan, the Ape Man, in more than a dozen Hollywood productions. His gold-winning time in the 100-meter freestyle in Amsterdam, 48.6 seconds, is more than a second down the evolutionary scale from Eamon Sullivan's world record time at the 2008 Beijing Games. But Weissmuller was undeniably at the top of the food chain in his day, winning five gold medals in two Olympics. While playing golf in Cuba in 1958, legend has it, he was captured by rebel soldiers. They released him after he gave them his trademark Tarzan yell.
LOCATION: INTERNATIONAL SWIMMING HALL OF FAME, FORT LAUDERDALE, FLA.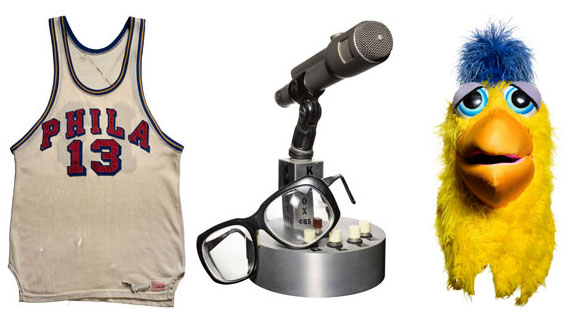 PERFECTION
Athletes talk of being "in the zone." Well, on the night of March 2, 1962, the zone was Hershey, Pa., where the Philadelphia Warriors were playing the New York Knickerbockers. Wilt Chamberlain had been up all the previous night at his Harlem nightclub, but instead of napping before the game, he went to the rifle booth in the penny arcade. "I completely destroyed all existing shooting records," he later wrote. "An omen of things to come." Then the 7'1" center put on this No. 13 jersey and blew past his own record for points in a game (78), slamming down a Dipper Dunk with less than a minute left to give him the perfect score of 100. After the game, he hitched a ride back to NYC with some of the Knicks.
LOCATION: BASKETBALL HALL OF FAME, SPRINGFIELD, MASS.
CONNECTION
It could be, it might be, it is ... The ghost of Harry Caray -- or at least the glasses he saw through and the microphone he spoke through to call Cardinals games. In his 52 years of broadcasting baseball, first for the Cards, later for the A's, White Sox and Cubs, Caray brought a personality as outsized as his trademark specs and a voice that begged for imitation. Part of his shtick was leading fans in singing "Take Me Out to the Ballgame" during the seventh-inning stretch, and really, that's what he accomplished every day, putting millions upon millions in the seat next to his.
LOCATION: HARRY CARAY'S TAVERN, NAVY PIER, CHICAGO
ENTERTAINMENT
Sports has always had its share of clowns, but it wasn't until college student Ted Giannoulas came along, in 1974, that baseball comedy took wing. Now known as the Famous Chicken (TFC Inc.), Giannoulas hatched his act handing out Easter eggs at the San Diego Zoo for KGB Radio. That led to appearances at Padres games, national exposure and a whole flock of furry, fan-friendly mascots. But it wasn't just this costume head, made by his mother, that made him a crowd favorite. His bold, irreverent improvisations sometimes upstaged the games. The Chicken, it turned out, was anything but.
LOCATION: NATIONAL BASEBALL HALL OF FAME AND MUSEUM, COOPERSTOWN, N.Y.
SERENDIPITY
Great sports moments happen because athletes are in the right place at the right time. The right place was Three Rivers Stadium, in Pittsburgh. The right time was the AFC divisional playoff game on Dec. 23, 1972. The Steelers had the ball, trailing the Raiders 7-6, and faced a fourth-and-10 on their own 40 with 22 seconds to go. A scrambling Terry Bradshaw threw downfield to Frenchy Fuqua, but safety Jack Tatum hit the halfback hard, and the ball popped out ... right to Steelers rookie back Franco Harris. Picking it off his shoetops, Harris took the Immaculate Reception untouched into the end zone. This is the carpet from the sideline he ran down.
LOCATION: PRO FOOTBALL HALL OF FAME, CANTON, OHIO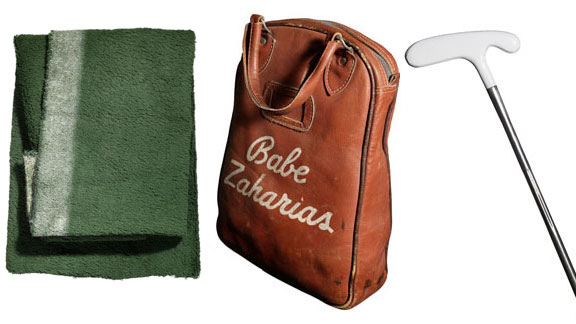 EQUALITY
This bag held the golf balls of the greatest female athlete ever. Nothing, though, could contain the talents of Mildred Didrikson Zaharias, a Norwegian-Texan who earned the nickname Babe -- so she claimed -- after hitting five home runs in a sandlot game. She led her AAU hoops team to a national title and won two gold medals (in the javelin and 80-meter hurdles) and a silver (high jump) at the 1932 Olympics. Then she took up golf, winning 31 events on the LPGA Tour she helped to start. "It would be much better," wrote one misogynist sportswriter, "if she and her ilk stayed at home." You'll notice that guy has no object represented in this collection.
LOCATION: WORLD GOLF HALL OF FAME, ST. AUGUSTINE, FLA.
FEEL
In practice before the 1967 U.S. Open at Baltusrol, Jack Nicklaus took a liking to the Bulls Eye putter wielded by fellow pro Deane Beman. Fred Mueller, a friend of Beman's, gave Nicklaus a similar club with one difference: Mueller had painted the brass head white to prevent sun glare. Using the legendary White Fang, Nicklaus made eight birdies in the final round to beat Arnold Palmer by four strokes to take the seventh of his 18 majors. The putter, which Jack's wife, Barbara, repainted after every tournament, also carried him to five other titles that year. White Fang later went missing for some time, until a friend of Jack's son Steve presented it to him on his 40th birthday.
LOCATION: JACK NICKLAUS MUSEUM, COLUMBUS, OHIO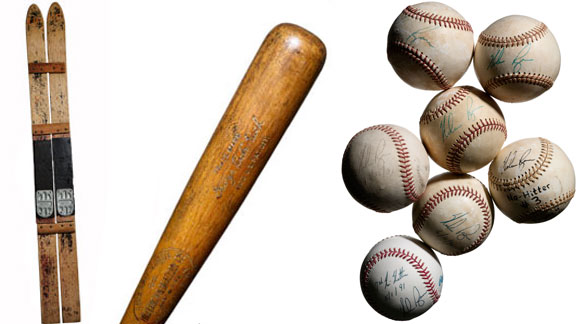 INNOVATION
We have Sherman Poppen to thank for big air, halfpipes and Shaun White. In 1965, the small-business owner from Muskegon, Mich., wanted to create a winter toy for his kids. He attached two snow skis, his wife dubbed the contraption the "snurfer" -- snow plus surf -- and the rest is extreme-sports history. The Brunswick Corp. began to manufacture one-piece Snurfers, which grew popular locally and spawned snurfing competitions, which inspired the snowboard industry, which literally moved mountains. Poppen himself continued snowboarding until 2008, when a bad back forced him to quit, at age 78.
LOCATION: SMITHSONIAN'S NATIONAL MUSEUM OF AMERICAN HISTORY, WASHINGTON, D.C.
MIGHT
This is the Bat That Ruth Swung on Sept. 30, 1927, when he hit his 60th home run, off Senator southpaw Tom Zachary in the eighth inning of the second to last game of the regular season. In the clubhouse afterward. The Babe proclaimed, "Sixty, count 'em, 60. Let's see some other son of a bitch match that." Some other SOBs eventually did, but not without the benefit of a longer season and/or performance-enhancing drugs. And none of them did it with a bat this big: 40 ounces, 35 1/4 inches, some eight ounces heavier and more than an inch longer than those used by many of today's players.
LOCATION: NATIONAL BASEBALL HALL OF FAME AND MUSEUM, COOPERSTOWN, N.Y.
DOMINANCE
Behold the Seven Wonders: a ball from each of Nolan Ryan's no-hitters. The first one was thrown for the Angels on May 15, 1973, when Sandy Alomar was Ryan's second baseman; the last was thrown for the Rangers on May 1, 1991, when Sandy's son, Roberto, made the last out for the Blue Jays. Only one other pitcher can claim more than three no-nos: Sandy Koufax, who has four. In flashing his particular brand of brilliance, Ryan also displayed a certain generosity, parceling out his gems to seven different batterymates.
LOCATION: NATIONAL BASEBALL HALL OF FAME AND MUSEUM, COOPERSTOWN, N.Y.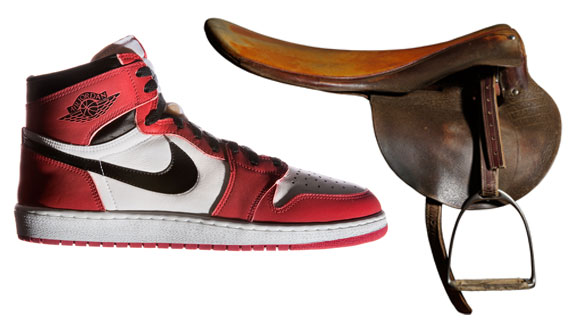 COMMERCE
When Michael Jordan first saw the design of the Nike Air Jordan created for him by Peter Moore, he reportedly said, "I can't wear that shoe." But he did, during the 1984-1985 season, and it cost him $5,000 a game, the league penalty for wearing nonregulation kicks. Nike happily paid the fine. The Air Jordan I may not have made its wearers jump higher, but it elevated MJ, Nike, endorsement deals, urban fashion, global marketing & heck, the whole business of sports. By the way, this is the only one of the 26 (and counting) Air Jordan models to feature the swoosh.
LOCATION: JORDAN BRAND, A DIVISION OF NIKE, INC., BEAVERTON, ORE.
TRUST
Between the back of a 1,100-pound race horse and the butt of a 110-pound jockey is a saddle, and necessarily, confidence in one another. So, while we will always celebrate the greatness of Secretariat -- whose 1973 Triple Crown was the first in 25 years, and whose 31-length rout in the Belmont still boggles the mind -- let's not forget Ron Turcotte, the jockey who pushed, steered and urged the great colt. Turcotte, a French-Canadian who learned how to communicate with horses while working his father's logging team, called Big Red "the kindest of animals." Confined to a wheelchair since a 1978 accident at Belmont, Turcotte lives in his hometown with his family and this -- his seat to history.
LOCATION: RON TURCOTTE, NEW BRUNSWICK, CANADA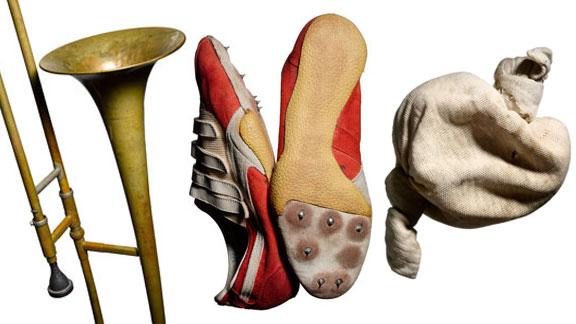 CHAOS
They call it simply The Play, but in the moment, it was way more complicated than that. The last-second kickoff return that gave host Cal a 25-20 win over archrival Stanford on Nov. 20, 1982, featured five laterals (two of which may have been illegal) and ended only after Bear defensive back Kevin Moen dashed through the Stanford band -- which had spilled onto the field to celebrate -- and plowed into engineering major Gary Tyrrell. The collision dented Tyrrell's trombone and added a little irony to the song the band had struck up: "All Right Now." But as then-Cardinal QB John Elway now says, "Each year, it gets a little funnier."
LOCATION: COLLEGE FOOTBALL HALL OF FAME, SOUTH BEND, IND.
REVOLUTION
It was an act of conscience -- and bravery. After winning gold and bronze respectively in the 200 meters at the 1968 Mexico City Games, Tommie Smith and John Carlos took to the podium in stockinged feet, then raised gloved fists while bowing their heads, as the national anthem played, to protest the oppression of black people in America. They were immediately booted from the U.S. team, ostracized and threatened, yet they never backed away from their powerful gesture. Smith had other things on his mind that day too: the shoes he wore to win the race -- these red Pumas, still tinged in sand. "They're Velcro-topped shoes," he recently told us, "and I had never run in them with the speed I knew I would have on that day. I was afraid I might lose them."
LOCATION: TOMMIE SMITH, STONE MOUNTAIN, GA.
DESTINY
The hand of fate tossed a resin bag onto the mound at the Polo Grounds on Oct. 3, 1951, the day Dodgers ace Ralph Branca threw the pitch Giants outfielder Bobby Thomson turned into "the shot heard 'round the world." In later years, it was revealed the Giants were stealing signs, but no matter; Brooklyn's pennant hopes were crushed. Branca threw down the bag in disgust, walked off the mound then found himself in his car, an hour later, with his future wife and a priest. "Why me?" he asked. "Because He knew your faith was strong enough to withstand the agonies that would follow," Father Rowley said.
LOCATION: NATIONAL BASEBALL HALL OF FAME AND MUSEUM, COOPERSTOWN, N.Y.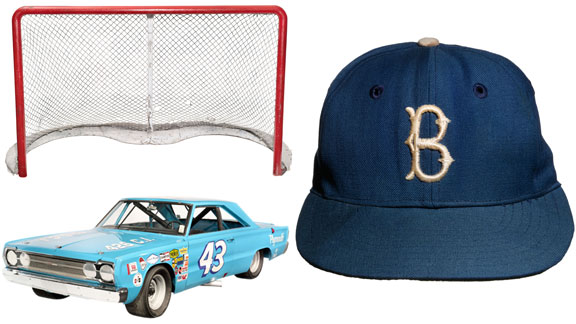 TEAMWORK
You don't have to believe in miracles to appreciate the USA hockey team's 4-3 win over the Soviets at the 1980 Lake Placid Games. In fact, calling it a miracle does a disservice to the 20 players who devoted seven months of their lives to the endeavor and to the coach, Herb Brooks, who convinced them they could grab gold if only they played as one. Of course, it didn't hurt that the team had Jim Craig, who performed wonders of his own to protect every cage -- including this one -- in the Olympic Fieldhouse.
LOCATION: 1932 AND 1980 WINTER OLYMPIC MUSEUM, LAKE PLACID, N.Y.
DYNASTY
Richard Petty drove to 36 victories in 1966 and 1967 behind the wheel of this "Petty blue" Plymouth Belvedere -- the winningest car in NASCAR history. "Back then we usually found a car that was good on short tracks or speedways or dirt tracks," Richard once said. "That Plymouth was fast no matter where we ran." It was, in effect, the family car: The King drove it for his father, Lee, who won the first Daytona 500 in 1959. Richard went on to become NASCAR's all-time wins leader with 200; his son Kyle won another eight. Kyle's son Adam, a fourth-generation driver, was killed in a 2000 crash.
LOCATION: NASCAR HALL OF FAME, CHARLOTTE, N.C.
DARING
Sportswriter Red Smith once described a play by Jackie Robinson as "the unconquerable doing the impossible." Robinson was unconquerable, all right, defying racial prejudice breaking major league baseball's color barrier in 1947. And he was on the field when his Brooklyn Dodgers did the impossible, finally winning a World Series after seven failed tries, by beating their nemesis, the Yankees, in 1955. Robinson wore this hat as he slid under the tag of Yogi Berra to steal home in the eighth inning of Game 1 of that Series.
LOCATION: NATIONAL BASEBALL HALL OF FAME AND MUSEUM, COOPERSTOWN, N.Y.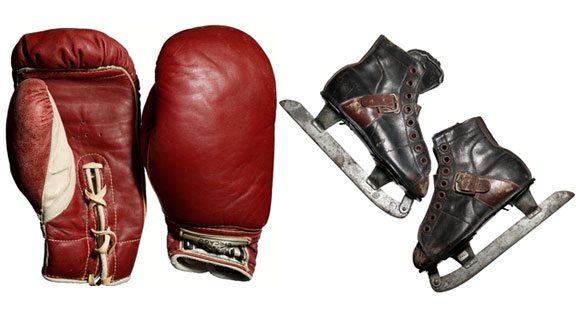 SMACK
Sonny Liston never saw the one on the right coming. Muhammad Ali wore these gloves into the ring in Lewiston, Maine, on the night of May 25, 1965, to defend his heavyweight title against the man he had beaten 15 months before. Midway through the first round, a backpedaling Ali knocked down Liston with a right to the chin that was so quick it became known as "the phantom punch." Speed was one element of Ali's greatness, but so was the ferocity and brashness he displayed as he stood over the fallen Liston and shouted, "Get up and fight!"
LOCATION: SETH ERSOFF AND OVED ANTER, BEVERLY HILLS, CALIF.
GENIUS
Back in the day, the Great One was just a little one. And he wore a pint-size pair of skates when he first stepped onto the ice of the backyard rink his father, Walter Gretzky, built for him and his siblings in Brantford, Ontario, in the 1960s. Says Wayne, "I'd get up in the morning, skate from 7:00 to 8:30, go to school, come home at 3:30, stay on the ice until my mom insisted I come in for dinner, eat in my skates, then go back out." That single-mindedness carried No. 99 to four Stanley Cups, 10 NHL scoring titles and an astounding 2,857 points -- 970 more than Mark Messier, his nearest rival.
LOCATION: HOCKEY HALL OF FAME, TORONTO, CANADA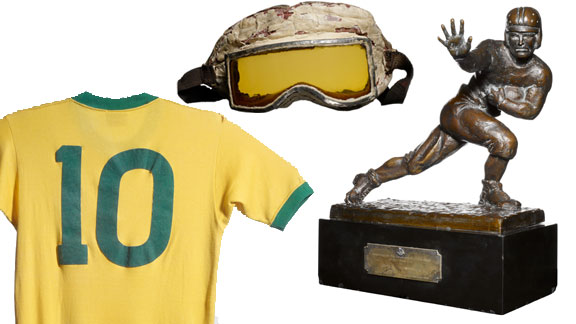 OBSESSION
Swimming the English Channel was once a public craze and the private preoccupation of Gertrude Ederle, the 19-year-old daughter of a Manhattan butcher. At 7:09 a.m. on Aug. 6, 1926, Ederle set off from Cap Gris-Nez, France, slathered in sheep grease and wearing these goggles, kept tight to her face with candle wax. She swam an estimated 35 miles in choppy waters, finally coming ashore in Kingsdown, England, at 9:40 p.m. Her rewards as the first woman to complete the feat were a ticker-tape parade, a visit with President Coolidge, a vaudeville tour -- and the loss of her hearing. She died at 97 in relative obscurity, though she was remembered by the many deaf people she taught to swim.
LOCATION: SMITHSONIAN'S NATIONAL MUSEUM OF AMERICAN HISTORY, WASHINGTON, D.C.
IMMORTALITY
You couldn't get much closer to soccer heaven than the 1970 World Cup. For one thing, it was held in the high altitude of Mexico City. For another, it featured the greatest player on one of the greatest teams ever assembled. Plus, it was broadcast in color for the first time, giving the world its first chance to see Pelé in all his green-and-yellow splendor. In the final between Brazil and Italy, the man in this No. 10 jersey headed in a cross by Rivelino for the first goal, set up Jairzinho for the third, then hit Carlos Alberto with a perfect pass for the fourth in a 4-1 victory that fairly defined the Beautiful Game.
LOCATION: MUSEU DO FUTEBOL, SÃO PAULO, BRAZIL
HUMILITY
The Heisman Trophy, right? Actually, when this original was given to University of Chicago halfback Jay Berwanger after the 1935 season, it was called simply the DAC Trophy, after its donor, New York's Downtown Athletic Club. (When the club's director of athletics John Heisman died shortly thereafter, it was renamed for him.) Berwanger, a sensational two-way player, was also the first pick in the inaugural NFL draft, but he chose to stiff-arm the Bears to pursue a more lucrative job: foam-rubber salesman. The modest Berwanger never quite knew what to do with the trophy -- he said it was too wide for his mantel and too big for his coffee table. For a time, his Aunt Gussie used it as a doorstop.
LOCATION: THE UNIVERSITY OF CHICAGO, CHICAGO, ILL.
Steve Wulf is a senior writer for ESPN The Magazine. Research by André Carter. Pelé jersey photographed by Rafael Devine, Air Jordans by Robert Delahanty, stopwatch by Chris Floyd and skates by Finn O'Hara/Hall of Fame.
ESPN The Magazine senior writer
Around long enough to have written about athletes from Hank Aaron to Ben Zobrist and Super Bowls from VII to XLVI.
Joined ESPN The Magazine as a founding editor in 1998.
Also wrote for Time, Sports Illustrated, the Fort Lauderdale News and The Evening Sun in Norwich, NY.
ESPN The Magazine: June 13, 2011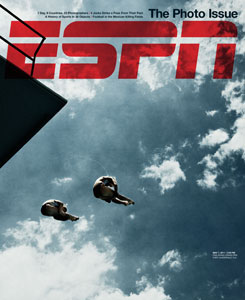 Features
Columns & Go/Play
MOST SENT STORIES ON ESPN.COM