No. 27: Atlanta Braves
Ultimate Standings 2012
Updated:
September 6, 2012, 5:40 PM ET
By
Doug Mittler
| ESPN The Magazine

Last year's rank: 19
Title track: 29
Ownership: 56
Coaching: 87
Players: 22
Fan relations: 45
Affordability: 35
Stadium experience: 72
Bang for the buck: 20

Under Bobby Cox, the Atlanta Braves were usually a top-10 team in the coaching category, but the bottom has fallen out for second-year skipper Fredi Gonzalez. After his team's monumental collapse last September, Gonzalez has been playing catch-up all season. "No one is expecting him to be Bobby, but Braves fans and the city demand more than mediocrity," blogged Braves fan Alec Degnats. "A manager that only succeeds when everything goes to plan will not cut it." The Braves remain a consistent postseason contender, however, and with the fourth-lowest average ticket price in the majors ($16.69) -- giving them a 10-point bang for the buck improvement -- it's worth every penny to see franchise icon Chipper Jones ride off into the sunset. In its 16th season hosting baseball, Turner Field has lost some of its luster (17-point drop in stadium experience), but being a season-ticket holder does have its perks: A new 33 percent discount on food and beverages, excluding alcohol, has trimmed more than $2.50 off a brisket sandwich or large order of fries. That doesn't make last September easier to swallow, but it does help keep loyal fans happy.
Rumor Central
MLB Rumor Central writer
Researcher/Reporter for ESPN The Magazine.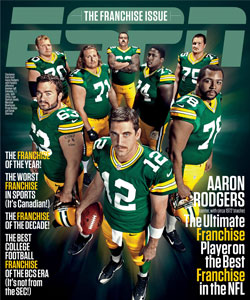 MOST SENT STORIES ON ESPN.COM