LeBron James is king of Week 1
Updated:
May 3, 2010, 10:10 PM ET
Welcome to the first edition of our "Cross-Sport Power Rankings" on ESPN.com.
Every Tuesday, we will present our ranking of the best, hottest and most intriguing professional athletes across all sports. Will LeBron James beat Jimmie Johnson? Will both of them beat Sidney Crosby? Where does Albert Pujols fall? Where is Roger Federer? Did Phil Mickelson make it this week? It's that kind of list.
To determine such a varied and deep list each week, we assembled an all-star cast of contributors from ESPN. Our panel includes: John Buccigross, Josh Elliott, Robert Flores, DJ Gallo, Jemele Hill, Dana Jacobson, Brian Kenny, Jeff MacGregor, Bram Weinstein and Trey Wingo.
Each week, the panel will assess performances by athletes from every sport and rank the top 20. We will combine the panel's rankings and share them with you on this page each week. We will keep track of the rising and falling stars as well as the occasional one-week wonders who will enter the firmament based on a memorable day at the park, on the course or at the track.
Bram Weinstein will sum up each week's ranking with a video to get the conversation started. Enter your comments below!
Visit "Cross-Sport Power Rankings" on Tuesdays on ESPN.com to see the latest rankings each week.
2010-11 Power Rankings: Week 1
| Rank | Player | Team | Comment |
| --- | --- | --- | --- |
| 1 | LeBron James | | The King is averaging almost a triple-double per game in his first-round series against the Bulls. That's right, averaging a triple-double. For that, our panel had no choice but to award him the top spot. The Bulls' bench had no comment. |
| 2 | Kevin Durant | | The Thunder's go-to guy is putting up 26.8 points and almost 10 rebounds per game in the first round of the playoffs. Oh, and did we mention he's doing this all against the reigning NBA champs? Not bad for a 21-year-old. |
| 3 | Sidney Crosby | | Sid the Kid made sure the Senators didn't see past Round 1, leading his team to a 4-2 series win and scoring 14 points in the process. A top-3 spot had his name all over it. |
| 4 | Roy Halladay | | Fantasy owners, brace yourself for this: 4-0 record, 28 strikeouts, WHIP of 0.88, ERA of 0.82. We're sorry, Blue Jays fans, we're sorry. |
| 5 | Tim Tebow | | So what if he hasn't played a game in four months? Tebow's being picked in the first round was the talk of the draft, even overshadowing the No. 1 pick. As Dana Jacobson said, if that doesn't give you power, not sure what does. |
| 6 | Dwyane Wade | | Netting 46 points in Game 4 against the Celtics? Single-handedly saving your team from an embarrassing sweep? Shooting so well that you have to tell your hand about it? Yeah, that's good enough for the No. 6 spot. |
| 7 | Tim Lincecum | | Lincecum averaged eight K's in winning his initial four starts, and the Giants beat the Cardinals 4-1 on Friday night to end a four-game losing streak. |
| 8 | Dwight Howard | | The Man of Steel has shown more shades of Clark Kent than Superman in his playoff series against the Bobcats, averaging just 9.8 points and 9.3 rebounds. Still, you can't overlook his 5 blocks per game against Charlotte and the fact that he won yet another NBA Defensive Player of the Year Award. |
| 9 | Albert Pujols | | He's nicknamed The Machine for a reason: 17 RBIs, 7 home runs and a .311 batting average in his first three weeks of the season. It's really no wonder he's the third MLB player to crack our list. |
| 10 | Kobe Bryant | | Kobe at No. 10? Well, in Game 4 of the Lakers-Thunder series, Bryant scored a measly 12 points. That was his lowest-scoring playoff game since June 10, 2004, in the NBA Finals. |
| 11 | Alex Ovechkin | | Ovechkin has five goals over the past five games, but he's more concerned about closing out the series versus the Canadiens in Game 7. |
| 12 | Mike Pelfrey | | The pitcher with the best ERA in baseball is … Mike Pelfrey? It's true. With a 0.69 ERA, 4-0 record and a 24-inning scoreless streak on his hands, DJ Gallo is already calling him one of the three biggest superstars in sports. |
| 13 | Brian Boucher | | The Flyers' goalie leads all netminders in the playoffs with a 1.59 GAA. In the series against the Devils, Boucher turned back 126 of 134 shots to help the Flyers advance to the second round. |
| 14 | Deron Williams | | Chris Paul who? Williams is the point guard du jour, putting up four straight double-doubles against the Nuggets and leading the Jazz to a commanding 3-1 series lead over Denver. |
| 15 | Tim Duncan | | He's silent, but often deadly. The 12-year NBA vet cruises into the No. 15 spot with numbers that are anything but decrepit, averaging 20.3 points and 10.3 rebounds against the Mavs. We'll have what he's having! |
| 16 | Sam Bradford | | Be selected first in the NFL draft and what do you get? A ranking 10 spots lower than Tim Tebow. Still, a nod is a nod, and the panel thought the Rams rookie deserved one for beating out all the other draft candidates. |
| 17 | Jason Heyward | | Clearly, age ain't nothing but a number. Heyward already has four homers and an on-base percentage that would make any MLB GM salivate. So much for the rookie jitters. |
| 18 | Joe Mauer | | This kid can hit. Batting .382 with an on-base percentage of .450 is enough to make any non-Twins fan jealous of the game's best catcher. He also went 5-for-6 against the Royals in extra innings Saturday. |
| 19 | Brandon Roy | | Do his Game 4 stats even matter? When you come back just eight days after having arthroscopic knee surgery and motivate your team enough to even up a series, it's enough to crack the top 20. |
| 20 | Daniel Sedin | | Sedin led the Canucks to a 4-2 victory over the L.A. Kings in Game 6 when he scored the tiebreaking goal with 2:03 to play. Hello, second round! |
Honorable Mention: Nelson Cruz, Ubaldo Jimenez, Tiger Woods, Ryan Miller, Jameer Nelson
SPONSORED HEADLINES
ESPN TOP HEADLINES
MOST SENT STORIES ON ESPN.COM
CROSS-SPORT POWER RANKINGS 2010

Cross-Sport Power Rankings compares the best athletes across all professional sports. Check out the rest of our individual sport power rankings.
MORE POWER RANKINGS
WORLD CUP
LATEST NBA FINALS CONTENT
NBA PLAYOFF FEATURES
SERIES PAGES
NBA FINALS VIDEO
STANLEY CUP FINALS CONTENT
STRASBURG'S MLB DEBUT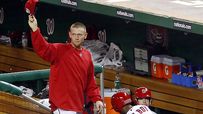 Washington Nationals' pitching phenom Stephen Strasburg lived up to the hype in his major league debut, striking out 14 batters in seven innings in a 5-2 victory over Pittsburgh.
Story
STORIES/FEATURES
FANTASY
BLOGS
VIDEO