LeBron James rules Week 2
Updated:
May 18, 2010, 9:38 AM ET
Twenty spots. Each week we have only 20 spots to fill with the most intriguing, exciting and "on fire" players across all sports. Sounds fairly easy, right? Well, not exactly. Remember, we're not just ranking the best NBA players or the top MLB players. We're ranking the top 20 athletes in all of sports. And we're basing where they stand on their performance right now. That means boxing phenom Floyd Mayweather Jr. needs to be in the conversation. That means Rory McIlroy, golf's 20-year-old rising star, has to be considered. That means surging athletes from the NHL, NBA, MLB, PGA, NASCAR, tennis, boxing, soccer, etc., must all be thrown into the discussion. And they all were, along with a few wild cards. (Jemele Hill gave a nod to Donovan McNabb for a memorable run-in with tween heartthrob Justin Bieber.)
So who's in and who's out this week?
To answer that question, we turned to our our all-star cast of contributors from ESPN. Our panel includes: John Buccigross, Josh Elliott, Robert Flores, DJ Gallo, Jemele Hill, Dana Jacobson, Brian Kenny, Jeff MacGregor, Bram Weinstein and Trey Wingo. Check out our table below to find out who they picked as the top 20 athletes du jour.
Visit "Cross-Sport Power Rankings" on Tuesdays on ESPN.com to see the latest rankings each week. And don't forget to sound off on this week's list below!
Archive: Week 1's rankings.
2010-11 Power Rankings: Week 2
| Rank (LW) | Player | Team | Comment |
| --- | --- | --- | --- |
| 1 (1) | LeBron James | | The King may have lost Game 2 to the Celtics, but he won his second straight MVP and claims our No. 1 spot again. Could playing with only one healthy elbow be a bad idea? |
| 2 (NR) | Calvin Borel | | "With a third win in four Derbys, he's officially more important than the horse." -- Jemele Hill |
| 3 (NR) | Floyd Mayweather Jr. | | "The boredom of [Saturday's] fight wasn't Mayweather's fault. He's just better than everyone. Except for one. We think." -- Robert Flores |
| 4 (10) | Kobe Bryant | | His game face is back, and he's making buckets when it matters. Even a semi-epic fashion fail couldn't keep Kobe out of the top five. |
| 5 (NR) | Jaroslav Halak | | The concrete wall that is Jaroslav Halak stopped 38 of 39 shots on Sunday. Pretty good, eh? |
| 6 (4) | Roy Halladay | | "Just what the doctor ordered! Doc Halladay tosses his second shutout of the season, and drops his ERA to 1.47. Oh yeah, he also ended the winning streak of the division-rival Mets in the process." -- Dana Jacobson |
| 7 (NR) | Ryo Ishikawa | | It's impressive to shoot a 58 on an Xbox. It's downright not human to shoot that low in real life. Jemele Hill's take on Ryo's 12-under 58: "That's just absurd." |
| 8 (NR) | Joe Pavelski | | There's nothing little about Joe anymore. With four goals in two games, the Sharks' stud is officially the Big Pavelski. |
| 9 (3) | Sidney Crosby | | Hide your hockey sticks. Sid the Kid drops all the way down to No. 9 with the Pens' loss on Sunday. |
| 10 (NR) | Ubaldo Jimenez | | A rock-solid start for the NL Pitcher of the Month. 0.87 ERA, 6-0, 44 K's, one no-hitter ... it's not even fair! |
| 11 (NR) | Rory McIlroy | | "A [Quail Hollow final-round] course record, a $1.17 million victory, and turns 21 on Tuesday ... Irish eyes are smiling!" -- Dana Jacobsen |
| 12 (NR) | Robinson Cano | | If he wasn't already a Yankee, the Yankees would be calling! The second baseman is batting .371 with nine homers and 21 RBIs. |
| 13 (NR) | Tuukka Rask | | Rask made 32 saves on Saturday and 24 saves on Monday to lead the Bruins to a 2-0 series lead. In related news, Maple Leafs fans hate their lives. |
| 14 (NR) | Roberto Luongo | | NHL goalies just doin' work! Luongo makes the top 15, largely due to his 36 saves on Saturday against the Blackhawks. |
| 15 (NR) | Tiger Woods | | Quail Hollow, Schmail Hollow. Despite missing the cut, the panel still thinks Tiger has what it takes when it counts. |
| 16 (NR) | George Hill | | Tim Duncan, Tony Parker and Manu Ginobili are all big names. But don't sleep on George Hill. (Just ask the Mavericks.) |
| 17 (14) | Deron Williams | | D-Will remains impressive, putting up 24 points and eight assists against the Lakers. Only problem? The Jazz failed to pull off the W on Sunday. |
| 18 (NR) | Pau Gasol | | Boom boom Pau! The Lakers' not-so-secret weapon put an end to the Thunder's Cinderella story with a nasty tip-in to win the first-round series for L.A. |
| 19 (13) | Brian Boucher | | The final goalie to grace our list. Despite struggling against the Bruins in OT of Game 1, the panel still has faith in the Flyers' netminder ... just six spots lower. |
| 20 (NR) | Brandon Jennings | | We feared the deer for the first time since 2006, and it was mostly because of this guy. And for that, the young buck stops here. |
Honorable Mention: Albert Pujols, Phil Mickelson, Tim Lincecum, Ivica Olic, Jamal Crawford
Notable dropouts: Kevin Durant (No. 2), Tim Tebow (No. 5), Alex Ovechkin (No. 11)
CROSS-SPORT POWER RANKINGS 2010

Cross-Sport Power Rankings compares the best athletes across all professional sports. Check out the rest of our individual sport power rankings.
MORE POWER RANKINGS
WORLD CUP
LATEST NBA FINALS CONTENT
NBA PLAYOFF FEATURES
SERIES PAGES
NBA FINALS VIDEO
STANLEY CUP FINALS CONTENT
STRASBURG'S MLB DEBUT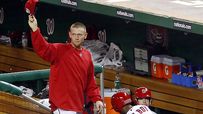 Washington Nationals' pitching phenom Stephen Strasburg lived up to the hype in his major league debut, striking out 14 batters in seven innings in a 5-2 victory over Pittsburgh.
Story
STORIES/FEATURES
FANTASY
BLOGS
VIDEO
MOST SENT STORIES ON ESPN.COM