Braden is perfect pick for No. 1
Updated:
June 28, 2010, 5:27 PM ET
A pitcher threw for a perfect game, an NBA player willed his team to victory with an eye swollen shut and a 6-foot-1 point guard somehow grabbed 18 rebounds. If those feats don't scream "Cross-Sport Power Rankings" nominees to you, we don't know what will.
But how do those individual achievements stack up against each other? And which is the most powerful?
To answer that question, we turned to our all-star cast of contributors from ESPN. Our panel includes John Buccigross, Josh Elliott, Robert Flores, DJ Gallo, Jemele Hill, Dana Jacobson, Brian Kenny, Jeff MacGregor, Bram Weinstein and Trey Wingo. Check out the table below to find out who they picked as the top 20 most powerful athletes at the moment.
Visit "Cross-Sport Power Rankings" on Tuesdays on ESPN.com to see the latest rankings each week.
2010-11 Power Rankings: Week 3
Rank (LW)
Player
Team
Comment
1 (NR)
Dallas Braden
Athletics



"And his grandmother surprisingly topped Betty White atop this week's Sassiest Elderly Women Power Rankings." -- DJ Gallo
2 (NR)
Rajon Rondo
Celtics



Eighteen rebounds? Rajon "6-1" Rondo had 18 rebounds?! I think it's time for Cleveland to start boxing out … or jumping.
3
(4)
Kobe Bryant
(Lakers)


What can you say about Kobe that hasn't already been said? Four games against the Jazz, and more than 30 points every game. White-hot, indeed.
4
(1)
LeBron James
(Cavaliers)


It took a perfect game to do it, but the King has fallen from his court. After two weeks at No. 1, LeBron is finally dethroned.
5 (NR)
Steve Nash
(Suns)


For expanding the definition of "winning ugly." -- DJ Gallo
6 (NR)
Dwight Howard


Broom him. Howard and company have swept the Hawks, with Superman producing (on average) 13 rebounds and one movie this series.
7 (6)
Roy Halladay


He's becoming a staple of our list. Apparently nine strikeouts in his most recent start, a 1.45 ERA and a 6-1 record have something to do with it.
8 (9)
Sidney Crosby


Sid the Kid fared well Monday, scoring a goal and an assist against the Canadiens. Still, it wasn't enough to end the series. Off to Game 7!
9 (18)
Pau Gasol


Can Pau do anything wrong? The big man dominated yet again, scoring 33 points and grabbing 14 rebounds Monday to sweep the Jazz.
10 (NR)
Didier Drogba


"A hat trick helped Chelsea clinch the Premier League title and set a goal-scoring record in the process. … With the World Cup a month away, time to start paying attention." -- Dana Jacobson
11 (5)
Jaroslav Halak


Halak put a stop to 34 shots on goal against the Penguins on Monday, forcing a Game 7.
12 (10)
Ubaldo Jimenez


Jimenez finally showed signs of being human and lost his first game Sunday. Let's not forget, though, that his ERA remains under 1.00.
13 (8)
Joe Pavelski


Curse? What curse? The Sharks are finally cruising on to the Western Conference finals. This postseason's game-changer? The Big Pavelski.
14 (NR)
Andre Ethier


National League categories he's ranked first in: batting average, RBIs, slugging percentage, home runs, OPS and destroying your fantasy team(s).
15 (NR)
Marc-Andre Fleury


Fleury's impressive performance (32 saves) against the Canadiens on Saturday lands him the No. 15 spot.
16 (NR)
Tim Clark


"After eight runner-ups and no wins, his first PGA Tour win is the Players? With a bogey-free 67 on Sunday?" -- Trey Wingo
17 (NR)
Joe Thornton


"No-Show Joe" showed, and finally, so have the Sharks in May! When your team beats the almighty Red Wings in the Stanley Cup playoffs, someone has to get some love." -- Dana Jacobson
18 (NR)
Vladimir Guerrero


The Rangers sweep the Royals and have Vlad's clutch homers to thank.
19 (NR)
Mauricio Rua


The UFC title is his! With a Saturday win over Lyoto Machida, he became the sixth light heavyweight champ since 2007.
20 (NR)
Mark Teixeira


"Hitting .181 heading into the Yanks-Red Sox series, he hit three HRs Saturday at Fenway (first Yankee to do that since Lou Gehrig). If he didn't consider himself the luckiest man on the face of the Earth, I'd bet Yankees fans did." -- Dana Jacobson
Honorable mention: Johan Franzen, Evgeni Nabokov, Denny Hamlin, Amare Stoudemire, Lionel Messi
Notable dropouts: Tuukka Rask (No. 13), Tiger Woods (No. 15), George Hill (No. 16)
SPONSORED HEADLINES
ESPN TOP HEADLINES
MOST SENT STORIES ON ESPN.COM
CROSS-SPORT POWER RANKINGS 2010

Cross-Sport Power Rankings compares the best athletes across all professional sports. Check out the rest of our individual sport power rankings.
MORE POWER RANKINGS
WORLD CUP
LATEST NBA FINALS CONTENT
NBA PLAYOFF FEATURES
SERIES PAGES
NBA FINALS VIDEO
STANLEY CUP FINALS CONTENT
STRASBURG'S MLB DEBUT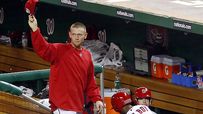 Washington Nationals' pitching phenom Stephen Strasburg lived up to the hype in his major league debut, striking out 14 batters in seven innings in a 5-2 victory over Pittsburgh.
Story
STORIES/FEATURES
FANTASY
BLOGS
VIDEO