Ray Allen shoots his way to the top
Updated:
June 28, 2010, 5:25 PM ET
Note: This list includes all action for the week ending Sunday, May 16. Therefore, events on Monday are not reflected in these rankings.
Think about our task at hand for a second. (And we mean really think about it.) How do you weigh players across many different sports?
Do you immediately rate NBA and NHL players in the thick of their postseasons higher than, say, regular-season MLB players? Or would a transcendent performance (no matter how small the stage) trump a playoff player?
Where would you place soccer players in the Spanish La Liga season finale? Higher than the winning jockey of the Preakness … or NASCAR's Dover race champion … or the victor of a tennis tournament like the Madrid Masters? And does your opinion change if we tell you one of the winners is Rafa Nadal … and it's his 18th Madrid Masters title?
Those are the questions our panel had to face this week. Their answer is below.
Visit Cross-Sport Power Rankings on Tuesdays on ESPN.com to see the latest rankings each week.
All-Star ESPN panel: John Buccigross, Josh Elliott, Robert Flores, DJ Gallo, Jemele Hill, Dana Jacobson, Brian Kenny, Jeff MacGregor, Bram Weinstein and Trey Wingo.
Archive: Week 1 | Week 2 | Week 3
2010-11 Power Rankings: Week 4
| Rank (LW) | Player | | Comment |
| --- | --- | --- | --- |
| 1 (NR) | Ray Allen | | The 14-year NBA vet had the hot hand in Game 1, shooting 50 percent from the field and scoring 25 points against the Magic. As Trey Wingo put it, he's "ageless." |
| 2 (NR) | Antti Niemi | | It's official: The Sharks' new curse is a person. Blackhawks goaltender Antti Niemi stopped an unbelievable 44 shots from the Sharks on Sunday night. |
| 3 (NR) | Michael Leighton | | No Brian Boucher, no problem. The Flyers' goalie du jour, Michael Leighton, allowed no goals, made 28 saves and landed the No. 3 Cross-Sport Power Rankings spot. |
| 4 (3) | Kobe Bryant | | Kobe dropped a spot from last week, but let's not forget that he's playing with a sore ankle, arthritic index finger and recently drained knee. Making quick work of the Jazz was just what the doctor ordered. |
| 5 (5) | Steve Nash | | Sweeping the Spurs and trading insults with Phil Jackson lands Nash at No. 5 for the second week in a row. But this time he might actually be able to see the list. |
| 6 (12) | Ubaldo Jimenez | | With win No. 7 under his belt, a 1.12 ERA and 0.99 WHIP, Jimenez continues to make it look easy. Up six spots he goes. |
| 7 (2) | Rajon Rondo | | So it turns out Rondo won't be putting up Wilt Chamberlain/Oscar Robertson-esque triple-doubles every night. But he's still playing solid basketball. In Game 6 against the Cavs, he had 21 points and 12 assists to win the series. |
| 8 (NR) | Kevin Garnett | | KG makes his first appearance on our list after dropping a double-double in his dethroning of King James and the Cavs. Plus, have you ever seen anyone who personifies the term "game face" like the Big Ticket? |
| 9 (4) | LeBron James | | "He may have lost his shot at a title this year, but the future is his. Watch out for the NBA version of 'The Bachelor' with NBA teams vying for James' love and devotion." -- Dana Jacobson |
| 10 (NR) | Rafael Nadal | | Win 18th Madrid Masters? Check. Beat archnemesis Roger Federer? Check. Become the first tennis player to crack our list? Check. |
| 11 (10) | Didier Drogba | | His free kick secured Chelsea's double in Saturday's 1-0 FA Cup final. Oh, and he's one of Time magazine's 100 most influential people in the world. No biggie. |
| 12 (NR) | Lionel Messi | | If you don't know his name, start getting to know it. Barcelona's brightest soccer star scored two goals in the Spanish league title game, giving him a total of 34 goals in La Liga and 47 in all competitions. |
| 13 (NR) | Kyle Busch | | NASCAR's 25-year-old bad boy won the Nationwide and Cup races this past weekend at the Monster Mile and is starting to make Jimmie Johnson look slightly more human. |
| 14 (NR) | Mike Cammalleri | | Not much to be Hab-py about after Game 1 of the Eastern Conference finals against the Flyers. So think back to his performance in Game 7 against the Pens (one goal, one assist). You can build on this! |
| 15 (6) | Dwight Howard | | Dancing like a robot: cool. Playing basketball like one: not so cool. Because of his self-described "robot"-like play in Game 1, Howard drops nine notches on our list. |
| 16 (NR) | Miguel Cabrera | | Cabrera continues to punish pitchers everywhere. Thirty-six RBIs and a batting average of .354 this season? Yes, please. |
| 17 (NR) | Danny Briere | | The small, slick-skating Flyer notched three goals and three assists in Philadelphia's four straight wins over the Bruins. You know, when the Flyers became only the fifth franchise in all of pro sports to battle back from a 3-0 series deficit in a best-of-seven series. |
| 18 (11) | Jaroslav Halak | | Yes, his Game 1 performance against the Flyers was so disastrous that he had to be pulled from the game. Yet his overall body of playoff work has been so impressive that we can't pull him from our list just yet. Stay tuned. |
| 19 (7) | Roy Halladay | | Roy Halladay turned 33 on Friday, but his ERA is still a ridiculously young 1.59. |
| 20 (NR) | Phil Hughes | | Time for Yanks fans to start buying some … Phil Hughes jerseys? The New York ace has been the subject of early Cy Young buzz with his impressive 5-0 start. |
Last five out: Martin Garcia, Jonathan Toews, Amare Stoudemire, Jason Kubel, Andre Ethier
Newcomers: Ray Allen (No. 1), Antti Niemi (No. 2), Michael Leighton (No. 3)
Notable dropouts: Dallas Braden (No. 1), Sidney Crosby (No. 8), Joe Pavelski (No. 13)
CROSS-SPORT POWER RANKINGS 2010

Cross-Sport Power Rankings compares the best athletes across all professional sports. Check out the rest of our individual sport power rankings.
MORE POWER RANKINGS
WORLD CUP
LATEST NBA FINALS CONTENT
NBA PLAYOFF FEATURES
SERIES PAGES
NBA FINALS VIDEO
STANLEY CUP FINALS CONTENT
STRASBURG'S MLB DEBUT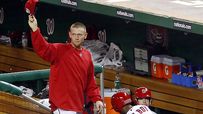 Washington Nationals' pitching phenom Stephen Strasburg lived up to the hype in his major league debut, striking out 14 batters in seven innings in a 5-2 victory over Pittsburgh.
Story
STORIES/FEATURES
FANTASY
BLOGS
VIDEO
MOST SENT STORIES ON ESPN.COM