Michael Leighton flies to the top
Updated:
June 1, 2010, 12:03 AM ET
When it comes to the NHL playoffs, there's nothing more valuable than having a red-hot goalie ... just ask the Blackhawks and Flyers. The two most ferocious goalies from the NHL conference finals -- Michael Leighton and Antti Niemi -- will also be the two goalies headed to the Stanley Cup finals. Coincidence? We don't think so. That's why Leighton and Niemi rock the top two most powerful spots on the rankings this week.
Yet does Niemi deserve to be higher than Leighton because of the degree of difficulty of shutting down the Sharks' offense? Has the scoring machine that is Dustin Byfuglien been more of a force than even Niemi? And where do the NBA playoff stars and UEFA Champions League final players fit into the mix? Let the discussion begin!
Visit "Cross-Sport Power Rankings" on Tuesdays on ESPN.com to see the latest rankings each week.
All-Star ESPN panel: John Buccigross, Josh Elliott, Robert Flores, DJ Gallo, Jemele Hill, Dana Jacobson, Brian Kenny, Jeff MacGregor, Bram Weinstein and Trey Wingo.
Archive: Week 1 | Week 2 | Week 3 | Week 4
2010-11 Power Rankings: Week 5
| Rank (LW) | Player | | Comment |
| --- | --- | --- | --- |
| 1 (3) | Michael Leighton | | So, it looks as though Michael Leighton panned out. Three shutouts in the conference finals and 25 saves on 27 shots on Monday night to lead his team to the Stanley Cup finals? Welcome to No. 1. |
| 2 (2) | Antti Niemi | | Niemi lands at No. 2, barely getting edged out by Cup nemesis Leighton. With a 2.33 GAA and .921 save percentage in the playoffs, he could be moving up soon. |
| 3 (NR) | Dustin Byfuglien | | "Forget pronouncing his last name: With his three go-ahead goals in the Western Conference finals, the Blackhawks are in the Stanley Cup finals for the first time in 18 years. Just call him Dustin!" -- Dana Jacobson |
| 4 (4) | Kobe Bryant | | Play a zone against Kobe Bryant and what do you get? 36 points, 11 assists and 9 rebounds. Unstoppable. |
| 5 (NR) | Diego Milito | | Milito scored both of Inter Milan's goals in Saturday's UEFA Champions League final, and he made defenders look straight silly while doing it. His fancy footwork helped land Inter its first European Cup win in 45 years. |
| 6 (7) | Rajon Rondo | | When Rondo is MIA, the Celtics L-O-S-E. Therefore, despite a dicey Game 4, he's still the most powerful Celtic in our book. |
| 7 (NR) | Jonathan Toews | | Twenty-six points in 16 playoff games has Conn Smythe Trophy written all over it. But the Blackhawks' captain won't touch any trophy until the Stanley Cup is theirs. |
| 8 (1) | Ray Allen | | Forget Miller time, it's all about Allen time! The sharpshooter connected 5 of 7 times from the 3-point line in Game 4 and continues to be a big part of the Big Three. |
| 9 (NR) | Amare Stoudemire | | "'Bout time." -- Trey Wingo |
| 10 (15) | Dwight Howard | | See comment for Stoudemire, Amare. |
| 11 (NR) | Mike Richards | | Ladies and gentlemen, Habs fans' least favorite player in Game 5! With a goal and two brilliant assists, it was all about Richards offensively in the series-clinching game. |
| 12 (NR) | Pau Gasol | | Gasol hit 11 of 14 shots in Sunday's loss to Phoenix, but has helped boost Kobe & Co. to a 2-1 series lead while averaging an impressive 21.2 ppg. |
| 13 (6) | Ubaldo Jimenez | | This is just getting ridiculous. A 0.99 ERA? That's possible? People are starting to compare his performance to Bob Gibson's historic 1968 season. |
| 14 (NR) | Paul Pierce | | Despite an 0-for-6 night from 3, Pierce still had 32 points and 11 rebounds in Game 4 (and is averaging 21 points for the series). |
| 15 (NR) | Jordan Spieth | | Winner of the precocious athlete of the week award. He shot a 69 and made a PGA Tour cut at 16 years old. Not bad. |
| 16 (5) | Steve Nash | | Remember when Steve Nash reset his nose NHL-style? Combine that with 14 assists a game in the conference finals and it's enough to almost break (pun intended) our top 15. |
| 17 (NR) | Jameer Nelson | | Jameer's magical Game 4 performance of 23 points and 9 assists pulled Orlando out of the 3-0 abyss. For that single-game performance, he lands at No. 17. |
| 18 (NR) | Julio Cesar | | His brilliant saves helped Inter Milan win the UEFA Champions League final. Next stop: World Cup. |
| 19 (NR) | Duncan Keith | | If the tooth fairy existed, Duncan Keith would be rich! Losing seven teeth (almost one-fourth of his teeth) in Game 4 and then coming back into the game after said incident? Top 20. |
| 20 (NR) | Kurt Busch | | While his brother and Denny Hamlin were feuding, Kurt Busch grabbed a cool million bucks. Money can't buy everything, but power is one thing it can help you get. -- Dana Jacobson |
Last five out: Miguel Cabrera, Simon Gagne, LeBron James, Michael Rogers, Evan Longoria
Newcomers: Dustin Byfuglien (No. 3), Diego Milito (No. 5), Jonathan Toews (No. 7)
Notable dropouts: Didier Drogba (No. 11), Jaroslav Halak (No. 18), Roy Halladay (No. 19)
SPONSORED HEADLINES
ESPN TOP HEADLINES
MOST SENT STORIES ON ESPN.COM
CROSS-SPORT POWER RANKINGS 2010

Cross-Sport Power Rankings compares the best athletes across all professional sports. Check out the rest of our individual sport power rankings.
MORE POWER RANKINGS
WORLD CUP
LATEST NBA FINALS CONTENT
NBA PLAYOFF FEATURES
SERIES PAGES
NBA FINALS VIDEO
STANLEY CUP FINALS CONTENT
STRASBURG'S MLB DEBUT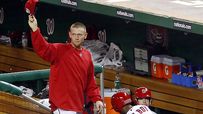 Washington Nationals' pitching phenom Stephen Strasburg lived up to the hype in his major league debut, striking out 14 batters in seven innings in a 5-2 victory over Pittsburgh.
Story
STORIES/FEATURES
FANTASY
BLOGS
VIDEO