Galarraga is perfect in our book
Updated:
June 14, 2010, 4:54 PM ET
Ray Allen broke a NBA Finals record, Rafael Nadal won the French Open and Ubaldo Jimenez banked his 11th win. But none of it was good enough to grab No. 1 this week in the "Cross-Sport Power Rankings."
This week's No. 1 spot was reserved for the man that was one correct call away from being the 21st member of the perfect game club. That's right, for the man who single-handedly ignited a plea for instant replay and made umpire Jim Joyce a trending topic on Twitter. For the man that smiled despite having his name unfairly omitted from the history books. Like Dallas Braden and Roy Halladay before him, the ever-classy Armando Galarraga is this week's No. 1 for throwing the first unofficial 28-out perfect game. And for that decision from the panel, there was no instant replay necessary.
Visit "Cross-Sport Power Rankings" on Tuesdays on ESPN.com to see the latest rankings each week.
All-Star ESPN panel: John Buccigross, Josh Elliott, Robert Flores, DJ Gallo, Jemele Hill, Dana Jacobson, Brian Kenny, Jeff MacGregor, Bram Weinstein and Trey Wingo.
Archive: Week 1 | Week 2 | Week 3 | Week 4 | Week 5 | Week 6
2010-11 Power Rankings: Week 7
| Rank (LW) | Player | | Comment |
| --- | --- | --- | --- |
| 1 (NR) | Armando Galarraga | | "Braden and Halladay got the No. 1 spot in the rankings when they threw perfect games, so Galarraga gets it, too. Let's not be the Jim Joyce of power rankings." -- DJ Gallo |
| 2 (5) | Ray Allen | | Remember in "NBA Jam" when a player was "on fire" and basically couldn't miss? That was Ray Allen in Game 2 of the NBA Finals. Doing everything but setting the hoop aflame, he went 8-for-11 from downtown to claim a Finals record for 3-pointers. |
| 3 (NR) | Rafael Nadal | | "As Patrick McEnroe said at the end of the Nadal's French Open win on Sunday, 'All is right again in the tennis world.'" -- Dana Jacobson |
| 4 (NR) | Dustin Byfuglien | | Buff came up huge for the Chicago Blackhawks, scoring two goals and dishing out two assists in a vital Game 5 of the Stanley Cup finals. Bonus points: His hit on Chris Pronger was beyond epic. |
| 5 (4) | Ubaldo Jimenez | | "He has 11 wins and his ERA is below 1.00. His home ballpark is Coors Field. About time we show this man the proper respect, please." -- Dana Jacobson |
| 6 (7) | Rajon Rondo | | Rondo is bumped up a spot by continuing to defy logic; putting up a 19-12-10 for the Boston Celtics in Game 2. How good does that contract extension look now, Boston? |
| 7 (10) | Pau Gasol | | In addition to making KG look old, the Lakers' forward posted 25 points, eight boards and three assists in Game 2. Who's soft now? |
| 8 (2) | Kobe Bryant | | Kobe Bryant ... fouling out? It almost happened in Game 2. But he's still averaging 25.5 points in the Finals. |
| 9 (NR) | Francesca Schiavone | | The Italian star earned her first Grand Slam title at the French Open this weekend, only losing one set all tournament. |
| 10 (12) | Miguel Cabrera | | We'll overlook his 0-for-4 outing against the Kansas City Royals on Sunday. In the four prior games, Cabrera was 7-for-14 with three home runs and four RBIs. |
| 11 (9) | Antti Niemi | | He gave up four-plus goals for the third consecutive game on Sunday, but the goalkeeper has the Blackhawks one win away from their first Stanley Cup since 1961. |
| 12 (NR) | Miguel Cotto | | Miguel Cotto gave Yuri Foreman boxing's two favorite letters last weekend: the K and the O. With the win, he captured a world title in a third weight class. |
| 13 (19) | Justin Morneau | | When he's not sick with the flu, Morneau has been lights out (hence the .370 batting average). In his most recent game, against the Oakland A's, the Minnesota Twins' slugger hit a HR and drove in two runs. |
| 14 (1) | Roy Halladay | | Halladay improved his record to 8-3, but drops down 13 spots since his stint with perfection after giving up 10 hits on Friday. |
| 15 (NR) | Stephen Strasburg | | "I know he hasn't made his MLB debut yet, but it comes Tuesday night. And when word got out he would finally be throwing for the Nats, tickets to the game sold out faster than a Strasburg pitch!" -- Dana Jacobson |
| 16 (NR) | Denny Hamlin | | He races up our rankings with an impressive win at Pocono and a series-high fourth victory of the season. |
| 17 (NR) | Justin Rose | | Justin Rose's time has finally come (to win his first PGA Tour event and a spot on our list). The 29-year-old closed with a 6-under 66 to win the Memorial Tournament. |
| 18 (NR) | Jose Bautista | | The Toronto Blue Jay has been quiet ever since he exploded for two homers and three RBIs in Friday's win against the New York Yankees. Therefore, we will quietly put him at No. 18. |
| 19 (18) | Garrett Wittels | | With his 56-game hitting streak put on hold until next season, the Florida International infielder has provided the sports world's equivalent of a television cliffhanger. Stay tuned ... |
| 20 (NR) | Patrick Kane | | Despite struggling in Game 4 against the Philadelphia Flyers, Kane looked solid in Game 5 with a goal and an assist to nab our final spot. |
Heating Up: Danny Briere, Robinson Cano, Mike Smith, Claude Giroux, Samantha Stosur
Newcomers: Armando Galarraga (No. 1), Francesca Schiavone (No. 9), Miguel Cotto (No. 12)
Notable dropouts: Dario Franchitti (No. 3), Ron Artest (No. 6), Paul Pierce (No. 8)
SPONSORED HEADLINES
ESPN TOP HEADLINES
MOST SENT STORIES ON ESPN.COM
CROSS-SPORT POWER RANKINGS 2010

Cross-Sport Power Rankings compares the best athletes across all professional sports. Check out the rest of our individual sport power rankings.
MORE POWER RANKINGS
WORLD CUP
LATEST NBA FINALS CONTENT
NBA PLAYOFF FEATURES
SERIES PAGES
NBA FINALS VIDEO
STANLEY CUP FINALS CONTENT
STRASBURG'S MLB DEBUT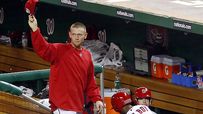 Washington Nationals' pitching phenom Stephen Strasburg lived up to the hype in his major league debut, striking out 14 batters in seven innings in a 5-2 victory over Pittsburgh.
Story
STORIES/FEATURES
FANTASY
BLOGS
VIDEO