Tim Howard lands at No. 1
Updated:
June 21, 2010, 6:52 PM ET
If you haven't been tuning into the World Cup … what are you waiting for? With seven of the top 20 athletes on our list futbol players, there's really no excuse not to. Especially since the No. 1 athlete in this week's Cross-Sport Power Rankings is Tim Howard, Team USA's impenetrable goalie. Allowing only one goal in the 1-1 draw, Howard was spectacular -- and then some. Without his hands of gold, Team USA would likely be pointless after its World Cup debut.
Along with Howard, fellow World Cup participants Siphiwe Tshabalala, Clint Dempsey, Lukas Podolski, Keisuke Honda, Miroslav Klose and Robert Koren also scored spots on our list.
What did we get right, and what did we get very, very wrong? Are there too many soccer players on the list? Should Patrick Kane's Stanley Cup-clinching goal put him in front of goal-stopper Tim Howard? And should Kobe Bryant's Game 5 performance put him in the top five, even though his team lost? Sound off in the comments section below!
Visit "Cross-Sport Power Rankings" on Tuesdays on ESPN.com to see the latest rankings each week.
Our all-star ESPN panel: John Buccigross, Josh Elliott, Robert Flores, DJ Gallo, Jemele Hill, Dana Jacobson, Brian Kenny, Jeff MacGregor, Bram Weinstein and Trey Wingo.
Archive: Week 1 | Week 2 | Week 3 | Week 4 | Week 5 | Week 6 | Week 7
2010-11 Power Rankings: Week 8
| Rank (LW) | Player | | Comment |
| --- | --- | --- | --- |
| 1 (NR) | Tim Howard | | Without Tim Howard's inspired play in goal, Team USA might have received a big fat "L" in its World Cup debut. Instead, USA gets the draw. Sound the vuvuzelas! |
| 2 (NR) | Paul Pierce | | When Kobe is begging to guard you mid-game, you know you're doing something right. Twenty-seven points, 12-24 from the field was definitely "something right." |
| 3 (15) | Stephen Strasburg | | "Outpitched the hype in his debut and now sits at 2-0 for the Nats. Who cares if he had trouble with some loose dirt on the mound at Jacobs Field …" -- Dana Jacobson |
| 4 (20) | Patrick Kane | | Never underestimate the power of a man with a mullet. The Blackhawks' right wing clandestinely scored the winning goal and the Stanley Cup. |
| 5 (NR) | Siphiwe Tshabalala | | We can't spell his name with ease, but we can spell this with ease: G-O-A-L. Tshabalala scores the first one of the World Cup for the host team. |
| 6 (8) | Kobe Bryant | | What didn't Kobe do in Game 5? With an Isiah Thomas-esque third-quarter performance, the Black Mamba stole the show -- but not the game -- in Boston. |
| 7 (11) | Antti Niemi | | Without Niemi's inspired postseason performance, the drought might have extended to 50 years. |
| 8 (6) | Rajon Rondo | | His steal of Kobe's pass sealed Game 4 for the Celtics. His reverse layup off Pierce's pass sealed Game 5 for the Celtics. Sealing the game with FTs … still a work in progress. |
| 9 (5) | Ubaldo Jimenez | | Twelve wins?! Already?! The Orioles barely have that many wins total! His ERA peaks above 1.00 (to 1.16), but we have a feeling his fantasy owners will forgive him somehow. |
| 10 (NR) | Clint Dempsey | | Hey, a goal's a goal, but perhaps Englishman Robert Green deserves a bit of credit for his goalkeeping snafu. |
| 11 (NR) | Kevin Garnett | | Who was that goateed man these past three games? Garnett certainly looked like the KG of old, scoring 18.7 points per game (and 12.3 expletives per quarter). |
| 12 (NR) | Lukas Podolski | | The German forward landed one of the best strikes of the World Cup's opening weekend, much thanks to teammate Thomas Muller's beautiful cross-box pass. |
| 13 (16) | Denny Hamlin | | NASCAR's hottest driver has finished outside the top-4 only once in his past six races, including three wins. Bonus points for not damaging his car in a celebratory burnout this time! |
| 14 (4) | Dustin Byfuglien | | Buff opened up the Blackhawks' Cup-clenching Game 6 victory with a goal, helping to bring Lord Stanley to the Windy City for the first time since 1961. |
| 15 (10) | Miguel Cabrera | | He's the king of RBIs (56) and home runs (19), and proved it Sunday against the Pirates. |
| 16 (NR) | Ted Lilly | | "It wasn't perfection, or even imperfect perfection, but his no-hitter taken into the ninth was still impressive." -- Dana Jacobson |
| 17 (NR) | Jorge Posada | | Two games, two grand slams. Jorge Posada, just making it look easy! |
| 18 (NR) | Keisuke Honda | | Best belated birthday present ever? A day after his 24th b-day, Japan gets its first World Cup victory on foreign soil thanks to Honda's game-winning goal. |
| 19 (NR) | Mirsoslav Klose | | The German striker scored a goal in the country's 4-0 rout of the Socceroos (Australia). That's World Cup goal No. 11 for Klose all-time. |
| 20 (NR) | Robert Koren | | The Slovenian captain used the Jabulani ball to his advantage and wound up with the game-winner. For that, he grabs our last spot. |
Heating up: Andy Pettitte, Glen Davis, Robinson Cano, Lleyton Hewitt, Justin Morneau
Newcomers: Tim Howard (No. 1), Siphiwe Tshabalala (No. 5), Clint Dempsey (No. 10)
Notable dropouts: Armando Galarraga (No. 1), Ray Allen (No. 2), Rafael Nadal (No. 3)
SPONSORED HEADLINES
ESPN TOP HEADLINES
MOST SENT STORIES ON ESPN.COM
CROSS-SPORT POWER RANKINGS 2010

Cross-Sport Power Rankings compares the best athletes across all professional sports. Check out the rest of our individual sport power rankings.
MORE POWER RANKINGS
WORLD CUP
LATEST NBA FINALS CONTENT
NBA PLAYOFF FEATURES
SERIES PAGES
NBA FINALS VIDEO
STANLEY CUP FINALS CONTENT
STRASBURG'S MLB DEBUT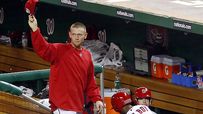 Washington Nationals' pitching phenom Stephen Strasburg lived up to the hype in his major league debut, striking out 14 batters in seven innings in a 5-2 victory over Pittsburgh.
Story
STORIES/FEATURES
FANTASY
BLOGS
VIDEO