Alex Rodriguez steals top spot
Updated:
August 16, 2010, 11:47 PM ET
ESPN
While you might love to hate the No. 1 player on our Cross-Sport Power Rankings this week, there's no way you can overlook Alex Rodriguez's latest milestones. Not only did he gain entrance into the exclusive 600-HR club (the seventh member), but he also stole his 300th base. Put both marks together and what do you get? The 600-HR, 300-stolen base club -- featuring only Willie Mays, Barry Bonds and now Alex Rodriguez.
Rounding out the top five are Bridgestone winner Hunter Mahan, one-hit wonder Brandon Morrow, Watkins Glen champion Juan Pablo Montoya and Mr. 38 on the all-time hits list, Derek Jeter.
Other notable vote-getters include Brett Favre (for creating buzz off a text message) and Tim Tebow (for creating buzz off a haircut). The pigskin players make our list this week at No. 7 and No. 15, respectively.
Did the panel make the right decisions this week? See anyone who was placed way too high, unjustly low or whom we flat-out missed? Now is your chance to let us know below!
Check out Cross-Sport Power Rankings every Tuesday to see the latest rankings.
Our all-star ESPN panel: John Buccigross, Josh Elliott, Robert Flores, DJ Gallo, Jemele Hill, Dana Jacobson, Brian Kenny, Jeff MacGregor, Bram Weinstein and Trey Wingo.
Week: 1 | 2 | 3 | 4 | 5 | 6 | 7 | 8 | 9 | 10 | 11 | 12 | 13 | 14 | 15
2010-11 Power Rankings: Week 16
Rank (LW)
Player
Comment
1
(12)
Alex Rodriguez
Yankees


Well, well, well ... look who decided to finally hit home run No. 600. The slugger gained membership in the 600-HR club as well as the 300-stolen base club all in one week.
2
(NR)
Hunter Mahan
PGA


"With Tiger [Woods] and Phil [Mickelson] faltering, he earned his third career win and a spot on the Ryder Cup team." -- Dana Jacobson
3
(NR)
Brandon Morrow
Blue Jays


So he didn't get the no-hitter. But don't feel any sorrow for Morrow. He still makes history by being the third ace in 90 years to throw a one-hit shutout while striking out at least 17 batters.
4
(NR)
Juan Pablo Montoya
NASCAR


Road courses are his jam. Montoya snapped a 113-race winless streak to take the checkered flag at Watkins Glen and redeem his crew's recent "pit"-falls.
5
(NR)
Derek Jeter
Yankees


Not to be one-upped by A-Rod, Jeter decided to make some history of his own. On Sunday, he passed Babe Ruth on the all-time hits list.
6
(NR)
Tyson Gay
Track and field


Wait a second, Usain Bolt is beatable? Gay outsprinted the Jamaican speedster in the 100-meter dash, clocking in at 9.84 seconds.
7
(NR)
Brett Favre
Vikings


"This is the time of year when he really dominates." -- Robert Flores
8
(NR)
Anderson Silva
MMA


His takedown of a feisty Chael Sonnen was a struggle, but Silva racked up his 12th consecutive UFC victory -- and the longest winning streak in the history of the sport.
9
(2)
Carlos Gonzalez
Rockies


Remember the guy who hit for the cycle last week? Yeah, he almost did that again. Just one triple shy, Gonzalez went 4-for-5 with three RBIs on Sunday.
10
(NR)
Adam Dunn
Nationals


Frankly, we're getting a little dizzy from Dunn's home run trot. Six long balls in the past seven days? Ridiculous.
11
(9)
Adam Wainwright
Cardinals


The price is Wain-"right" when it comes to the Cardinals ace. On Friday, he threw a two-hit shutout to beat the Marlins.
12
(NR)
Masato Akamatsu
Japanese baseball


"The best catch I've ever seen. In any sport. It's an Internet sensation." -- Robert Flores
13
(7)
Josh Hamilton
Rangers


Not even a bum knee can stop Hamilton from hitting lights-out. Since the All-Star break, the Texas Ranger has a .390 batting average and .499 on-base percentage.
14
(NR)
Michael Phelps
Swimming


The man with 14 gold medals is at it again. This time, at the U.S. national championships, where he (surprise, surprise) won the 200-meter freestyle and 100-meter and 200-meter butterfly.
15
(NR)
Tim Tebow
Broncos


"He took his hazing like every rookie should. And to still be standing with that haircut? Wow." -- Dana Jacobson
16
(NR)
Tim Hudson
Braves


Here's a breakdown of Hudson's past four games: four wins, no more than one run allowed in any of those games. Welcome to the list.
17
(19)
Cliff Lee
Rangers


Phillies fans ... earmuffs. Lee has the best ERA/WHIP in the American League and still leads the league in complete games.
18
(4)
Miguel Cabrera
Tigers


August hasn't exactly been Cabrera's best month to date (.217 BA, .261 SLG), but due to his Triple Crown-like numbers for the season, we'll let it slide this week.
19
(16)
Joey Votto
Reds


Thank you very much, Mr. Ro-Votto. The Reds first baseman has been solid all season, and this week was no different.
20
(NR)
J.P. Arencibia
Blue Jays


Who? Just call him the Blue Jays rookie catcher who mashed four hits and two homers in his major league debut. Yeah, that'll do.
Last five out: Roy Halladay (Phillies), Kevin Harvick (NASCAR), Delmon Young (Twins), Ubaldo Jimenez (Rockies), Josh Johnson (Marlins)
Newcomers: Hunter Mahan (No. 2), Brandon Morrow (No. 3), Juan Pablo Montoya (No. 4)
Notable dropouts: Stuart Appleby (No. 1), Travis Pastrana (No. 3), Landon Donovan (No. 5)
SPONSORED HEADLINES
ESPN TOP HEADLINES
MOST SENT STORIES ON ESPN.COM
CROSS-SPORT POWER RANKINGS 2010

Cross-Sport Power Rankings compares the best athletes across all professional sports. Check out the rest of our individual sport power rankings.
MORE POWER RANKINGS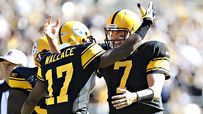 VIOLENCE IN THE NFL
MNF: Titans 30, Jaguars 3
COMMENTARY/BLOG POSTS
FANTASY
NFL BLOG NETWORK