PGA champ Martin Kaymer is No. 1
Updated:
August 24, 2010, 1:26 AM ET
ESPN
Martin Kaymer's performance at Whistling Straits might have been overshadowed by Dustin Johnson's "bunkergate" controversy, but it doesn't take away from the fact that he won the PGA Championship. And because of that, our panel has selected Kaymer as the top athlete on this week's Cross-Sport Power Rankings.
Rounding out the top five are the red-hot racer who triumphed at Michigan (Kevin Harvick), the hurler who pitched a seven-inning no-no (Kevin Slowey), the uber-consistent Rangers slugger (Josh Hamilton) and the Chelsea star who scored a hat trick (Didier Drogba).
Did the panel make the right decisions this week? See anyone who was placed way too high, unjustly low or whom we flat-out missed? Now is your chance to let us know below!
Check out Cross-Sport Power Rankings every Tuesday to see the latest rankings.
Our all-star ESPN panel: John Buccigross, Josh Elliott, Robert Flores, DJ Gallo, Jemele Hill, Dana Jacobson, Brian Kenny, Jeff MacGregor, Bram Weinstein and Trey Wingo.
Week: 1 | 2 | 3 | 4 | 5 | 6 | 7 | 8 | 9 | 10 | 11 | 12 | 13 | 14 | 15 | 16
2010-11 Power Rankings: Week 17
Rank (LW)
Player
Comment
1
(NR)
Martin Kaymer
PGA


He outlasted the competition and quietly became the first German player to win the PGA Championship.
2
(NR)
Kevin Harvick
NASCAR


There really is no slowing this guy down. Harvick won a big one at Michigan, guaranteeing him a spot in the Chase.
3
(NR)
Kevin Slowey
Twins


Sigh ... what could have been. Slowey pitched a no-no through seven innings but was pulled before the eighth.
4
(13)
Josh Hamilton
Rangers


Is Hamilton human? The slugger continues to hit pretty much every pitch thrown his way.
5
(NR)
Didier Drogba
Premier League


Hat trick alert. The striker scored three goals within a 22-minute span in his Premier League opener.
6
(NR)
Andy Murray
Tennis


At the Rogers Cup, he beat Rafael Nadal, and then he beat Roger Federer. That in itself deserves a trophy.
7
(NR)
Bubba Watson
PGA


He's just happy to be on the Ryder Cup team ... but we're sure he'll take the second-place finish at the PGA Championship, too.
8
(NR)
Dustin Johnson
PGA


Just how big a deal was Johnson's controversy? Well, it inspired a new "gate" term (bunkergate) and almost caused Twitter to erupt. So we'd say pretty big.
9
(NR)
Albert Pujols
Cardinals


No one in major league history has hit 30 home runs in each of his first 10 major league seasons ... except Pujols, that is.
10
(11)
Adam Wainwright
Cardinals


He's tied with Ubaldo Jimenez for the most wins in baseball (17) and is the only player to have an ERA under 2.00. Any questions?
11
(1)
Alex Rodriguez
Yankees


A-Rod might have taken his time with homer No. 600 ... but that was not the case with homers No. 602, 603 and 604. The Bronx bomber knocked out an incredible three home runs Saturday.
12
(NR)
Kim Clijsters
Tennis


Clijsters beat Maria Sharapova in the Cincinnati Masters final to claim her third title of the year.
13
(NR)
Jose Bautista
Blue Jays


He's the home run king of MLB right now. And with 36 homers on his résumé this season, no one else is even close.
14
(15)
Tim Tebow
Broncos


Let's face it: Tebow's preseason debut with the Broncos had football fans running to the TV like teenage girls watching "Twilight." Let the hype commence.
15
(NR)
Rudy Gay
Team USA


Yes, it might be called the "B-deem Team," but Gay made sure to bring his A-game on Saturday. Scoring 19 points off the bench, he helped Team USA roll past France.
16
(NR)
Roy Halladay
Phillies


Halladay threw eight scoreless innings Saturday and picked up his 15th win of the season.
17
(19)
Joey Votto
Reds


Just because he was tossed Sunday doesn't mean we're going to eject him from our list. Especially when he's hitting .347 post-All-Star break.
18
(18)
Miguel Cabrera
Tigers


Cabrera has been surprisingly cold at the plate this August. Having said that, he was his usual self Sunday, going 2-for-3 with a solo homer.
19
(NR)
Mat Latos
Padres


In case you're late to the Latos party, here's a quick summary: He's 12-5, ranks second in WHIP and had nine strikeouts against the Giants on Saturday.
20
(6)
Tyson Gay
Track and field


Usain who? Tyson Gay ran the 100 meters in 9.78 seconds Friday, the fastest time in the world this year.
Last five out: Cliff Lee (Rangers), Joe Mauer (Twins), Kevin Durant (Team USA), David Price (Rays), Chauncey Billups (Team USA)
Newcomers: Martin Kaymer (No. 1), Kevin Harvick (No. 2), Kevin Slowey (No. 3)
Notable dropouts: Hunter Mahan (No. 2), Brandon Morrow (No. 3), Juan Pablo Montoya (No. 4)
SPONSORED HEADLINES
ESPN TOP HEADLINES
MOST SENT STORIES ON ESPN.COM
CROSS-SPORT POWER RANKINGS 2010

Cross-Sport Power Rankings compares the best athletes across all professional sports. Check out the rest of our individual sport power rankings.
MORE POWER RANKINGS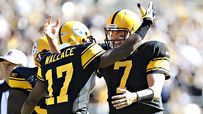 VIOLENCE IN THE NFL
MNF: Titans 30, Jaguars 3
COMMENTARY/BLOG POSTS
FANTASY
NFL BLOG NETWORK